Does traveling by RV sound appealing to you? Americans are flocking to RV dealerships to purchase and rent RVs as they are seen as a safer alternative to hotels and resorts during this time of pandemic. Plus, it's probably safe to say that people are itching to be outside as much as possible after the stay-at-home order.
Representing many of the private campgrounds, RV parks, and RV resorts across Michigan, and many of the state's RV dealerships, we want to encourage you to pursue your dream of owning an RV and using it for vacationing or even everyday living. It's important to be educated about the pros and cons of ownership; the options you have for motorized and trailered RVs; and how to hone in on an RV that works for your family life, lifestyle, and objective for RV ownership.
This handy guide will help you to find relevant information pertaining to these topics, so that you can get a better idea as to what it means to be an RV owner!
Get Familiar with the RV Lifestyle
RV ownership is currently appealing to 10 million households in America (according to the RVIA) – and growing year by year. Will you be one of them? Has it been your dream to retire and full-time it? A wish to get closer with your family and visit places you've never been? Owning an RV has a lot of benefits; however, as with all things, there's the other side of the coin to consider as you debate over making an RV purchase. So let's do a simple exercise of pros and cons. Continue reading…
Want to reduce stress? RVing may be the answer

We all carry stress in our lives, whether it's from our jobs, our family responsibilities, or our ever-growing to-do list. Honestly, who needs more stress in their life? A particularly stressful event for many people is traveling. But with an RV, you can alleviate some of the stress points of travel – as well as experience the benefits of reduced stress from other aspects of the RV lifestyle.Continue reading…
The Affordability of the RV Lifestyle
Whether you're just starting out or you're ready to make a change later in life, RVers of all levels of enthusiasm and financial ability can afford the perks the RV lifestyle provides. Have you been thinking about owning an RV? When you think of an RV, what comes to mind? A way to get away occasionally? An escape from the world? A house on wheels? Hopefully, "out of reach" doesn't. Though RVs are considered luxury items, it depends on how you intend to use your RV to make your choice to own – and your investment – worthwhile. Continue reading…
Financial Planning: Meet Your Goal to Own an RV
Let's say you've decided that you want to be an RV owner and live the RV lifestyle, whether that's full-time or part of the year. You'll need to more than "test drive" or find your "dream RV." There are a lot of financial considerations to take into account as you make your way to achieving your goal, otherwise known as financial planning. Continue reading…
Get Familiar with RV Types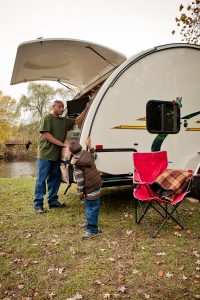 Towable RVs: Know Your Options
Towable RVs offer a lot of convenience and flexibility as well as comfort. Since the trailer is portable and separate from the tow vehicle, you can park the RV and leave it at the site while you drive the vehicle to another location. Many towable RVs come equipped with plenty of modern conveniences, too, so that you feel relaxed and at ease in your own abode, which is a welcoming thought for many travelers.
As far as your options go for a towable RV, you have quite an assortment from which to make a selection. It's a big decision, and it pays to take your time and do your homework. First, let's cover the types of towable RVs that are available on the market today so that you're more familiar with the lingo and some of the features of each type. Continue reading…
Sport Utility RV: A Versatile Option
If you love to ATV or you want to work out of your RV and need the space, then a sport utility RV or toy hauler may be just the RV you're looking for. The main benefit of a sport utility RV is that you have a separate space from the living quarters to store your favorite outdoor recreation toys, such as ATVs, dirt bikes, and even snowmobiles and golf carts. You can fit small kayaks, paddleboards, bikes, you name it. Continue reading…
So You're Thinking About A Camper Van: Pros and Cons
When we mention camper vans, considered Class B motorhomes, the image that might come to mind is an olive colored VW van with flower power. But camper vans come in a variety of colors, appearances, sizes, amenities, and floor plans. It seems a lot of people prefer them, too. Class B's have built-in sleeping, eating, and bathroom amenities at a very condensed scale. Before you buy a new or used Class B motorhome, it's important to know what you're looking for, what amenities you're willing to compromise on, and how much you're willing to spend. Continue reading…
Have you Considered a Truck Camper?
There's a lot of hype around certain types of RVs for different reasons: large-scale motorhomes with every bell and whistle, pop-up campers ideal for family campouts, all-in-one camper vans that make it easy to get from point A to point B. But there is another type of RV that doesn't seem to get the recognition it deserves and yet it's beloved by campers across America: the truck camper. This humble, compact, and portable unit is designed to sit onto or affixed to the bed or chassis of a pickup truck. Continue reading…
GoRVing.com has comprehensive explanations of motorized and towable RVs.
Get an Idea of How to RV with Others
Be a Camping Family with Infants and Toddlers
It goes without saying, kids change your life. They take up most of your time. They change your priorities. And if camping was a favorite thing to do pre-kiddo, don't let it go by the wayside. Now, you might think that camping and kids under three years old don't mix. But they do, even if it does take a little extra work. Here are some tips for making it easier to be a camping family with very young kids. Continue reading…
RV Transitions: For Every Part of Life
When did you get your first RV? Five years ago? Twenty? Maybe you just made the leap last season and looking forward to all the memories and adventures RV ownership promises – and it will follow through on that promise. Over the years and through life's transitions, sometimes we need to move on or try something new when it comes to which type of RV we are the proud owners of. This little guide can help you get started in the right direction. Continue reading…