Towable RVs offer a lot of convenience and flexibility as well as comfort. Since the trailer is portable and separate from the tow vehicle, you can park the RV and leave it at the site while you drive the vehicle to another location. Many towable RVs come equipped with plenty of modern conveniences, too, so that you feel relaxed and at ease in your own abode, which is a welcoming thought for many travelers.
As far as your options go for a towable RV, you have quite an assortment from which to make a selection. It's a big decision, and it pays to take your time and do your homework. First, let's cover the types of towable RVs that are available on the market today so that you're more familiar with the lingo and some of the features of each type.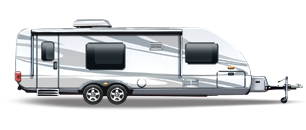 Conventional Travel Trailer: This type of travel trailer can range from 12-35 feet and can sleep up to 10. Mid-sized vehicles – including minivans and family SUVs – can tow smaller models (always check your vehicle's towing capacity, however). You'll have a kitchen, dining room, bathroom, and plenty of storage. Some conventional travel trailers have slide-outs to give you added space.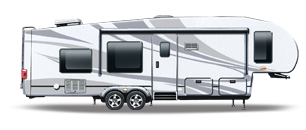 Fifth-Wheel Travel Trailer: Fifth-wheels have all the amenities and more living space. Some fifth-wheel travel trailers can be 40 feet long. The biggest difference is that this trailer is constructed with a raised forward section, effectively making the trailer a bi-level. Fifth-wheels can sleep up to six people.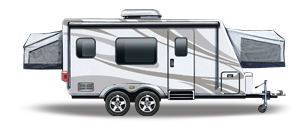 Expandable Travel Trailer: Expandable travel trailers are a hybrid between a hard-sided travel trailer and a folding camping trailer. The ends unfold into sleeping areas, which are soft-sided. The main living space is in the hard-sided center of the trailer. Expandable travel trailers range 19-30 feet long and sleep up to eight. Again, many smaller and lightweight models can be towed by mid-sized vehicles. A kitchen, dining area, bathroom, and sleeping areas are standard.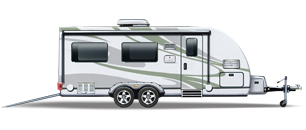 Sport Utility Trailer: Also known as a toy hauler, this type of towable RV is ideal for active individuals and families who enjoy dirt biking, ATVing, or other motorized toys (or maybe even a small fishing boat or raft). There's a garage or cargo area that can house all of these items that is located next to the living quarters. These areas can be divided or not. Slide-outs are available on some models for additional space, but many find adequate comfort in the 19-39 feet of space that features all the main areas of home. Some folks choose a sport utility trailer just to have a large, wide-open room for entertaining or a home office More information about sport utility trailers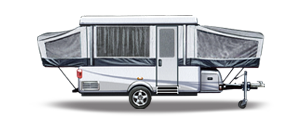 Folding Camping Trailer: A great starter RV or for anyone who loves tent camping but with a more comfortable area in which to sleep, the folding camping trailer is a compact, mix of hard- and soft-sided option that can be towed behind many family vehicles. Folding camping trailers can be 8-24 feet long and sleep up to eight people, although some of the sleeping spaces are also used as the living room couch and/or dining table area. They are quick and easy to set up, and many have heat included to help keep you cozy on cool Michigan nights.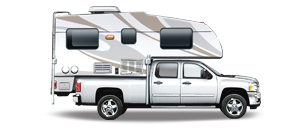 Truck Camper: Truck campers are hard-sided and designed to be loaded onto a bed or chassis of a pickup truck. Some truck campers are meant to be affixed to it. This is an economical option for a single, couple, or small family. They are relatively easy to travel with (no towing!) and have a range of floor plans. Some even have slide-outs. You'd think that a truck camper would have just living and sleeping areas, but they can have toilets and showers included on the list of amenities. Some can be detached upon reaching the campground so that you can use the truck for other excursions. More information about truck campers
There are several other decisions to make that will help you find your ideal RV. 
How much is your budget? This may help direct you to certain towable RVs or help you hone in your wish list for amenities.
What amenities are required? Which ones are you willing to budge on?
How many people will be camping? The whole family on the weekends? Just you and your spouse for the entire summer?
Do you want slide-outs? They add a lot of room, but some folks don't want the worry or hassle of maintaining them, or fixing them if that occurs.
Can your current vehicle handle the type of towable RV you're considering? This will limit your search, or you may need to think about purchasing a new vehicle in addition.
Do you have a place to store the RV?
A towable RV is a great fit for families with young children, people who love to be adventurous, and those who like a little added flexibility by having a tow vehicle. Regardless of what kind you choose, an RV offers freedom – and that's what you're really after, right?