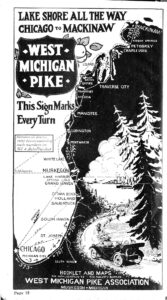 Mileage: 284 miles
Driving Time: 6 hours, 20 minutes
In Part 1 of this article, we drove from the southwest corner of the state all the way up the Lake Michigan coastline to the town of Muskegon. But the West Michigan Pike doesn't end there. In old postcards and advertising it was promoted as "Lake Shore All the Way from Chicago to Mackinaw." The West Michigan Pike Association put out booklets and maps with information about the towns and villages and sights along the way. So, we will continue on our journey north to Mackinaw.
Stop #1: White Lake Area
As with a lot of towns scattered across Northern Michigan, the White Lake Area has a rich history and plenty of small-town charm that is reminiscent of Leave It to Beaver. Along with sister cities Whitehall and Montague, the White Lake Area has plenty of outdoor recreation activities, festivals, and indoor attractions. Visit Lewis Farms & Petting Zoo in New Era, the White River Light Station Museum in Whitehall, and see the World's Largest Weathervane in Montague. You have your choice of several golf courses, if that's your preferred form of recreation, galleries and studios, and a canoe livery where you can pick up a watercraft and go enjoy the White River in the Manistee National Forest. And it's all only 15 minutes north of Muskegon.
Sports enthusiasts need to look no further than Pentwater and nearby Silver Lake Sand Dunes. The big lake and several nearby inland lakes are ideal for water sports and fishing, while the towering sand dunes offer a large off-road vehicle area for jeeps, dirt bikes, and quads as well as dune buggy rides. So you have your choice of renting, if you don't own, a watercraft or a motor – it's up to you!
Stop #3: Ludington
The jewel of Ludington is Ludington State Park, home to Big Sable Point Lighthouse, a towering black and white brick structure that has been an essential guide for waterway traffic since the mid-1800s.  It's just a quick two-mile walk along a beautiful trail to reach the tower, and you can tour the lighthouse for a modest charge. Kids will enjoy the Sandcastle Museum as well as the Port of Ludington Maritime Museum. But the big reason this area got so popular was the breathtaking scenery. Choose from a number of public parks to set up your beach gear for the day, take a swim, or go rock finding.
Stop #4: Manistee
Historically, Manistee used to be the home of several millionaires back when it was a logging town. Thus, the large, brick Victorian homes were built and have withstood the test of time. Manistee is also home to a vintage theatre (The Vogue) and the USS City of Milwaukee (open for tours), several museums. Bird watchers can't go wrong with visiting the Lake Bluff Bird Sanctuary and everyone can enjoy a stroll on the Manistee Riverwalk. Nearby parks, including Orchard Beach State Park and Magoon Creek Park, offer hiking trails, beach access, and picnic areas. If you're into fly-fishing or kayaking, check out the Manistee River. *Alternatively, you can deviate from the coastline just north of Manistee and cut in to take a more direct route to Traverse City and skipping the next stop on our driving tour.
Stop #5: Arcadia/Frankfort/Empire
Continue your journey north and you'll come across several small towns in quick succession. Arcadia is home to the renowned Arcadia Bluffs Golf Club, which offers two links-style courses. It's also where you can find the Arcadia Scenic Turnout or Inspiration Point, the highest point on the shore in West Michigan and one of the most stunning views of the water (after climbing 210 stairs). In beautiful Frankfort, you may find yourself watching surfers on windy days. Yes, surfers. But if you're not into surfing the waves, you can rent a board, then sprawl out at Frankfort Beach and visit the Point Betsie Lighthouse. The Betsie Valley Trail is a favorite for walkers and bikers. Hamlet Empire is a gateway to the Sleeping Bear Dunes National Lakeshore and Empire Bluffs Trail. There are a couple restaurants and a beautiful beach.
Stop #6: Leland
Also known as Fishtown, although Leland has grown to be a tourist and artist destination, it hasn't forgotten its roots. It's still a spot for sailors and fishermen to depart and return, and the historic fishing shanties on the docks have been converted to sell food and wares. Take your time wandering around the shanties, meander through the shops on the high street, and visit the beach. Leland is also where you can hop on a ferry to South Manitou Island or hire a fishing charter out into the big lake. *You can continue on M22 around the entirety of the Leelanau Peninsula and then head south to Traverse City, or you can cut inland and take a more direct route to Traverse City. If you choose the latter, as we did in this driving tour, you will miss some beautiful Northern Michigan towns, including Northport and Suttons Bay. M22 is one of the most stunning drives in the United States and should not be missed. You can learn more about what you'll see in our sister driving tour.
Stop #7: Traverse City
What hasn't already been said about Traverse City? The town seems to be getting more popular and busier as the years go by, and for good reason. The cherry trees, wholesome people, and pristine water in East and West Bays are what first attracted visitors to this area. Water sports and beach time are favorite activities. Downtown is bustling with shops and eateries, most of which are exclusively local. You can take a drive up Old Mission Peninsula to see the lighthouse. You can stop at numerous wineries along the way. The Old State Hospital Grounds have hiking trails right in the middle of the town, and one of the best views of town. People keep coming back here because of how beautiful the area is. You can choose to be in busier areas, or you can find more remote places. There is no shortage of activities, only a shortage of time on your part to be able to enjoy them all.
Stop #8: Charlevoix
Charlevoix has a quaint downtown with boutique shops and specialty food items. Although you can't go wrong shopping, you definitely can't go wrong with the beaches. Ferry Beach is on the shores of Lake Charlevoix and is very family friendly. Watch the historic traditional movable bridge over Pine River Channel as the ferry to Beaver Island departs and returns on a daily basis during the summer months. For hikers, visit North Point Nature Preserve just north of town and on the lakeshore. But you have your choice of trails based on how long you want to hike, your level of experience, and how much of a challenge you wish to pursue.
Stop #9: Petoskey
Continue onward to beautiful Petoskey, a favorite summer destination of Ernest Hemingway. The historic Gaslight District is a haven for shoppers and diners, and it's gorgeous at Christmastime when the snow flies. Visit Mackinaw Trail Wine and Brewery, as well as Petoskey Farms Vineyard and Winery. The Bear River Valley Recreation Area winds 1.5 miles along the river, which runs right through the heart of town. Adventure seekers can take part in the whitewater course, the only one of its kind in the Lower Peninsula. But probably one of the best things to do is go along the beach on Lake Michigan searching for Petoskey stones. Here are some tips for finding this one-of-a-kind souvenir.  
Stop #10: Mackinaw City
This city and St. Ignace are what greet travelers when they use the five-mile suspension bridge, the Mackinac Bridge. Although there are many tourist trap shops at which to find a shot glass or a similar "normal" souvenir, you can also find homemade fudge, faux furs inspired by the fur trading history of the region, and Native American trinkets. Another historic location, you can visit the fort on the east side of the bridge, or jump on a ferry to visit Mackinac Island, a carless island that features exquisite gardens. The Lilac Festival every June celebrates the old and abundant lilac trees that are in full bloom at that time of year. It's grown to be a very busy visiting spot, so try to go during the week, pre-season, or post season.