When it comes to scenic drives in northern Michigan, the 116-mile M22 is at the top of the list.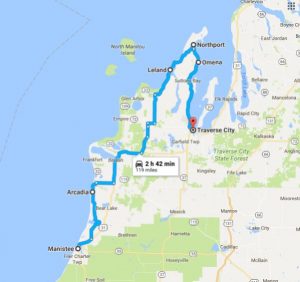 It was voted America's Best Scenic Autumn Drives by USA Today in 2015.  It is truly splendid in the fall, with the changing colors and the cool weather that makes you want to get cozy and explore the small town shops. It's just as glorious in the summer, when the clear blue waters beckon – and you're not short of beaches along this route.  The roadway also has a cultural following, and pretty much everyone who lives in this part of northern Michigan or makes a visit owns a piece of M22 apparel and wears it proudly. (You can purchase your own M22 apparel at www.m22.com or visit their shop in Glen Arbor or Traverse City.)
For this driving tour, begin in the Victorian town of Manistee, located on the coast of Lake Michigan and the southernmost town on M22. We'll give you six stops you won't want to miss, but be flexible and allow yourself to stop anywhere along the way. Each town has a charm and flavor of its own. You'll finish your journey in the cherry capital, Traverse City.
Driving time: 2 hours, 42 minutes
Mileage: 119 miles
Stop #1: Manistee: Visit a national historic landmark, the S.S. City of Milwaukee. Once a Great Lakes railroad car ferry, this pre-1940s ship is the only one of its type to survive. If you're visiting in October, you can go on a haunted Ghost Ship tour. There are guided tours available May-October from 11AM – 4PM, but you should check the website for hours based on the day of the week.  You can also go on a self-guided tour of the USCGA Acacia. Many people enjoy strolling around the small downtown and the picturesque one-mile river walk, so try to stretch your legs if you have time.
Stop #2: Arcadia: For golfers, Arcadia Bluffs has one of the best views of Lake Michigan as well as one of the top ranked courses in the country. Anyone who has played here will tell you it's one of the most beautiful courses they've ever been on, and it's a favorite for many. But you don't need to golf to enjoy this area. Inspiration Point, the top spot in the county. It lies just north of town and is directly off M22. You already have a great view, but for a superb view, climb 120 stairs, about 80 feet, to the scenic overlook.  It's gorgeous any time of the day, but particularly at sunset.
Stop #3: Leland: Your next stop is historic Leland, also known as Fishtown. It's a pleasant lakeside town in which to spend a couple hours and get a bite to eat. Visit the quaint shops and galleries along the town's main street, but head down to the docks where many of the old fish shanties have been converted into small shops. If you visit in the summer, the docks and waterways will be bustling as it's still a commercial fishing village.  There are lots of places to eat, too: the Village Cheese Shanty is an iconic establishment that serves thick sandwiches, and the Cove has a view of the river and their signature Chubby Mary. There are fine dining options, too: The Bluebird and The Riverfront. The streets are a bit snug so you may want to park farther away and walk in.
Stop #4: Northport: At the tip of M22 is the town of Northport. Visit the Grand Traverse Lighthouse Museum within Leelanau State Park. This lighthouse was once a very important beacon on the Great Lakes, and now it's been restored to its former glory. For a small fee, you can walk through the keeper's dwelling and climb the tower for yet another incredible view of Lake Michigan and inlets such as Cathead Bay and Grand Traverse Bay. The museum has kids programs, a gift shop, and different exhibits throughout the season. Truly a treasure worth exploring.
Stop #5: Omena: Between Northport and Peshawbestown is the little village of Omena. The village doesn't have much to offer, other than a nice view, but your next destination is actually south of town: Omena Cut Flowers. Open daily from dawn until dusk, owner Carolyn Faught loves to garden and loves flowers and decided to share the beauty. There are premade bouquets or you can pick your own. Each flower variety is labeled; you pay by the stem. Carolyn provides everything you need: scissors, water, and a jug or jar to help get your flowers home. You can make a one-of-a-kind arrangement for your campsite without a hefty price tag. Many brides come to Omena Cut Flowers with their bridal party to hand-select the blooms for their bouquets. Carolyn operates on an honor system, so you pay with cash and take your own change. Only in northern Michigan!
Stop #6: Traverse City: M22 technically ends at the base of West Grand Traverse Bay, just at the intersection of 72, which heads west to Empire. Even though you're technically "off the route," Traverse City has a lot to offer wine lovers, beer drinkers, nature enthusiasts, and shoppers. Just a few miles more, on your left, and you'll reach the marina. Park the vehicle. Go out and explore. Walk the point and watch the sailboats and motorboats cut through the glimmering water. If you have kids, there's a splash pad near the east end of the marina, and a wide beach where it would be easy to spend an afternoon. Rent a paddleboard for an hour. You're very close to downtown, so walk across the street – or under it through the tunnel near the beach – to peruse the shops on Front Street. You can find ice-cream at Milk and Honey and Kilwin's Chocolates. (There's also Italian gelato at Espresso Bay, too.) Pretty much every restaurant carries northern Michigan wines and beers if you want to go the sampling route or, if you really love beer, stop in at one of the downtown breweries.
For additional information about M22, including more ideas of what to see and do, visit www.m22michigan.com.