Part 1: Southwest Lower Michigan
Mileage: 122 miles
Time to travel: 2 hours, 29 minutes
West Michigan has been a favorite summer destination, especially for Chicagoans, for more than 100 years. Beachside living was ideal compared to the hot, smelly city streets. They would head north, stopping all along the coast, basking in the freshwater breezes and allowing their souls to settle into nature's rhythm.
However, the way was bumpy and sometimes impassible because of sand drifts. To help travelers and to build tourism, between 1911 and 1922, the Pike was developed by the West Michigan Pike Lake Shore Highway Association, whose members realized that with the affordability of the Model T and more Americans utilizing them to take vacations, a roadway was needed to reach their destinations, both old and new.
Designated as a Scenic Byway in 2016, the West Michigan Pike follows US-31 to US-10 near Ludington, as well as several business routes. It was the first road to be promoted in Michigan as a route for tourists.
It certainly worked. The Lake Michigan shoreline is a hotspot for many in the summer and throughout the year. You can't beat the beaches, lighthouses, vistas, and water views, not to mention the antiques, restaurants, and all things that are Pure Michigan.
On this driving tour, we take you on this historic route as far north as Muskegon. You can continue on into the northwest region to Traverse City and Mackinac City and everything in between, as many travelers did back in the day during their summer vacations.
Stop #1: New Buffalo
This laid-back small town is the perfect escape and has been attracting visitors for decades to its sandy shore since it's only 90 minutes from the Windy City. Not far from the wide public beach are vineyards and farms with fresh produce for hungry travelers. The area's natural beauty is why people still come here avidly: winding rivers that beckon paddling, paths that invite walking, and a beach that compels you to put out a beach chair for the afternoon until the sun sets. You'll also find art galleries, restaurants, and homey shops to visit if you can tear yourself away from the big water.
Nearby… This is the beginning of the Lake Michigan Shore Wine Trail. One establishment nearby to try is Hickory Creek, a small-batch winery using European-style grapes, but there are a few others. Visit https://miwinetrail.com/ for details on where to stop. This won't be the only spot along this route.
Stop #2: St. Joseph
You'll feel like you're at a resort when you visit Silver Beach, one of the main attractions here. Silver Beach County Park is most known for its carousal, fountain, and lighthouse. There is a daily parking fee from May through October, which differs depending on residency, but it's free to walk in to enjoy the scenery and all the amenities. On the other side of the St. Joseph River, the North Pier, is the sister beach at Tiscornia Park. It can be quieter because of there not being as many amenities, but it's pride and joy is the lighthouse. Regardless of which side of the river you visit, go for a long walk along the beach until the lighthouse is out of view, or if the weather is nice, choose to walk the length of the pier to see the light up close and personal. In St. Joseph, you'll find dozens of shops and restaurants, even some tasting rooms. Everything is walkable from the beach.
Nearby… Fellow beach town Benton Harbor is within easy driving distance of St. Joseph and features a beautiful art, but also some exquisite parks. It's worth a stop if you have time.
Stop #3: Douglas
Typically used in conjunction with well-known town Saugatuck, Douglas is worth a visit in its own right. Art galleries are the premium attraction here, helping to give the region the name of the "Art Coast of Michigan." Artists have been and continue to be inspired by the scenery, especially the grassy dunes and sandy beaches. Douglas is smaller than Saugatuck, but that's why it's a perfect place to stop. Closer to the Saugatuck side and closer to the beach is Mt. Baldhead, a one-mile loop for hiking that includes a summit to view the beach towns below, which takes only 302 steps.
Nearby… If you enjoy fishing, the Kalamazoo River is just a couple miles away. It used to be one of the best smallmouth fisheries in the state and folks would travel by train to fish it. Now, portions of the river have become polluted in certain stretches, giving the river a negative reputation, yet it continues to be an attraction for anglers. You'll find more than smallmouth bass, too, including pan fish, large mouth bass, and northern pike.
Stop #4: West Olive
West Olive is a very relaxing four-season destination, but it's the miles of sandy beaches and laid-back atmosphere that makes it a favorite stop for those who want to avoid hustle and bustle. Visit Windsnest Park, an often overlooked four-acre park that is relaxing and just downright gorgeous. It's perfect for beachcombing. A more popular choice is the 68-acre Kirk Park, which features acres of wooded dunes, scenic overlooks, a pavilion, a playground, and connections to trails. There are numerous views to be had here if you go exploring the trails. If you have a dog, there is a designated off-leash segment of the beach where your four-legged friend can run freely.
Nearby… You're in blueberry country! West Michigan is the primary blueberry-producing region in the state, helping to make Michigan the largest producer in the United States in recent years. There are several farms within easy driving distance of West Olive, so if you're in the area July-September, you may be able to pick up a fresh pint – or pick your own.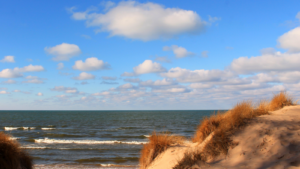 Stop #5: Grand Haven
Known as the "Capital City" of the Pike, Grand Haven was one of the prime vacation spots along the route. Back then, it was the ideal stopping point between to larger cities, Holland and Muskegon. The scenery is what first attracted visitors. Also, because of the growth in tourism, one of the state's first 23 state parks, Grand Haven State Park, was created for all to enjoy. In modern days, Grand Haven's top 10 list of attractions includes the Grand Haven Lighthouse (established 1839), musical fountain (built in 1962), and the 2.5-mile boardwalk. Don't forget to spend some time at the beach, too!
Nearby… If you have time, go on a Harbor Trolley ride in downtown Grand Haven to get a narrated tour of the area and experience some of the history. It operates daily from May through October.
Stop #6: Muskegon
The last stop on our Southwest Michigan portion of the West Michigan Pike tour is Muskegon. There are 26 miles of sandy beaches, including a nationally certified clean beach, Pere Marquette Park (a must-see). Adventure seekers can go on a zipline at Muskegon Luge Adventure Sports Park, museum buffs can tour historic homes in the downtown area, and bikers can traverse the Lakeshore Biking Trail. For those who appreciate maritime history, tour the USS LST 393 Veterans Museum, USS Silversides Submarine Museum, or the S.S. Milwaukee Clipper.
Nearby… Michigan's Adventure can make for a fun family outing, even for only half a day. It's claim to fame? Shivering Timbers, a classic one-mile wooden roller coaster that holds the record as the longest and fastest in the state.
For more history and photos, visit www.tri-citiesmuseum.org/west-michigan-pike.