The sights and sounds and smells of spring are more than wet earth, buzzing insects, and blossoming trees. Springtime means a new menu.
We transition from needing hearty meals and soups to desiring something fresh and light. We add new flavors, textures, and ingredients that brighten up campsite cooking just as much as a fresh field of flowers. Plus, we get to cook and eat outside.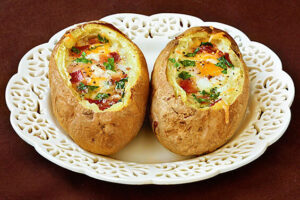 Potato Breakfast Bowl – Napier Outdoors
Blend the seasons with this warm, easy-to-make breakfast that will lessen the chill of cool spring mornings.
Ingredients
2 large mostly-baked* potatoes (Russett or sweet potatoes)
1 tbsp butter
2 eggs
2 strips bacon, cooked and crumbled
2 tbsp shredded cheddar or gouda cheese
1 tbsp fresh parsley, chopped
salt and freshly ground black pepper
Instructions 
Lay the first baked potato on its side, and use a knife to carefully cut off the top third of the potato. With a spoon, hollow out the middle of the potato to make a "bowl", leaving the potato as thick or thin as you'd like. (Just remember, the more room you leave, the more room for eggs, bacon and cheese!) Repeat with the second potato.
Place 1/2 tablespoon of butter in the middle of each bowl. Then gently break an egg into each bowl, careful not to break the yolk. Top with bacon, cheese, parsley, and then season with salt and pepper.
Wrap in tin foil and place in campfire for 20-25 minutes, or until the egg whites are set. Serve immediately.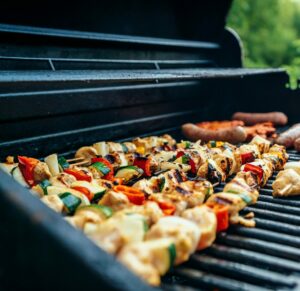 Chicken and Veggie Kabobs – Rei.com
Firing up the grill is a welcome sign of spring, and food seems to taste even better when it's cooked this way. Add some crusty bread or tortillas and you have a complete meal with little clean-up. 
Ingredients
For the marinade:
¼ cup olive oil
¼ cup chopped basil
¼ cup chopped parsley
2 cloves garlic, minced
1 lemon, juiced
1 teaspoon salt
To build the skewers:
½ lb chicken (boneless, skinless thighs work best), cut into 1-inch pieces
8 oz whole mushrooms
8 oz cherry tomatoes
2-3 green onions, cut into 1-inch pieces
Special equipment:
4-6 skewers, either metal or wood. Soak wood skewers in water for at least 30 minutes before grilling to prevent them from burning.
Instructions
Combine marinade ingredients in a plastic storage bag. Add the chicken pieces and thoroughly coat. Seal the bag and marinate for at least an hour. This step can be done ahead of time and in fact the further in advance you do it the more flavorful your meal.
Fire up your grill or get your campfire going. You'll be cooking the kebabs over medium-high to high heat.
Build the kebabs by threading the chicken and vegetables onto your skewers, alternating ingredients.
Grill the kebabs over medium-high to high heat, turning occasionally so they cook evenly until the chicken is cooked through–about 10 minutes total.
Remove from the grill and enjoy!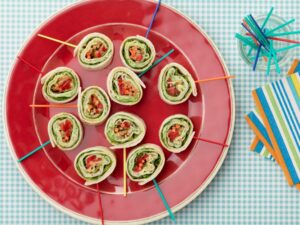 Roasted Turkey and Basil Cream Cheese Pinwheels – Food Network
The best meal is a low-time, no-cook meal. Sure, there might be some prep, but you can do much of this ahead of schedule and simply toss everything together. This recipe yields four wraps, and kids will enjoy making them as much as eating them.
Ingredients 
1 large head romaine lettuce
4 ounces whipped cream cheese
1 cup baby spinach leaves, loosely packed
8 large fresh basil leaves
Kosher salt and freshly ground black pepper
Four 10-inch flour tortillas
8 slices oven-roasted deli turkey (about 8 ounces)
1 whole roasted pepper from a jar, sliced into 1/4-inch strips (about 1/2 cup)
1 cup shredded carrots
Instructions
Pull the largest four romaine leaves from the outside of the bunch and wash and dry carefully, trying not to tear the leaves. Cut the leaves at the base where they were connected to the root; the pieces should be about 9-inches long. Using a vegetable peeler, shave the center rib so the leaves roll up more easily. Set aside.
Combine the cream cheese, spinach and basil in a food processor and puree until smooth. Season with 1/4 teaspoon kosher salt and a few grinds of pepper.
Lay one of the tortillas on a clean work surface and add one of the romaine leaves to fit neatly on top. Place 2 slices of turkey next to each other, covering the lettuce. Spread 2 tablespoons of the cream cheese mixture over the surface of the turkey and line up a quarter of the roasted pepper strips along one edge. Line up 1/4 cup of the shredded carrot just above the peppers. Roll up the wrap tightly starting from the edge with the peppers and carrots, so the wrap holds together with the peppers and carrots in the middle. Place the wrap seam-side down. Repeat with the remaining tortillas, vegetables, turkey and cream cheese spread. Cut the wraps into 1-inch pieces, then pierce each segment with a toothpick or skewer from the outside of the tortilla through the seam on the bottom.