How can you decide which beaches to visit in Michigan when there are literally hundreds of spots from which to choose? The advent of social networking has made the task a little easier. Visitors can relay information to the world about their experiences, so that future visitors can learn from them and make an informed decision about whether or not to visit the same place.
This is a very short list and certainly not exhaustive. Locals have their spots, which they may or may not wish to disclose; however, most are happy to share local insights, including to the best beaches around.
Whether you're looking for a place to rejuvenate with the girls, a romantic spot to take in the summer day with your sweetheart, or a place to spend quality time with the kids, you will undoubtedly find it at one of these Michigan beaches.
Upper Peninsula
One of the top things to do in Copper Harbor and only a quarter mile from the town, Hunter's Point Park has gorgeous views and plenty of rocks ready to be skipped. A natural walking trail offers visitors a bit of exercise, as well as many chances to go meet the big lake in person. It's handicap accessible, too, with a boardwalk leading from the parking lot to the viewing deck.  Kids will love, though moms won't, climbing the rock formations.
Black Rocks Beach, Marquette, is the spot for adventurous hearts, whether young or old. Located within Presque Isle Park, the 323-acre peninsula juts right out into Lake Superior. Don't expect to find a white sand beach on which to throw out a beach towel. You'll need the towel after you jump from either side of the short rocky cliffs. Rock hounds will love perusing smooth Lake Superior rocks and adding to their collections.
If you're traveling on U.S.-2, also known at the Lake Michigan Scenic Highway, definitely make a stop near Naubinway at the Northernmost Point of Lake Michigan. Don't let the rest stop appearance dissuade you. What you'll find is a gem, a gorgeous stretch of sandy beach and grassy dunes. Besides the beach, you'll find a large lawn and picnic tables.  As a fun fact, the northernmost point was historically the mark of the western boundary of the new frontier back in 1805.
Inland, you can enjoy the beaches at the trio of lakes – North Manistique, South Manistique, and Manistique Lakes – at Curtis. This gorgeous retreat is an easy drive from the Mackinac Bridge as well as many other Upper Peninsula attractions such as the Soo Locks, Tahquamenon Falls, Seul Choix Lighthouse, and Seney National Wildlife Refuge.
Northwest
Cross Village Beach, Cross Village, is truly off the beaten path. Cross Village is a tiny, quiet hamlet and one of many towns you'll encounter if you drive the Tunnel of Trees in the fall. Yet the drive is serene and beautiful in every season. Cross Village Beach offers unbelievable views of Lake Michigan and a tranquil atmosphere.
Fisherman's Island State Park, Charlevoix, is one of those "don't miss" parks. Despite its name, it's not an island in its entirety (there is a small island off the coast), but it does have five miles of sandy, unspoiled Lake Michigan shoreline. Since it's so large, there's plenty of space for visitors to explore and lounge. Or, you can choose to walk the easy hiking trail through the woods and along the beach. It's the ideal place to spend a day.
Even the name evokes a sense of magic: Christmas Cove Beach, located in the Leelanau Peninsula near the town of Northport. This peninsula was ranked among the top peninsulas in the United States by Readers Digest in 2020. Christmas Cove Beach is part of the reason. It's a narrow beach of mostly sandy, getting rocky as you get closer to the water. It's comfortable enough to lay down and get a tan or to search for beach glass. The parking lot is within easy walking distance of the beach. If you're looking for a secluded spot, this is it.
Duck Lake Park, Interlochen, may not reside on one of the Great Lakes, but it's still a great inland lake at which to prop an umbrella – historically, it was the first state park established. A popular choice for locals who know what's what and those fortunate visitors who want to get away from bustling tourist town Traverse City during the summer, Duck Lake is a warm, clean inland lake with a sandy swimming area. It's not large, of course, but there's plenty of room for all. A playset and a small general store make it more fun for the kids, and there are three launch sites for boats if you want to do some fishing.
Northeast
It isn't called the "sunrise side" for nothing. Lake Huron gets a lot of morning sunshine, but the afternoons are just as pleasant. Beaches across the region, which stretches from the Mackinac Bridge to the base of Michigan's thumb, give visitors a splendid view at first light. Starting from the north, you will want to visit Cheboygan State Park Beach, Cheboygan. One of the most popular beaches around, Cheboygan State Park is expansive and frequent destination for fishing in Duncan Bay and Elliott Creek. There are also several trails around, which are never longer than three-quarters of a mile.
Lakeside Beach, Rogers City, is a public beach on the shores of Lake Huron that is well-worth a visit. It has every amenity possible, from a kiddie park to volleyball courts to a pavilion, not to mention its 10 acres of waterfront. A stunning park that often gets accolades from visitors, Lakeside Beach offers families of all sizes and kids of all ages the chance to spend a quality day at a Michigan beach.
McGraw County Park, Port Austin, is a bit of a hidden gem, although its reputation is starting to grow. The thumb of Michigan isn't an accidental destination – you intend to visit this area of the state. So, make the effort! McGraw County Park is among the area's best public beaches. The picnic tables are in wooded areas for decent shade, and the gorgeous stretch of Lake Huron shoreline is sandy and clean. And don't forget to visit an interesting natural formation nearby, Turnip Rock.
The day use area portion of the beach at Lakeport State Park, Fort Gratiot Twp., is well-known, but there is a mystery path at the north end that leads to a secluded portion of public beach. It'll feel like it's all yours thanks to the dense tree line behind you and the open expanse of Lake Huron before you.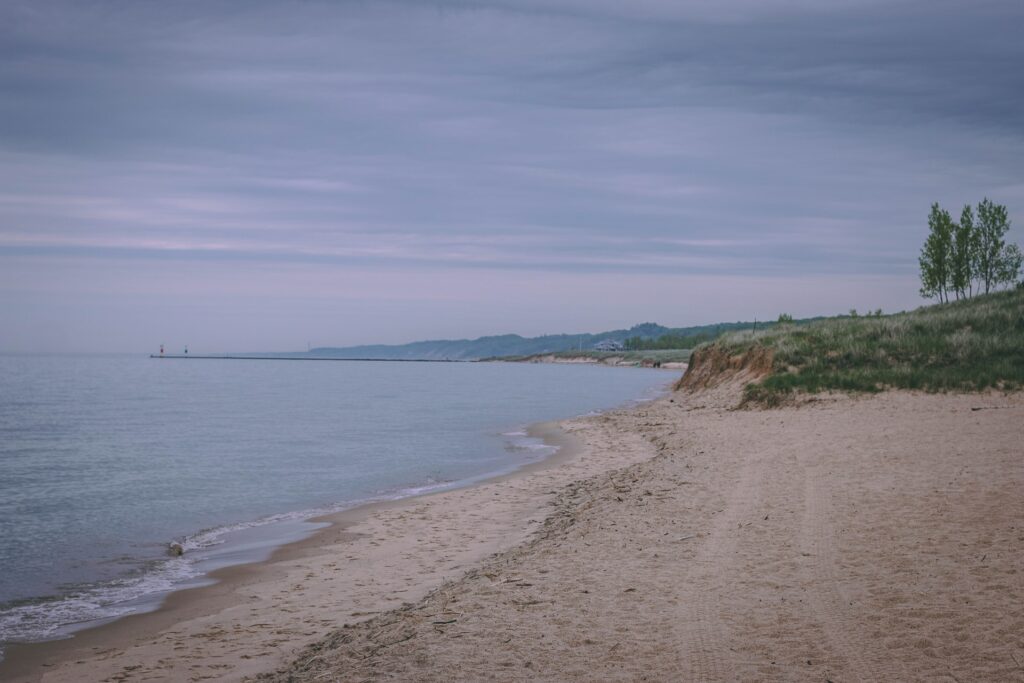 Southwest
Oval Beach near antiquing town Saugatuck has been rated as one of the 25 best shorelines in the world by Conde Naste Traveler.  It's easy to see why. The beach is fine white sand set between blue-aqua water and grassy dunes. Get away from the crowds by setting up your spot early or by walking down to the narrow portion of the beach instead. Or, visit during sunset for a truly spectacular show.
West Michigan is very hospitable when it comes to dogs. Kirk Park, West Olive, has an off-lead section of beach just for four-legged pals. The entire beachfront stretches a third of a mile, while the park covers 68 acres of diverse lakeshore habitat. There is a two-mile network of trails, most of which are quite short, and spectacular views of Lake Michigan, including from an overlook deck. Of course, there's a children's playground that will help younger children break up a beach day as well as picnic tables. But a large beach blanket and a picnic basket is probably all you need.
Augusta Park on Eagle Lake sits within the Fort Custer Recreation Area, located between Battle Creek and Kalamazoo. The water is calm and the beach is secluded. The recreation area is a favorite for hikers, mountain bikers, and horseback riders.
Markin Glen County Park near Kalamazoo is a favorite spot that is just five minutes from downtown. You can see the beautiful town from the top of a hill, which you can reach by trail. The beach isn't large, but the water warms up early in the season and is a great stopping point for hikers to have a refreshing dip.
South-Central
Pinckney State Recreation Area is only 17 miles away from Ann Arbor. There are two public beaches, on Halfmoon Lake and on Silver Lake, within the recreation area. They are the best spots to relax after traversing some of the area's 40 miles of trails or spending some time casting a line in these excellent fishing lakes.
Near Brighton, you'll find a taste of "Up North" when you visit two beaches within Island Lake Recreation Area: Kent Lake and Spring Mill Pond. Spring Mill Pond is spring-fed and has more than 100 feet of sandy beach. This park also has some great options for canoeing as well as several hiking loops of various distances.
Onsted is home to W.J. Hayes State Park, which shares a border with the southern shore of Wamplers Lake and includes another body of water, Round Lake.  The swimming area is on Wampler's Lake. You can enjoy a picnic at the picnic area, or put in a watercraft for some fishing or lazy rowing. This area of the state is known as the Irish Hills because of its resemblance to the Emerald Isle.
You may not be able to go swimming or lie on a sandy beach, but you can dip your toes in the stream and spring-fed ponds at McCourtie Park, Somerset Center. Historically the location of the McCourtie Estate, the park has 17 unique bridges made of sculpted concrete that was carved to blend in with the natural elements as logs, planks, and ropes. You can easily enjoy some sunshine and quiet while being among such art.
Southeast
Clover Beach, Linden, is on Bryam Lake, in Genesee County. There is plenty of seating and a sandy beach. Afternoons can be quiet, making it an ideal retreat from the busyness of metropolitan areas. Since it's an inland lake, the lake water warms up sooner and stays warm throughout the summer. Stroll down to the Ice Cream Garage for a refreshing treat if you're visiting on a hot day.
Marine City Beach, Marine City, is situated on the banks of the St. Clare River, a primary passageway for transporting ships. In fact, you might just see a mighty freighter. When the ships go by, the beach turns into a wave pool. There is plenty of shade and a nice pavilion at which to enjoy a picnic.
Thelma Spencer Park, Rochester Hills, has one of the safest beaches for families with younger children.  The beach sits on the edge of a 38-acre, calm inland lake, and there's a lifeguard on duty. Behind the beach is a long stretch of thick green grass that is ideal for setting up a picnic or playing a game of catch. The town of Rochester Hills is fun to walk through, too, and there are several museums worth visiting.
Sterling State Park, Monroe, is the state's only state park on Lake Erie and is about as far south as you can get. Sunbathers and swimmer will love the mile-long sandy beach, as well as the warmer water temperature. There are plenty of trees that offer shade, making this an easy spot to spend an afternoon.