In the blink of an eye, another summer has come and gone. The outdoors, which is commonly a sanctum for thousands during these warmer months, has become even more of a refuge during this time of pandemic. When you're outside and among natural beauty, we can forget what's going on in the world and instead immerse ourselves in the splendor – among splendid family and friends, of course.
Splendor comes on full display in autumn, when the northern woods turn red, orange, and yellow. Those flaming colors set among and against the dark green of towering pines makes for quite a show.
Look at the world from above.
Hot air balloon rides, parasailing, and climbing to the tops of lighthouses may need to be crossed off the list this year (depending on whether businesses are operating and your individual comfort level). However, you can still admire the grandeur of Michigan's autumn from above at overlooks, mountaintops, and dunes. The Sleeping Bear Dunes National Lakeshore dune climb in Leelanau County is open year-round, and fall offers visitors a less crowded experience – not to mention cooler temperatures that are much more pleasant for climbing the dunes and walking the two miles to the Lake Michigan coastline. Silver Lake Dunes in Hart and Warren Dunes State Park in Bridgman also offer pristine hikes and views. As for overlooks, you can't beat Arcadia Scenic Turnout and Inspiration Point just off scenic M-22 and Sugarloaf Mountain in Marquette. Other mountains in Michigan are detailed in another article on our website, "Mountains Worth Climbing in Michigan."
Toast to the fall.
Everyone knows about the plethora of wineries in Grand Traverse and Leelanau counties, but did you also know that the Grand Haven and Grand Rapids areas, located in the southwest region of the state, is home to many delicious wineries as well? It's because of the unique micro-climatic conditions that makes growing grapes ideal. The West Michigan Wine and Beer Trail has 10 wineries, three cider mills, and 13 breweries. Even though it's sweater weather, you can still sit outside on the patio or walk around the vineyard sipping on a Michigan-made beverage.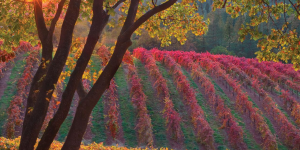 Walk a college campus.
Is there anything more "fall" than school? The two big dogs in the Lower Peninsula, Michigan State University in Lansing and the University of Michigan in Ann Arbor, are well-known for the beauty of their grounds and garden spaces. The oldest portions of the schools include collegiate Gothic architecture. U of M in particular is recognized as one of the most beautiful campuses in the nation, as it was designed to include tranquil, natural spaces and is home to more than 16,000 trees. The 93-acre setting of Northern Michigan University in Marquette is also a pleasing spectacle in the fall, simply because the Upper Peninsula is still wilderness. The drive to the university alone is worth the color tour, plus the blue expanse of Lake Superior is not far away. Don't overlook other campuses (there are 93 in Michigan) as they possess their own autumn charm, including Aquinas College and Grand Valley State in Grand Rapids, Michigan Technological University in Houghton, and Hillsdale College in Hillsdale.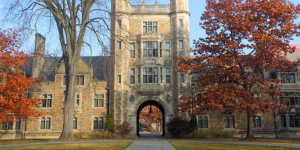 Take a scenic color tour by foot or by bike.  
We love traveling by RV and by vehicle, but give all five senses a jolt by going on a color tour on foot or via bicycle. The state has extensive trail networks that can suit any athletic ability. Sharon Mills County Park in Washtenaw County is located on the banks of the River Raisin, has a brick bridge, and a waterfall. It has 3.8 miles of hiking and mountain bike trails. For more ideas of where to take in fall colors, read "12 Michigan Trails to Hike in the Fall." Biking or hiking the state's rail trails, such as the Haywire Grade Trail and the Pere Marquette Rail Trail, offers a unique path deep through the Michigan woods so that you're up close and personal to the fall colors.