The warm summer days are making way to autumn days. You can feel it in the air, the crispness. You can see it in the trees, the muted colors as the leaves start their transformation from green to red, orange, or yellow. Although it's always a little sad to see another summer end, it's always a little exciting to see the seasons change once again. But don't say good-bye to beach days just yet. Head to one of these Michigan beaches for some sun and relaxation.
Hunter's Point Park, Copper Harbor
It's difficult to choose a bad beach in the Upper Peninsula. Copper Harbor is at the tip of the Keweenaw Peninsula, about as far from urban as you can get. The shoreline is mostly rocky, making it a great spot to hunt for Lake Superior agates. There are several places to swim and some easy-to-walk hiking trails. The water is clean, clear, and refreshing. People visit here and wish they had more time to spend, so make sure you leave ample time to enjoy Hunter's Point Park.
Tawas Point State Park, East Tawas
One of the jewels of the "Sunrise Side," Tawas Point off of US-23 has been referred to as the "Cape Cod of the Midwest." The Lake Huron water is warm because it's shallow around the point, making it an ideal place to swim even on cooler days; however, the recent increase in water levels has made some areas of the park inaccessible. The lighthouse within the state park is acclaimed because of its being representative of a true Victorian-era style station. There's even a Tawas Point Celebration Day that's usually held in June, including period encampments and period dress. According to the Michigan DNR website, Tawas Bay has been considered one of the finest sailing areas in the country.
Lake Huron Roadside Park, Port Sanilac
Located near Port Sanilac just north of Lexington, Lake Huron Roadside Park is often overlooked. There's space on the secluded beach to take in the view and some rays, as the parking lot and picnic table are up above on a bluff. It's a great spot for rock hounds to find new treasures or to skip stones as far as you can into Lake Huron.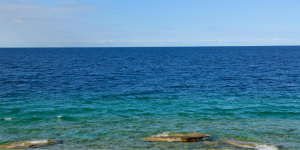 First Street Beach, Manistee
Manistee is a gateway to many sights and adventures – and peaceful escapes. First Street Beach is sandy, clean, wide, not heavily crowded, and beside crystal-clear water. Plus, it's walkable to downtown, the marina, and the lighthouse. Thanks to the wide width of the beach, it's easy to spread out with a towel and an umbrella and feel like you don't have to go anywhere all afternoon. Make sure to stick around for the sunset.
Mission Point Lighthouse, Traverse City
Much of the beach directly in front of the historic Mission Point Lighthouse is underwater with the high water levels, but if you go to the back of the lighthouse and take the first trail off to the right, then you'll enter a network of trails that encircle and weave around the point. You don't need to go far to notice a little trail leading back to the water. You'll find a secluded, sandy beach that's not crowded and definitely secluded. Bring a picnic lunch and some vino from an Old Mission vineyard, and you're all set.
Oval Beach, Saugatuck
There are few towns more charming and picturesque as Saugatuck. The area is well-known for its antiquing and shoreline, which is as ideal as a freshwater shoreline can be. Oval Beach is a combination of dunes, lakeshore, and seclusion. To feel the full effect of the beach, climb the 282 steps to Mount Baldhead and then back down onto the beachfront itself.  You really can get away from it all – and you may not want to return.
Riley Street Beach, Holland
This beach is discreet, to say the least. It's located at the end of Riley Street, which is north of busy downtown Holland, Windmill Island, and Lake Macatawa. Since it's away from the popular state park, marina, and lighthouse, it offers more seclusion – but with the same gorgeous view. The narrow beach is pure sand, with low grassy dunes. It's one of those best-kept local secrets… but of course, now you know!