Follow these recipes for delicious, homemade donuts right at the campsite. It only takes about 10 minutes to make the batter, and only 10 minutes to bake – less time if you fry. "Donuts" tend to be viewed as "unhealthy," and although there are definitely some sweet options in this article, there are swaps you can make to some ingredients to make for healthier versions of this favorite breakfast confectionery. You'll need a donut pan for most of these recipes.
If you love the combination of marshmallow, chocolate, and graham cracker, then this is the donut for you. Now you can have a s'more for breakfast instead of waiting until the nighttime campfire.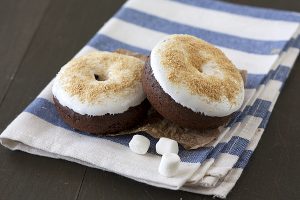 Ingredients
For the doughnuts
1 cup all-purpose flour
1/4 cup unsweetened cocoa powder
1 teaspoon baking powder
1/4 teaspoon baking soda
1/2 teaspoon ground nutmeg
1/2 teaspoon salt
2 tablespoons unsalted butter, melted
1/2 cup plus 1 tablespoon plain yogurt
1 teaspoon vanilla extract
1 large egg
1/4 cup granulated sugar
1/4 cup packed light brown sugar
For the icing
1 cup marshmallow fluff
2 tablespoons graham cracker crumbs
For the doughnuts: Lightly grease a 6-hole doughnut tin and preheat oven to 350 degrees. Sift the flour, cocoa powder, baking powder, baking soda, nutmeg, and salt into a medium bowl. In another medium bowl whisk together the butter, yogurt, vanilla, egg, and sugars. Make a hole in the flour mixture and pour the butter mixture into the hole. Using a rubber spatula, gently stir everything together until there are no more streaks of flour. Mixture will be thick. Scoop the batter into a piping bag or zip-top bag and snip a small hole in the bottom corner. Squeeze the batter evenly among prepared doughnut tin. Bake for 8 to 10 minutes, or until doughnuts spring back when touched. Let cool completely on a wire rack.
For the frosting: Place marshmallow fluff in a microwave-safe bowl and heat in microwave until melted and smooth, about 40 seconds. Be careful not to let marshmallow puff over the sides of the bowl when heated. Place graham cracker crumbs in a shallow dish. Dip one flat side of each doughnut into marshmallow fluff. Place doughnuts on a cooling rack on top of a plate or towel to catch drips. Sprinkle with graham cracker crumbs. Serve.
Sugar and Spice Campfire Donuts – From The Touring Camper
Make these delicious donuts using store-bought dough, a cast iron pan, and an open flame. Eat them plain if you wish, but it's pretty hard to resist covering them in sugar and spice (which the kids will enjoy helping with!).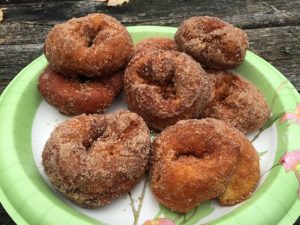 Ingredients
Oil for frying (about 2 cups)
Refrigerated biscuits (like Pillsbury's Grands)
Cinnamon and sugar (1 cup of sugar to 2 tablespoons cinnamon)
Brown paper lunch bag
Cooking pot (cast iron works well)
Instructions
Heat the oil until it is just about to boil; the temperature is right when little bubbles are forming on the pot. You do not want a rolling boil. (At first I had the oil too hot and it turned the first donut black in under 10 seconds!) Cut each biscuit in half (down the middle) so that each pre-sliced biscuit makes two round dough circles. Then poke a hole in the middle of each dough circle. Deep-fry the donut biscuits until both sides are golden brown. Place the cinnamon and sugar in the brown lunch bag and shake to mix. When you remove the cooked donut from the oil, let any excess oil run off, then put it into the bag and shake until the donut is coated. Enjoy!
Healthy Alternatives
Simply swap out some of the ingredients for less sugary, lower calorie options. For example:
Yogurt
Brown/White sugar – Substitute brown sugar for white sugar or look to nature for more natural sweeteners, such as maple syrup.
Flours – Use whole wheat flour, finely ground
Eggs/Oils – Use ¼ cup of unsweetened applesauce for one egg, and make sure to mix in ½ teaspoon of baking powder. A ¼ of banana can also work, though there is usually more flavor. Applesauce can also be used as a replacement for oil.
Milk – Use 1% instead of whole milk.
Look to the internet for more wholesome donut recipes. Here are just a couple that we found in our search.
Baking the dough instead of frying reduces calories and mess. You can choose to mix in blueberries or raspberries instead, but the natural sweetness and texture of strawberries really comes through nicely.
 
Ingredients
1/4 cup milk of choice
1 tsp white or apple cider vinegar
1/4 tsp pure vanilla extract
1/3 cup pure maple syrup or agave or honey
3 1/2 tbsp oil – If you don't mind fat-free texture, you can use applesauce (35g)
1 cup flour, loosely packed (works with all-purpose, spelt, or gf all-purpose mix) (125g)
1/4 tsp salt
1 tsp baking powder
1/2 cup diced strawberries, fresh or frozen-thawed (60g)
optional add-ins: pinch cinnamon, handful mini chocolate chips or shredded coconut
Instructions
Combine first 5 ingredients. Set aside. Grease a donut pan OR mini muffin pan, and preheat oven to 350 degrees. Stir together all remaining ingredients except strawberries. (For best taste and texture, I highly recommend the oil option.) Pour wet into dry once oven is preheated, and stir until just evenly mixed. Don't over mix. Stir in the berries. Bake 10-12 minutes, or until donuts have risen and batter is no longer wet. Let sit 5 minutes before removing from the pan. You can choose to add frosting or a glaze.
These delightful concoctions may be made with healthier ingredients, but they don't lose any flavor or taste for chocolate fans. If you eat them plain – no glaze – then they get even higher on the healthy eating scale.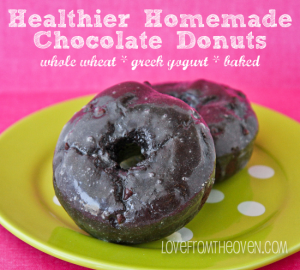 Ingredients
1 cup white whole wheat flour
1/2 cup sugar
1/4 cup cocoa powder, preferably dark
1/2 tsp baking soda
1/4 tsp baking powder
1 tsp vanilla extract
1 egg
1/2 cup Greek yogurt, preferably vanilla
1/4 cup milk
1/4 cup vegetable oil
1/2 cup mini chocolate chips, optional
Glaze
1/4 cup milk
1 tsp vanilla extract
1 1/2 cup powdered sugar
Instructions
Preheat oven to 375 degrees. In a mixing bowl, combine your while whole wheat flour, sugar, cocoa powder, baking soda and baking powder. Set aside. In a separate bowl, combine vanilla, egg, Greek yogurt, milk and oil. Combine wet and dry ingredients, as well as chocolate chips if using, and mix until just combined. Transfer batter into a large freezer style bag (or piping bag). Batter will be thick. Pipe your batter into a greased donut pan. Bake for approximately 10-12 minutes until the tops of donuts spring back when touched. Glaze: Combine milk, vanilla and powdered sugar and whisk or stir well until combined. After donuts have cooled slightly, dip each donut into your glaze, then transfer to a wire rack with a baking sheet or wax paper underneath, as donuts will drip off excess glaze.
When it comes to cold fall and winter mornings, there is nothing more satisfying than enjoying a hot cup of coffee with a tasty donut. Enjoy!