OKEMOS, Mich.—The nearly 14,450 attendees to the 28th Annual Fall Detroit Camper & RV Show in early October definitely had a lot to look at with 289 motorhomes, pop-ups, fifth-wheel and toy haulers on display inside Suburban Collection Showplace in Novi.
"The Fall Detroit Camper & RV Show saw an increase of 11 percent from the 2016 Fall Detroit Camper & RV Show," said Darren Ing, director, Michigan Association of Recreation Vehicles and Campgrounds (MARVAC)." This year, the association noticed something different about the crowd.
"From exchanges with attendees and post-show discussions with RV dealers, we perceived a predominant percentage of attendees were not RV owners—yet—but very interested in what they saw and expected to make a purchase within the next year," said Ing.
Vicki Vicars, of Vicars Trailer Sales, Taylor, had the same experience at the show. "The people we talked with are extremely optimistic about the economy and excited to spend money on an RV at this time. Downsizing seems to be the trend." At the 2017 Fall Detroit Camper & RV Show, six folding campers and 176 travel trailers were exhibited. National travel trailers shipments for September 2017 topped 29,000, a 34-percent increase over last year, according to the Recreation Vehicle Industry Association (RVIA).
Fans of "Under The Radar (UTR) Michigan" had a special treat as hosts Jim Edelman and Tom Daldin interacted with a standing-room-only crowd and talked about how UTR began and their experience filming the first RV-specific "Under The Radar Michigan" episode, sponsored by MARVAC, debuting on PBS in early 2018.
"Our first experience with RVing was the RV segment we filmed in late September 2017 and we loved it," said Daldin. "Now we understand what all the hoopla is about! RVing is a great way to see Michigan." The traveling duo will return to the 52nd Annual Winter Detroit Camper & RV Show, opening February 7, 2018.
MARVAC also sponsors shows in Battle Creek, Flint, Port Huron and Traverse City. For information on upcoming shows, visit www.marvac.org.
The Michigan Association of Recreation Vehicles and Campgrounds (MARVAC) is a statewide, nonprofit organization dedicated to encouraging growth in the recreation vehicle and private campground industries while contributing to Michigan tourism. For more information, visit www.marvac.org. MARVAC, 2222 Association Drive, Okemos, Mich. 48864; 517.349.8881.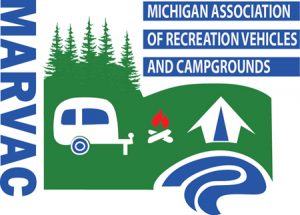 Contact:           Gretchen Monette, All Seasons Communications

Phone:             586.752.6381 (not for publication)
###