A more organized RV… Let's face it, we can always do a better job organizing our lives. This applies to our digital lives (the pictures alone!) and our lives in our RV. RVs utilize space whenever and wherever possible, and it's up to us to organize our belongings accordingly. We shouldn't have too much stuff, everything we have should have a purpose, and everything should have a designated spot for putting things away. Whether you want to update your organization system or purge the RV, a more organized RV will make everyone who lives in the RV happier.
A more efficient RV… Technology impacts every part of our lives, not just devices. The technology for windows, fabrics, engines, light bulbs, electrical systems, tires, etc., is continually being evaluated and improved. Advancements make their way into newer generation RVs, and kits are often available to make adjustments to older models. A more efficient RV will run more smoothly and over a longer distance, so you can keep enjoying the RV lifestyle. Efficiency isn't limited to technology, however. You can make modifications for a more efficient use of space, such as counter extensions. (See: RV upgrades and modifications)
A cleaner RV… A clean home is a happy home. It's not only important for personal health, it's important for when you'll be entertaining friends. Plus, a clean RV doesn't attract unnecessary attention from pests, both large and small. This coming year, give the interior and exterior of your RV a good deep clean. Clean the microwave and the refrigerator, scrub the floors and steam clean the carpets, and check out valves and tubes and gaps to make sure they're clear and free of debris, food particles, and unwanted bugs.
A more modern RV… You don't need to purchase the latest model off the lot for a more modern interior. There are plenty of professionals who can work with you to make updates, and lots of DIY articles and videos on the web for those who want to make updates on their own. Whether it's changing the backsplash, flooring, fabric covers, or cabinet color, you can decorate the interior of your RV to match your style and modernize its appearance.
A larger (or smaller) RV… Maybe your family has grown up and it's time to downsize. Maybe you have a growing family and camping is an essential pastime and you need more space. Maybe you just got an ATV and need something that can transport it more safely. We're constantly making transitions in our lives, and our choice of RV is no different. A trailer or rig can serve us well for many years, but sometimes it's time to move on or make a change.
More camping trips… Who wants to spend more time at the office? If you're still working the 9-to-5, then put those vacation days to use and go on more camping trips. You'll never regret it. If you need to find a place to stay, consider our member campgrounds, which can be found via our online map or in our annual directory (2020 edition arriving mid-January).
More side destinations… Staying at the campsite is great, especially since many campgrounds, parks, and resorts offer so many amenities. You really don't need to go anywhere else, which means a lot of relaxation. But part of the fun and adventure is leaving the campsite to experience new places. Every region of Michigan has something unique to offer travelers: beaches, lighthouses, scenic points, downtowns, hiking and biking trails, and one-of-a-kind natural wonders. Wonder where you should go? Just search for "driving tour" on our website for lots of ideas.
More sightseeing… We all have our favorite places to visit, but don't forget to add new spots to the list. They may become new favorites. You probably already have a list of places in Michigan you would like to see. What's on yours?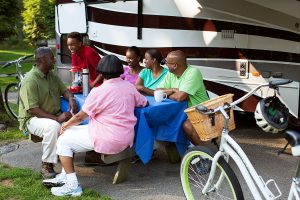 More friends and family… There are two precious commodities in life: time and people. Spend more time with people you enjoy being around. Doing things together, sharing experiences and common interests, forms strong bonds that last a lifetime. And the RV lifestyle welcomes new friends, too. People who are your neighbors at the campground one weekend turn into lifelong friends.
More time outside… RVs bring along the comforts of home wherever you go, but they also seem to nudge you to get outside and enjoy the great outdoors. Whether you enjoy an easy walk on a well-groomed trail, mountain biking, ATVing, or taking a dip in one of the Great Lakes (or one of the hundreds of interior lakes and streams for that matter), more time can always be spent outside. It's not only fun, it's good for mental and physical health. Overall, the RV lifestyle can help to reduce stress in many ways and being outside more often is a big one (how?).
If you have more traditional goals for the New Year, such as losing weight or getting in better shape, then follow these tips for maintaining your resolutions, even with a mobile lifestyle.