The Lower Peninsula is most well-known for its Petoskey stones, and the Upper Peninsula is known for its agate. Agate is a semi-precious gemstone formed when water vapor and carbon dioxide became trapped in solidified lava thousands of years ago – and it can be found along the shores of Lake Superior.
The best stretch?
From Grand Marais and eastward to Whitefish Point.  Some parts of the shoreline are remote and require a sense of adventure and some gumption, but there are several more accessible beaches to go rock hunting. Some of the most well-known beaches are: Grand Marais & Woodland Park Beach, Lake Superior State Forest Beach, Muskallonge State Park Beach, and Whitefish Point Beach.

What do they look like?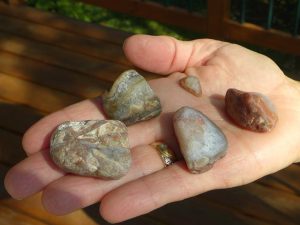 When polished, agates have multiple colors and very distinct bands.  When unpolished, such as when you're rock hunting on the beach, look for rocks with yellow and orange banding, some translucence in the stone (back-light it with a flashlight), some pits on the surface, and irregular fractures (which agates are prone to have because of their fine grain). The Superior Trails website has a three-part article series describing how to distinguish an agate in raw form and how to tell lookalikes from the real deal. There are lots of pictures, too, which help to train your eyes.
When do you go?
Early spring after the heavy throes of winter, when the ice is melting off the coastlines, can be an excellent time as the frozen water helped to bring rocks up. But going after a storm – and Lake Superior is well-known for its storms – also increases your chances of finding a prized agate.
What do you do with your findings?
Regardless if you find a true agate or two, you'll surely find lots of interesting rocks worthy of bringing back to the RV. Raw agates, like many Great Lake stones, require a bit of polishing to expose their true beauty. With a few supplies and a little elbow grease, you'll have stones worthy of displaying!