You've decided to purchase an RV!
An RV is a significant investment, a purchase to be considered carefully. Once you have decided on a unit, you are no-doubt excited about receiving your new unit. Of course, the expectation is that the RV will be ready to go – in appearance as well as in function. Although you may have heard that buying an RV is a lot like buying a car, an RV is more complex and larger than your average daily transportation vehicle. There are more components, more items that can break, and more items to maintain.
That's why it's important to be well-informed regarding the purchasing process and when it comes time to take delivery. It's not just making the sometimes-difficult decisions of which unit to buy and how to finance it, it's making sure the RV is good to go and you are knowledgeable enough to use it!
MARVAC sat down with Ryan Penny, marketing manager from MARVAC Member Bish's RV (locations in Coldwater, Ludington, and Grand Rapids), to discuss what a customer should expect when taking possession of their brand-new, or at least new-to-them, RV.
RVs go through a lot of inspections at various points of the manufacturing and selling process.
An RV is a complex machine that requires care and maintenance, if you want it to last a long time. This begins at the dealership when it receives a unit from a manufacturer. Most RV dealerships have a stringent process to prepare an RV for customers, whether it's to order or is going to sit on the lot, as well as a process for educating you on the functionality of the RV you'd like to bring home.
Penny explains the process as it is as Bish's RV: "Right when it lands from factory, we have a 24–72-hour window of when we want to check it out. That's what the post-delivery inspection (PDI) inspection is. We have to go over a Dealer Acceptance Form, which we turn into the manufacturer warranty department so that everything is covered that we find, such as damages and missing parts. We plug everything in, run the systems, and then send in everything to the warranty department to let them know of everything we found. It's better to do this immediately rather than doing so three-four months down the road. It just helps to be up front. That's a high priority for us and we want to make sure we honor what manufacturers do for us. They are more likely to cover all of that, which directly affects customers. We can have that fixed and corrected before the customer takes it. Manufacturers are very gracious. RVs are made by humans, so things happen or go missing. It just happens.
"Once the PDI is done, the RV is considered lot ready. We check electrical, AC, furnaces, LP, conduct gas tests. As soon as [the RV] is on the lot, set up, with jacks down, it's ready for customers to look at and sales outfitters to sell." Once a customer has selected a unit that "fits their budget and dream" and made a deal to purchase it, Bish's gets the RV prepared for the new owner. It returns to the service department to be looked over by a technician a day or two before pickup. This is important because RVs are on the lot for various lengths of time, so it's good to have everything looked over again. Each dealership has their own process for inspection as they prepare units for viewing by customers as well as in anticipation of a customer pickup.
Maintaining your RV once you have ownership of it is your responsibility, but you should expect a dealership to provide complete instructions on maintenance and functionality at the time you pick up your RV, as well as be a part of the solution on any issues in the future should a need arise.
You should expect to "walk through" the unit you intend to purchase while at the dealership, whether it's used or new, prior to taking delivery.
Whether you are an inexperienced RVer purchasing you first RV or a seasoned RVer who is upgrading, you'll benefit from a thorough walkthrough of your unit prior to taking delivery. This is an opportunity for you to review all the systems and how they operate, as well as inspect the overall interior and exterior condition of the RV.
How long does a walkthrough take? Complexity of the unit plays in. "Single-axle, 20 feet or so, will take about an hour," explains Penny. "We will do an exterior walk first, show where battery/propane located, where the power cord goes into, external hookups, etc., so they can be fully informed. On a normal day, we'll plug it in with the customer, show them what comes on. Some things are battery powered, some require additional power. We will go through every appliance, which is a big part. We'll go through every room, operate the slide-outs. As soon as you get to double- or triple-axle, those walkthroughs will be 1.5-2 hours – there are more features. You may have multiple ACs and gadgets. As soon as you get up to motorhomes, there are usually more technical questions from the buyer and fancier power systems. Those [walkthroughs] are two hours. For the really big beasts, like a diesel bus, we'll allocate up to five hours if a customer needs it. There are so many more breakers, electronics, more helpful tips, things to know. Sales outfitter needs to test drive it with [you] if they haven't already."
Remember, a dealership has typically already been through the RV at least once and have had items replaced or repaired depending on their own inspection. You should expect to see a clean, fully operational RV when you walk through, but if you notice something, bring it up. Many dealerships will happily help with a fix.
Taking videos and asking questions are good things to do.
If you would like to have references for later on, taking video with your phone can help ensure you have the information handy when you need it. "I would recommend you don't record the entire walkthrough, but every time you get to a main appliance, for instance, start a video and end it. That way you have a 'water heater' video," says Penny. This is particularly resourceful if a certified tech is running the walkthrough; their knowledge is invaluable. "We want to be showing customers that [something] is working and how to use it. The last thing we want is to try to help someone over the phone when they are far away. It's better to do this in person." A video that can be used for reference later can help equip RV owners with the important information they need. Ask before you start filming, but most dealerships probably won't mind.
There are some other boxes to check to make sure you're ready for your new RV, and you can expect a dealership to help you make sure everything is in order before you take delivery.  
For instance, if you are buying a towable RV, whether your current tow vehicle can handle the load. As part of customer orientation, "we have the customer back up their tow vehicle and adjust the height of their vehicle and trailer to make sure they are hooked up properly. We test the turn signal, make sure the brakes are linking up and that brakes are working," explains Penny. Bottom line, at the end of the day, you are driving next to everybody else on the road, so a dealership will want to make sure everything is working properly so that everyone is safe on the road.
When it comes to towable RVs, you can either find an RV that fits your current vehicle or upgrade your vehicle to tow your dream RV. Expect a dealership to help you identify units that work with your intended tow vehicle, whether it's one you already own or you're getting a new one. "We have to have that conversation, if you're unwilling to give up your truck, then we have to look at different RVs," says Penny.
Other boxes to check include insuring your RV appropriately – AAA may not offer enough specified coverage for your chosen RV, for instance – a tow bar (if you plan on towing a toad), and other RV accessories.
You need to know about warranties and additional types of coverage, and you can expect a dealership to talk about these options and what they mean for your RV and your life as an RV owner.
"Anytime you buy new, you have the manufacturer's warranty. That's the strongest warranty. Most do a one-year warranty on cosmetic, appliances, and more. We have extended warranties that can be applied as part of the loan or via cash," explains Penny. A dealership's finance department can discuss these options with you. "Many extended warranties, you can get some of that money refunded, if you haven't really used it. It's kind of like life insurance. Hopefully you don't have to use it," says Penny.
RV dealerships sometimes have their own benefits and perks that are unique to them. So make sure to ask the sales team.
Bish's, for instance, has something called the Diamond Club. This entails a lot of benefits, some of which last for a year – and can be extended – while others are for life. We don't want to give everything away, but some of the benefits include: roadside assistance, emergency fuel delivery, discount on parts/accessories, and comp winterization. Bish's will work with travel companies or services, alliances that generate more discounts for you. "Diamond Club is included with purchase and sets us apart from the competition, whether new or used," explains Penny.
Other services may include coverage to stay in a hotel while your RV gets fixed (trip interruption), reimbursement for food spoilage because your refrigerator broke, tire and wheel protection, theft protect, gap insurance, and environmental protection (take care of the exterior of your RV so that it lasts longer being in the elements).
According to Penny, the additional cost of most of these benefits is insignificant compared to the costs you could run into if you didn't have it. "It's just so awesome for the first year. You're trying to figure [the RV] out, right? You're trying to figure out how it works. You're maybe taking some risks on some new trips that you haven't done before. You're just so excited and it's just that ease of mind that happens after the purchase. We [the dealership] are still there and hanging around," says Penny.
"These are complimentary benefits just for purchasing through us, I can't say that enough." But again, what is offered depends on the dealership. Make sure to be informed about what options exist, consider them carefully, and then make the decision on whether to incorporate it/them into the purchasing process. Once you take delivery of your RV, will you be glad you have some of these items? It's a personal question only you can answer.
It's important – and easy – to do research on units before you ever step into a dealership, or to continue in your deliberations once you've seen a unit at a dealership that you like.
"Look at manufacturer websites and definitely understand what's out there as far as what people are saying. You can price shop and look around," recommends Penny.
It's also a good idea to look for a unit in your area, especially if you live close to the epicenter of RV manufacturing, Indiana. "There are shipping and freight fees so everything that's closer to the manufacturer is going to be cheaper," says Ryan. The same unit being sold in Michigan will cost more in California because it cost more to get it there.
Another good resource during the buying process? "YouTube is a great place to figure out and do virtual walkthroughs. You can search specifically for the unit you're most interested in, and YouTube will probably have it," says Penny. But at the end of the day, "it's just really what looks good for you, what's going to work for your family or for you individually."
Doing research, being able to see a unit personally, and then using these resources to help you make your decision will help give you peace of mind when you take delivery of your unit. You will be more familiar with it, not to mention the dealership's walk through the unit upon taking delivery.
Once you take delivery, start out close to home.
Once an RV is in possession, it's a good idea to start with a camping trip close to home in order to better understand the new RV and to see if there are any issues, rather than take a lengthy trip and have something happen far from home.  "Absolutely," says Penny. "I worked in the service department for about five years and I would always tell customers that if it's your first RV, the best first trip is the driveway. Learn all the tips and tricks four feet from home rather than 400 miles away from home for the first time. You want questions such as, how do I turn on my furnace, to happen at home. I think it's a beautiful thing to have that option." Plus, if you have kids, it's fun for them to camp in the driveway. Plan on taking possession of your RV at least a few days prior to your anticipated departure date for a trip to test everything out.
Dealerships want to maintain a good relationship with their customers – you! For most, it's not one and done when you take delivery and drive off the lot. Customer service, whether you purchase additional perks through them or not, continues into your camping years.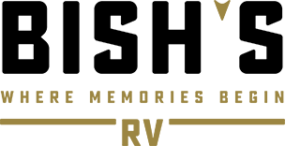 Thank you, Bish's RV, for helping to construct this article!