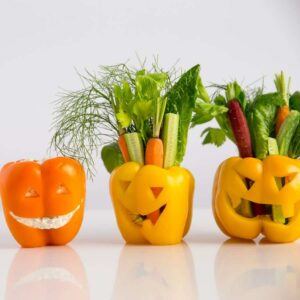 BELL PEPPER JACK O'LANTERNS WITH VEGETABLE DIP – Courtesy of KOA
Bring the fun and look of jack -o-lanterns into the kitchen as this tasty and healthy snack using bell peppers. Whip up your own vegetable dip or buy a premade one from the store.
Ingredients
1 large orange bell pepper (make sure it's flat-bottomed)
2 large yellow bell peppers (make sure they're flat-bottomed)
1 cup of your favorite dip
Assortment of vegetables cut into spears (ex: celery, carrots, cucumbers)
Instructions
Core the peppers. Be sure to pull out stems, seeds, and ribs.
Spoon the dip into the orange bell pepper.
Arrange the vegetable sticks in the yellow peppers, and you're done.

Rattlesnake Bite Hot Dog Appetizers – Courtesy of Today's Creative Life
The "bite" from these yummy looking reptiles comes from the jalapeno in the hot dogs. This makes for a great appetizer that can come together in just a few minutes.
Ingredients
1 pkg. (16 oz.) OSCAR MAYER Jalapeño Dogs
1 can (16.3 oz.) large refrigerated flaky biscuits (8 biscuits)
Instructions
Heat oven to 375 degrees.
Pat hot dogs dry with paper towel. Separate biscuits. Cut each hot dog and biscuit into quarters; press biscuits to flatten slightly.
Place 1 hot dog piece on center of each biscuit piece; bring 2 opposite corners of biscuit over hot dog, then press points together to seal.
Arrange 16 wrapped hot dog pieces in "s" shape on baking sheet to resemble snake, leaving no spaces between pieces. Repeat on second baking sheet with remaining wrapped hot dog pieces.
Bake 15 min. or until golden brown.

Playful Pumpkin Sandwich Cookies – Courtesy of Pillsbury
Ease is bliss. A favorite Halloween cookie meets frosting and festive colored sprinkles. You can make cookies at home ahead of time and keep them stored in a plastic container after cooling, then assemble them into sandwiches at the campsite.
Ingredients
1

package (9.1 oz) refrigerated Pillsbury™ Shape™ Pumpkin Sugar Cookie Dough (20 Count)

1

container (1 pound) vanilla or chocolate creamy ready-to-spread frosting

Assorted candy sprinkles, as desired
Instructions
Heat oven to 350°F. Bake cookies as directed on package; cool.
Add 2 heaping tablespoonfuls frosting to one cookie; top with another cookie to make sandwich.
Roll edges in candies.

Pumpkin Pie Breakfast Bake – Courtesy of Running with Spoons
 What's fall without a little taste of pumpkin and all the spices that make it so irresistible? This breakfast bake collects all those flavors into one generous portion of edible autumn. Note that the recipe as given is for an individual portion to be made in a ramekin; scale up the ingredients and use a baking pan if you'll be feeding several campers. 
Ingredients
¼ cup rolled oats
2 Tbsp. oat bran
2 Tbsp. flour of choice*
¼ tsp. baking powder
½ tsp. cinnamon
¼ tsp. nutmeg
1/4 tsp. ground ginger
pinch of salt
1/4 cup canned pumpkin
¼ cup vanilla almond milk
1 Tbsp. maple syrup (or other sweetener)
2 – 3 Tbsp. add-ins of choice (cranberries, nuts, chocolate chips, etc.)
Instructions
Preheat oven to 375 degrees, and lightly spray an individual sized ramekin with cooking oil.
In a medium bowl, combine oats, oat bran, flour, baking powder, spices, and salt.
In a separate bowl, combine pumpkin, almond milk, and maple syrup.
Add wet to dry and gently stir to combine. Fold in any add-ins and transfer to prepared ramekin.
Bake for 25 – 30 minutes, and allow to cool before adding toppings of your choice.
Peanut Butter Acorns – Courtesy of Country Living
 Feeling crafty and adore the combination of chocolate and peanut butter? Then give this recipe a try. 
Ingredients
3/4 cup smooth natural peanut butter
3/4 cup sugar
1 tsp. vanilla
1 large Egg
1 tbsp. flour
1/2 cup mini chocolate chips
48 chocolate kisses
Instructions
Heat oven to 350 degrees. Beat first 5 ingredients in a bowl using an electric mixer until well combined.
Spoon dough by rounded 1/4 teaspoonfuls onto an unlined baking sheet. Flatten each piece into a dome shape.
Bake about 10 minutes or until golden around edges, rotating baking sheet halfway through baking. Let cool for 5 minutes on baking sheets.
Microwave 1/4 cup mini chips in a small heat-proof bowl on high for 30 seconds, stirring at 10-second intervals. Dip the bottom of each chocolate kiss in melted chocolate, and place on the flat side of each cookie. Use the same method to affix a mini chip "stem" to the top of each cookie, completing the acorn.