There's so many different kinds of RVs … how do I know what's right for me when RV buying?
RV types include folding camping trailers, truck campers, travel trailers and motor homes.
Folding Camping Trailer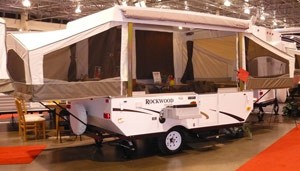 A folding camping trailer is a lightweight unit with collapsible sides that fold for aerodynamic towing by a motorized vehicle, even some small compact cars. When set up, they provide kitchen, dining, sleeping and, in many models, bathroom facilities. Folding camping trailers sleep up to eight people and are available from $4,000 to $13,000.
Truck Camper
A truck camper is a camping unit that is loaded onto, or affixed to, the bed or chassis of a pickup truck. Most models have kitchen, dining, sleeping and bathroom facilities. Truck campers sleep up to six people and sell from $6,000 to $55,000.
Travel Trailer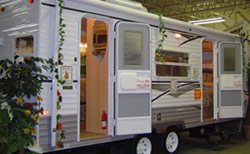 A travel trailer is a unit designed to be towed by a car, van or pickup. Travel trailers provide comforts such as kitchen, bathroom, sleeping, dining and living facilities, electric and water systems and modern appliances. Like all towable units, they can be unhitched from the tow vehicle, which is then free for convenient local travel to and from the campsite. Travel trailers can sleep up to 10 people. Travel trailers range in price from $8,000 to $95,000 depending on size and features.
Fifth-wheel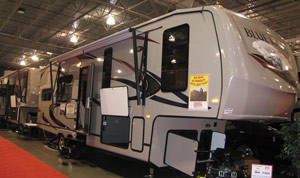 A fifth-wheel is similar to a travel trailer, but features a bi-level floor plan and is built to be towed by pickup trucks with a special hitch. Most are available from $18,000 to $160,000.
Motorhome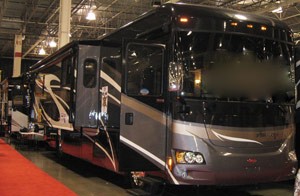 A motorhome is a recreational camping and travel vehicle built on or as part of a motorized vehicle chassis. Kitchen, sleeping, bathroom and dining facilities are all conveniently accessible to the driver's area from inside. Living systems generally include electricity, heating, air-conditioning, water and propane gas. Motorhomes come in a variety of sizes and types and can sleep up to eight people, depending on model. Class C models, which sleep up to eight, range in price from $43,000 to $200,000, Class B models range in price from $60,000 to $130,000 and sleeps up to four and Class A models, which sleep up to six range in price from $60,000 to $500,000+.
Source: gorving.com
---
Are there other uses for an RV besides camping?
Although RVs are often used for camping, that's not their only purpose! The possibilities are nearly endless. Motorhomes are a great way to carry passengers in comfort to any destination. RVs are used year-round for day trips to museums, amusement parks and shopping excursions, visits to family and friends and attending festivals or events. RVs are great for tailgating parties before the "big game" or for attending outdoor sporting events such as auto races. RVs can also be used as a spare bedroom for guests … parked right in your driveway!
---
Will I be able to use my RV year-round?
Although summer is the most popular season for RV enthusiasts, it is not the only season that RVs can be used! In fact, Michigan RVers have been known to take their RVs on skiing and snowmobiling excursions, fall color tours and to travel to spring festivals. Your RV dealer can help you prepare your RV for the cold winter months so that you can be sure to enjoy all the benefits of your RV year-round.
---
How will I know if my car or truck can tow the RV I want to buy?
Today's market features a large selection of tow vehicles-many with sophisticated engineering packages providing greater towing power, superior maneuverability and improved braking capacity. Sport utility vehicles (SUVs), light trucks, most full-size and many mid-size cars, for example, come with engines that offer fuel economy and greater horsepower, making them choice tow vehicles. For advice on which tow vehicles are suitable for the RV you are interested in, consult the RV manufacturer's guide. You may also want to contact your local auto dealer for specific towing information for your vehicle.
---
Is it difficult to drive a motorhome or a vehicle towing an RV?
With proper attention to the differences in vehicle size, height and weight, you'll find it fun and easy to take the wheel of a motorhome. Towing skills are also readily acquired. Whether you will be driving a motorized RV or towing an RV, you should adjust and use all rear view mirrors, account for your vehicle size when turning and allow more time to brake, change lanes and enter a busy highway. Drivers towing a folding camping trailer or travel trailer also should use the correct trailer hitch and be sure it is installed properly, connect brakes and signal lights, and back up with care. *Backing up tip: By placing your hand at the bottom of the steering wheel, the trailer will move in the direction you turn your hand. To move the trailer to the right, move your hand to the right. Once the trailer is moving in the proper direction, avoid any sharp movements of the steering wheel. Slowly steer the vehicle into its desired direction.
---
How much will it cost me to vacation in an RV?
RV owners save significantly on family travel when vacationing in an RV, concludes a vacation cost comparison study. The study shows that a family can get 50 to 80 percent more vacation for its money when traveling and camping in an RV. Among the 12 different types of vacations analyzed by PKF Consulting, an international consulting firm with expertise in travel and tourism, camping vacations using different types of RVs-folding camping trailers, truck campers, van conversions, travel trailers and motorhomes-were the five most economical trips, regardless of the distance, duration or region.
On average, RV camping vacations were found to cost about 50 percent less than driving the family car and staying in hotels, 60 percent less than traveling by bus or train and staying in a hotel or motel, and 70 percent less than flying to a vacation destination and staying in a hotel. In addition, the study found even the most expensive RV camping vacation costs about 65 percent less than flying and renting a house or condo, 75 percent less than taking a cruise and 80 percent less than an all-inclusive package vacation.
---
Source: PKF Consulting