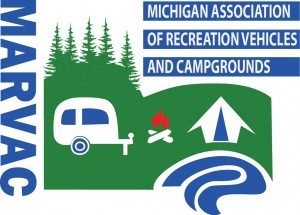 Contact: VP Demand Creation Services
Jillian LaCross, jillian.lacross@vpdcs.com
OKEMOS, Mich.—According to a study by the University of Michigan and commissioned by the Recreational Vehicle Industry Association (RVIA) in 2011, 10 million American households own an RV. Here are some additional facts and statistics.
In a new study by CBRE Hotels Advisory Group  for the RVIA compared the cost of eight popular vacation tupes using a family of four (two adults, two children). The study determined that RV vacations are the most economical, 27% to 62% less expensive on a per day basis in comparison to other vacation options.
According to the RVIA, the national number of towable RVs shipments at the end of 2017 was nearly441,000.
The total direct economic output in Michigan from the RV industry, according to RVs Move America (rvsmoveamerica.com) was nearly $696 million in 2017.
According to RVs Move America, the retail value of RV shipments to the state of Michigan was $778 million.
There are 726 RV-related businesses in Michigan employing 4,294 Michigan citizens.
The RVIA estimates there are as many as 30 million RV enthusiasts nationwide, including RV renters.
RV shipments reached 504,599 units in 2017, a record year and 17% over 2016, and 2018 is projected to be higher.  This is according to the RVIA.
According to the Michigan Department of Environmental Quality, there are over 1,100 licensed private recreation vehicle parks and campgrounds in Michigan, which represent more than 150,000 campsites.
More than 11% of U.S. households headed by 35-54-year-olds own an RV, exceeding the 9.3% ownership rates of those 55 and over. The 35-to-54 age group posted the largest gains in the 2011 Michigan survey
The Outdoor Recreation Roundtable in 2017, led by the the RV Industry Association, study resulted in these findings: the outdoor recreation economy grew 3.8% and generated 4.3 million jobs.
New RVs can range in price from $6,000-$22,000 for folding campers; $6,000- $55,000 for truck campers; $8,000-$95,000 for conventional travel trailers; $43,000-$200,000 plus for Type C motorhomes; $18,000 to $160,000 for fifth wheels and $60,000-$500,000 for Type A motorhomes.
Sources: Recreation Vehicle Industry Association (RVIA), South Bend Tribune, and Statistical Surveys
###