Campfires have always been a major staple in campground—sitting around the fire on a starlit night, telling stories, and roasting hot dogs and marshmallows.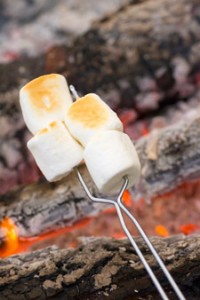 Many campers and RVers haul firewood from one part of the state to another aware that transporting firewood also transports insects and diseases. Some of these insects and diseases have destroyed Michigan's native trees. One of these insects is the Emerald Ash Borer, an invasive species that has killed more than 10 million ash trees in southeast Michigan, and is perhaps the most prominent threat to our state's forests. The emerald ash borer (EAB) is a small, metallic-green, wood-boring beetle that was discovered in southeast Michigan in 2002. Native to Asia, it's believed to have been unknowingly transported to the United States in wood packing material. But, the EAB is not the only threat … beech bark disease, Dutch elm disease and gypsy moths are the top threats in a growing list of firewood hitchhikers.
Please consider some simple Firewood transportation precautions to ensure the future of your favorite recreation destination:
Don't bring firewood with you when you camp. If you find or buy wood in the park, don't take any back home with you. Burn it all or give it to other campers in the park.
Do look for firewood for sale in nearby areas if your park does not have firewood for sale.
Do use a cook stove or charcoal if available to cook meals instead of using firewood.
Do conserve wood by pairing up with fellow campers to share the warmth of a crackling wood fire.
Protecting Michigan's forests doesn't mean that campfires are a thing of the past. Taking extra steps to enjoy the firelight will protect Michigan's forests today and in the future. For more information, visit michigan.gov/eab or call 866.325.0023.