The Upper Peninsula gets a lot of the recognition when it comes to finding a quiet, dark spot to stargaze. There's no question you'll be able to point out the Big Dipper or see a shooting star in this less congested area of the state, but you can find stargazing spots all along the western coastline of Lower Michigan, too.
Between the Indiana state line and the Mackinac Bridge you'll find numerous locations at which to do some stargazing and star-walking (what is star-walking?).
Locals may be able to tell you where to find a more remote – and private – location. Starting from the north and traveling south…
Headlands International Dark Sky Park, Mackinac City
Designation as a dark sky park means the park is forever protected from light and sky pollution. Thankfully, Headlands is located near the tip of the mitt, where small towns are aplenty and bright lights are not. Still, acquiring the designation is an important accomplishment, as it'll protect the area for generations to come. Visitors are welcome to visit at any hour of the night – just no camping. From Headlands you'll have some of the best views of the night sky: meteor showers in April, July, and August; Northern Lights in the fall and winter; and an endless stretch of stars, constellations, and galaxies during any clear night in any season. National Geographic named it one of three best stargazing places in the United States. For more information, visit midarkskypark.org.
Wilderness State Park, Carp Lake
To the west of Headlands International Dark Sky Park is Wilderness State Park, comprising of an impressive 10,000 acres and 26 miles of Lake Michigan shoreline. Although not designated as a dark sky park, it is designated as a Michigan dark sky preserve because it has qualities that complement nighttime viewing. Since it is a state park, there are numerous campgrounds that are RV-friendly, giving you easy access to the night sky by simply stepping out your door. Visit the Michigan DNR website for additional information about what you can find at Wilderness State Park.
Sleeping Bear Dunes, Empire
There's a lot that can be said about Sleeping Bear Dunes National Lakeshore – spectacular, magnificent, pristine. With only small towns nearby and a view that stretches out over expansive Lake Michigan, "other-worldly" may be another adjective to use. The Dune Climb, lookouts along Pierce Stocking Drive, and Platte River Point offer full views of the horizon and the network of space stretching above. There are star parties hosted throughout the year. Visit the NPS website for more details about this amazing national treasure.
Lanphier Observatory, Glen Arbor

The Lanphier Observatory is located at the Leelanau School in Glen Arbor, and open to the public Wednesday and Thursday nights from 10 p.m. until midnight—clear skies permitting—until Labor Day. "The Lanphier Observatory is unique because it is … in the middle of the Sleeping Bear Dunes National Lakeshore, voted one of the most beautiful places in America," Director Norm Wheeler said in a 2015 article at MyNorth.com. "We have a dark sky free of light pollution and stunning views of the Manitou Islands and Dunes."
Manistee National Forest, Big Rapids to Ludington
Forty miles of vast forests dotted with an occasional small town makes for the perfect place to do some stargazing. There are few sources of light pollution, meaning you have the night sky to yourself. Again, there are campgrounds, as well as a network of trails. You may find yourself climbing up to the observation deck that overlooks Lake Michigan or hiking to the top of the dunes in the Nordhouse Dunes Wilderness Area (situated within the national forest). You may also visit the Caberfae Scenic Overlook, which situates you to the west. It's also a great spot for fall color viewing.
Veen Observatory, Lowell 
There are public viewing nights at the Veen Observatory in Lowell, south of Grand Rapids, on select Saturdays in April through October. In addition to using the observatory telescope, you can bring your own or borrow a member's to take in the night sky and all its wonders. Typically, there is a program of what to see on a particular evening, and getting professional direction is helpful to families and amateurs to identify and learn about objects. There is a small fee for admission. Visit www.graaa.org/public-nights.
Dr. T.K. Lawless International Dark Sky Park, Vandalia
An official Michigan Dark Sky Preserve and recently designated an International Dark Sky Park, Dr. T.K. Lawless International Dark Sky Park in Cass County in Vandalia is 820 acres of outdoor bliss. Outdoor recreational activities abound during the day, but evening and nighttime are just as enticing. There is a $2 per car fee. Robert Parrish, a Cass County Parks commissioner and a delegate to the International Dark-Sky Association, explains why he thinks these designations are so important, "It has been estimated that over eighty percent of the U.S. population has never seen the Milky Way due to artificial light pollution. From the night sky, we can learn scientific, cultural and a certain 'sense of place' education. It helps to ground us by teaching us how small we are as actors on the huge stage of the entire universe." The park is open late on dates where astronomical events take place.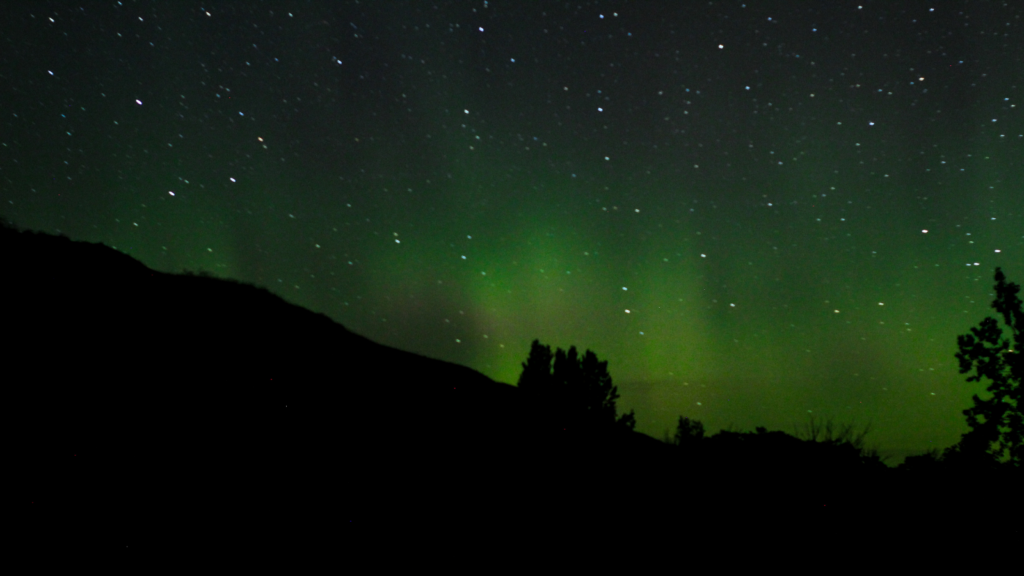 What to Bring Along
According to the experts, you don't need to invest in expensive equipment. Your eyes are sufficient. However, binoculars can be helpful if you want a closer view and don't own or want to bring a telescope. The most important thing to bring is clothing – dress for the night temperatures, as they tend to be lower than daytime temperatures. Along the Lake Michigan shoreline, the temperature can take a more dramatic dip, so be prepared with several layers.
Pack a blanket or portable chair as well as a flashlight. For dark sky parks – and really anywhere you choose to go stargazing – use a red-light flashlight to protect your vision as well as to avoid disrupting other stargazers.
If you can't make it to one of the areas listed in this article, or you want to discover a spot of your own, follow these simple tips: the farther from town, the better; use public property; and double-check to make sure the moon isn't full. Also, make sure your camera is charged for long exposure photos. Avoid from using your phone as a flashlight or for browsing during your outings.
Fall Viewing Opportunities
Autumn in the Northern Hemisphere means the nights get longer, darker, and earlier. Around the third week of October, there's the Orionid meteor shower. Meteor showers are great for viewing with the naked eye, as long as the moon doesn't interrupt with its glow. In the fall, you can also see some of the closest star clusters to Earth: Hyades and Pleiades. Binoculars will give you a better view. Of course, you can also take in the Milky Way almost any clear, moonless night. Even more mind-boggling is the ability to view the Andromeda galaxy, the most distant object the unaided human eye can see at 2.5 million light-years away. What's so mind- boggling about it, is that the light you're seeing in Andromeda left 2.5 million years ago, back when there were woolly mammoths around.
Fall also creates more ideal conditions to see the northern lights. This magnificent display happens more frequently later in the year. You will get only a few days' warning about their making an appearance. If the northern lights are expected, then (1) check the weather for cloud cover for the anticipated night to see if it's conducive to stargazing; and (2) on the night, look outside around midnight toward the northern horizon. Be in as dark a location as you can.