The Upper Peninsula and northern Lower Michigan get most of the credit when it comes to fall foliage and taking scenic drives. The metropolitan areas don't get a lot of recognition, yet the city architects took Michigan's natural beauty into consideration – and you'll really appreciate it when fall rolls around.
From mid- to late October you'll find large landscaped parks that are an oasis from the metal and glass and concrete, as well as little hidden surprises, that will get you into the fall spirit.
Driving Time: 3 hours, 47 minutes
Mileage: 161 miles
Huron River Drive, Dexter
A gorgeous tree-lined drive is a favorite for locals. The drive starts at Strawberry Lake Road near Portage Lake and actually leads all the way east to Lake Erie. If you bike the whole stretch, there are some gaps between towns, but you'll be able to ride along the side of the road. Bicyclists can make it from Dexter to Ann Arbor directly. Along the way, you'll encounter nature areas, yellow tunnels, picturesque riverfront, and some of the metropark network including our next stop on this tour: Delhi Metropark.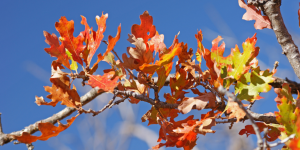 Delhi Metropark, Ann Arbor
Ann Arbor is a busy town, especially when school is back in session. But you can get away from the crowded sidewalks and restaurants five miles northwest at Delhi Metropark. This quaint 53-acre area has mature oak trees, which boast red leaves in the autumn, and open lawns to keep the beautiful, meandering Huron River company. It's home to blue herons, turtles, and white-tailed deer. There is a picnic shelter and a playground, too.
Long Family Orchard and Farm, Commerce
There's nothing more American than Long's Family Orchard. The red barn, with the green shingled roof that proudly states "Long" in white and situated between two crimson apples, beckons you to visit the farm. The Long's sell apples, pumpkins, sweet corn, vegetables, peas, and asparagus. Sweet corn season is late August to September. Visit www.longsorchard.com/ for apple recipes, asparagus recipes, and other information about harvest dates. For fall fun, the farm usually has a corn maze, a farm yard with animals you can pet, and a play area.
Independence Oaks Park, Clarkston
This is the largest Oakland County Park, with an area of nearly 1,300 acres. Kids will enjoy the Wint Nature Center, which houses interactive exhibits and hosts programs throughout the year. See the fall colors up close via 12 miles of paved and natural trails. One of the most beloved and easy trails is the 1.5-mile Hawks View Trail. Or, see the colors from 62-acre Crooked Lake by renting a rowboat, canoe, kayak, or pedal boat and taking a cruise along the shore. If you're more of an outdoorsman or athlete or just love to try something new, then hitting the archery range may be in order during your visit. For a printable map of the park, click here.
Highland Recreation Area, White Lake
Six thousand acres of trails through forests and marshes and around two lakes. With more than 17 miles of trails for hiking and 15 for mountain biking, it's easy to get yourself lost in the colors of fall. Visit the Goose Meadow day area for access to trails or the Haven Hill Natural Area to see all of the mature hardwood leaves in glorious color. Highland Recreation Area is open 8 a.m. – 10 p.m. and a recreation passport is required. This is one of the most popular spots in southeast Michigan because of the variety of foliage – cedar, beech, maple, oak, hickory.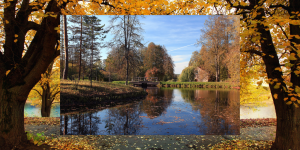 Hines Drive, Wayne County
The entrance is in Northville by 7 Mile Road and follows the old M-14 route along the Rouge River to Dearborn. It's a historic 17-mile drive that was built in 1949 with land donated by Henry Ford. You'll pass historic mills, sports fields, trail heads, fishing docks, and picnic areas. Wilcox Lake is a great spot to take in the fall colors, as is the area around the white-walled Nankin Mills interpretative center in Westland. Hines Park, considered a recreational gem by many and older than the route itself, is another good turn-off if you want to see some gorgeous colors, or walk or bike a trail. At Christmas time, there is a beautiful light display.
Pontiac Recreation Area, Waterford Township
If you love hitting the trails on two wheels, this is the spot to go. The 11-mile mountain trail is ranked as one of the Top 10 Trails in the country. Maybe your interests lean more equestrian. You can rent a horse and go explore 17 miles of forested trails. The Pontiac Recreation Area is charming in the autumn, with its rolling terrain, mixed habitat, and diverse appearance. Foliage is deeply colored and dense in the forest, and the meadows and pond reeds fade as the seasons turn from summer to fall.
Paint Creek Trail, Rochester
Looking for an easy walk to enjoy the fall scene? The Paint Creek Trail follows Paint Creek for nearly nine miles and through various landscapes: fields, prairies, woodlands, and marshlands. The eight-foot-wide trail is built on a former railroad bend and is constructed of a sturdy, weather-resistant limestone surface. The best part? It's quiet. This is a non-motorized trail.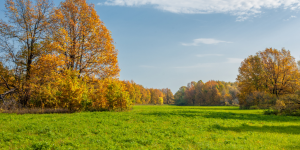 Algonac State Park, Marine City
Nature meets industry. Algonac State Park in Marine City has plenty of St. Clair River frontage, making it one of the best spots to view Great Lakes freighters. The park itself is nearly 1500 acres 1450 acres. The diverse habitat on the property is also some of the rarest: lake plain prairies and oak savannas. Go fishing in the St. Clair River or walk the trails – and keep your eye out for butterflies and other wildlife. There are weekly nature programs hosted at the park, which can be viewed on the Michigan DNR website.