When you're traveling in or pulling an RV and away from home, you want to make sure you have all the proper paperwork and identification organized and available. What documents should you have, or have access to, should the need arise?
For vehicles (motorized RVs, towable RVs, toads, and tow vehicles): Vehicle registration, insurance, and titles
Legal papers (copies may be fine in some cases): Passports, birth certificates, marriage licenses, divorce papers, powers of attorney, wills, attorney contact information, and emergency contacts
Health-related: Health insurance, list of current medical conditions, medications (included dosages), allergies, and primary physician contact information for each person
If traveling with pets: Veterinary papers including a list of vaccinations, any medications (and dosages), and license
Copies of documents pertaining to your home or other real estate in case of an emergency (such as a natural disaster): Homeowners insurance policy, house deed, photos of your home in its current state, contact information of individuals who have keys to your home, mortgage and banking contact information
Address book: Just like with the GPS capability on our phones, always plan as though it won't work. We keep contact information, including addresses, in our phones, too. Make sure you have addresses physically written down (or printed) so that you can refer to them in case that information isn't available.
Technical information: Device passwords, computer brand/model/operating system, cell phone, and GPS system.
Vehicle/RV guides and owner's manuals
Appliance and heating/cooling manuals
Pros and Cons of Paper and Paperless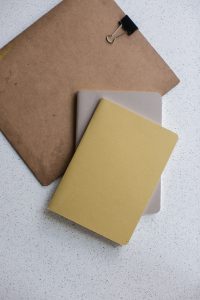 The main benefit of having paper documents is that you can retrieve them or refer to them as necessary. You don't need to leave instructions for anybody as to where to find this information as far as a digital location is concerned: "This is the password, then it's under "My Documents" in a folder I think I called "RV" and then…"
Additionally, many situations require a printed version or even an official document for proof, so traveling without these documents can cost time, money, or both. Bring copies when you can and leave the originals at home. Another benefit of paper documents, especially manuals, is being able to flip through the pages quickly instead of scrolling. You can lay out multiple pieces of paper to review, unlike digital documents, which can often be viewed only one at a time (depending on whether you're on your phone or on a computer or a tablet).
However, if you don't want to physically manage and update your documents: go paperless. Some RVers have converted much of their filing to being digital only. This is fantastic from an organizational and storage point of view, because you don't need to worry about remembering to pack another thing or making updates to the papers included in the folder.  Some documents, such as medical history for yourself or your pet, may be accessible through a patient portal online. The same goes for insurance.
Some RVers find it useful to spend a few hours assembling the paper documents of everything listed previously and scanning them so that they become digital, searchable files that can be stored in a secure cloud or on a computer hard-drive. With the right software, these files can be edited and annotated.
This approach can help keep the rig or trailer tidy – and one less thing to worry about! However, as stated earlier in this article, some documents can't be digital, such as your vehicle registration and insurance.
So when it comes to the question of how do you keep your documents? The most logical answer is that it's likely a combination. Just make sure others you trust know where to find the information if it's needed.