"Where was this when I was young?" This was said by an older relative who lives in a part of the country that is also home to two of our nation's great parks: Grand Teton and Yellowstone. He's noticed a lot more RVs making the trek through… and lots more families.
He isn't the only one to notice. With the COVID-19 pandemic shifting work and schools into remote environments, many working parents of school-age children started to ask themselves whether it mattered to be in their own home to work and learn.
Many folks decided that it didn't, and now we're seeing a "road schooling" trend. The RVs in Wyoming had families aboard who are making their way from park to park, learning on-site and hands-on and through life experience. It is a way to get everyone out into the fresh air and away from crowded areas and activities. It is a way to make the best of things. The traffic in Wyoming isn't an exception, either.
Sounds pretty grand, doesn't it? Well, as with everything, you need to consider all the angles when it comes to road schooling and work camping.
Depending on the ages of the kids and the method of providing instruction by a particular education institution, many students these days are finding themselves required to attend several hours of virtual instruction facilitated by a teacher on the other end. This means internet access is a must. Many campgrounds, RV resorts, and RV parks offer Wi-Fi as an amenity; however, the connection can be spotty.
If there are multiple kids, then multiple computers are needed as instruction times will likely overlap. Then, it's finding space in the RV for each child to receive his or her virtual lessons. Add to the fact that working parents need a computer and internet access, and you've got a mobile office/school that utilizes a lot of data.
As many RVers know, a dependable internet connection can be spotty at times, which makes it difficult for these road warriors to work and for kids to keep up on schoolwork.   An app called Coverage can help road schooling families determine good service by major wireless carriers across geographic areas. Other apps, such as Campendium and RVParky, offer reviews of campgrounds – with internet access being one of the items often reviewed. This can help families pick campgrounds with a reasonable expectation of decent internet access.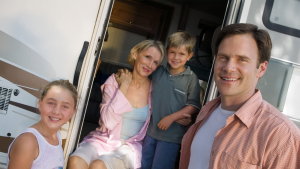 However, even with good internet service, virtual learning isn't without bugs. Live feeds can freeze, Zoom calls can sound muddled, and kids can get frustrated while teachers spend the better part of a lesson troubleshooting.
On the plus side, virtual learning from your child's school means you are not responsible for choosing or teaching lessons. That responsibility falls on the certified teacher. With younger children, you will need to be more hands on and involved to make sure they are completing their lessons. With older children, they can be more independent on managing their instruction and assignments.
Some families have opted to pull the kids from school altogether, whether it's because the virtual learning wasn't working well for the kids or their school of choice didn't offer a virtual learning option. They decide instead to homeschool.
Homeschooling offers the most flexible schedule as far as instruction is concerned. There's no need to be on a school schedule or require access to internet for several hours. Homeschooling requirements vary by state, so it's important to check those requirements prior to embarking on that form of education. As far as curriculum, there are plenty of choices. Once you've decided on a curriculum,  you get the materials and implement the lessons per the instructions. The hours required for school vary by age; the older the child, the more hours that are necessary.
You can be as creative as you want with homeschooling and incorporate the natural world as much as you want, which is why so many families have found road schooling so productive and exciting. It's easy to have too many materials for homeschooling. Of course, since you are living and learning in an RV, space is limited, so it's important to be well-organized and keep clutter to a minimum. When you homeschool, you can be the only teacher or you can incorporate some virtual lessons at your choosing. You take on the responsibility of teaching your children – and many families have truly thrived because of it.
Some families hit the road in this past summer, the traditional time to embark on an RV trip – and simply found themselves extending their road trip when many schools elected to offer virtual-only instruction. Other families made the choice years ago and live a more nomadic lifestyle to show their kids the beauty and history of this country.
Road schooling has opened doors for families to grow closer together, to nurture bonds, and to experience new places and things that would otherwise have remained on a "bucket list."