When it comes to the prospect of camping with kids, whether they are toddlers or teenagers, you may envision the whole trip being chaotic or frustrating. You may envision the vacation with those you love most as being straight out of a child's picture book, filled with rosy, memorable moments that will last forever.
Most well-seasoned camping families will tell you that an RV camping trip can have, and often does have, a bit of both. Although it's good to "roll with the punches," when it comes to going on a family vacation with the kids, being prepared is essential to a successful trip. You also need to manage your expectations, and those of others around you. This can be a delicate balancing act, but with thoughtfulness, and a dose or two of first-hand experience, you can help ensure a fun and notable trip for everyone.
The list.
Let's say you've already got the hard part done: You've chosen where you want to go and where you're going to set up camp – whether you're staying in one place the entire time or moving locations throughout the vacation. (We have great private campgrounds, RV resorts, and RV parks all across Michigan – hint, hint.)
The time is approaching when you'll be waving good-bye to the ol' homestead and hitting the road. You don't want to be forgetting anything important, which is why the most important item on your packing list is the list itself.
Lists are gold standard for RVers. We have lists for departing campsites, setting up camp, breaking down camp, winter camping, you name it. We thrive on lists, because they help us stick to a routine and to be as prepared and as safe as possible.
When you have a family going camping, that list is going to grow. You can't possible remember everything or your head will feel like exploding. For older kids, you an create personal lists for them to follow and simply check in later to make sure they are getting the items they need to bring along. For younger kids, you have a whole other set of required items, such as pack 'n plays, booster seats, backpacks, and pacifiers. (Why do babies and toddlers seem to need the most stuff?) We've supplied information regarding camping with infants and toddlers before, so we won't repeat everything here.
As for the "master packing list," well, that should go to the partner who's the most organized. Older kids can help with fetching items or checking items off the list as they are packed. Here's a start on a list, and this is by no means complete. You'll need to tweak the list based on your family's individual needs, special considerations, and season.
The beautiful part about camping in an RV is that many items can be "stored" precisely where they will be used, such as bedding and dishes. Other items can be organized (i.e., games or cleaning supplies) and stored in transparent totes ahead of time. That way items are easier to find and everybody knows exactly where something needs to be returned.
tool box
wrench set
batteries
light bulbs
personal medicines (such as asthma inhalers)
sleeping bags or sheets/comforters for beds
sleeping pads for beds
pillows
lanterns
flashlights
headlamps
camping chairs
day packs
blankets or stuffed animals that are sentimental for your kiddos
compass
radio
water bottles
swim gear
raingear
layering clothing
hoodie or fleece
socks and undergarments (always more than you think)
good footwear, at least hiking boots and tennis shoes
sandals
sunglasses
sunscreen
bug spray
hatchet/axe
toilet paper
toiletries (toothbrushes, soap, shampoo)
cooler
storage bags
aluminum foil
can opener
multi-tool
French press
cooking utensils
Dutch oven
griddle
cooking knives
pocket knife
matches and lighters
cutting board
dishes (nesting sets are ideal because they help to conserve precious space)
potholders/oven mitts
duct tape
bottle opener/corkscrew
cups
beach towels
bathing towels
laundry line
dish soap
cleaning products
trash bags
baby wipes
paper towels
cooking oil
hand sanitizer
deck of cards
favorite family games
fishing gear
activity books
Bocce ball, Spike ball, Frisbee
bikes (if there's room)
screen awning (optional)
tablecloth
doormat
for babies/toddlers: portable play yard, bassinet or crib, bottles, extra hats and blankets, extra pacifiers, car seat, booster seat, sleep sack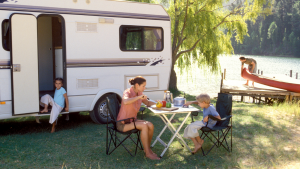 Manage your expectations.
At the start of this article, we provided two scenarios: chaotic and frustrating, and sublime and memorable. Your trip will likely have a dose of each, yet most of the time it'll be pretty routine. Sure, kids can be overexcited and seem to have a lot more energy than normal, or your teenager may be moping around; that's to be somewhat expected.
First and foremost, you need to manage your own expectations over what this vacation will be like. It's okay to hope for the best. Forcing it won't do anybody any good. Provide opportunities for you and your kids to make memories, but don't be on the constant lookout worrying if you're "giving" your family memories. You also need to manage your stress level so that your expectations don't get overblown, or you aren't "really there" with your kids. RV camping takes time and preparation, and it can feel exhausting the first few times as you learn and develop routines (and lists). When you reach the campsite, however, be present. Soak up the time you have with your kids and your partner. Do activities together that you may not otherwise do, or choose things to do that appeal to some and invite others to experience. Live in the moment as much as you can. That's where true memories are made.
Second, you know your kids and how they will most likely react, what they are capable of helping with, what they like to do. To expect them to be totally different than what they are at home is fantasy. They will be who they have always been. Camping can bring out the best and worst in people, including kids. You need to be realistic up front. Older kids need to know the ground rules, and have jobs for helping out around the campsite.
To expect that everything will go smoothly without taking time or effort to better ensure that it does, simply sets you up for a bumpy trip. You can't plan for everything, but you can be as prepared as possible so that those unforeseen events don't cause havoc on your trip. It becomes "one of those things" that happened, not "THE THING" that ruined the vacation.
With a handy list that gets checked more times than Santa's Christmas naughty-nice list and by managing your expectations, you and your family can get out there, and have a great time!