Featured image from Shipwreck Tours, Munising, Michigan
Driving time: 3 hours, 38 minutes
Mileage: 217 miles
The Great Lakes can be as treacherous as they are beautiful. Poor weather can cause the waters to become hazardous, and the lakes have swallowed up their fair share of vessels of all sizes. Some are nationally famous (Edmund Fitzgerald) while others are known only through their discovery, because let's face it, we love finding something that's been lost to time.
There are hundreds of shipwrecks, their resting places known in some cases but not known in many others. You can learn some of this history and encounter some of these ships by embarking on a glass bottom shipwreck tour. There are three main destinations in Michigan that offer this type of excursion, and honestly, it's worth going on every single one.
Stop #1: Alpena
To begin this driving tour, you must visit the premiere destination for underwater exploration and shipwreck diving in the state: Alpena. Settled on the shores of Lake Huron, this picturesque town is home to a national marine sanctuary, complete with glass bottom boat tours. The Lady Michigan takes you down this Great Lake's "Shipwreck Alley," where you can get a glimpse of two to five shipwrecks. However, the area is a sanctuary because there are an estimated 200 shipwrecks, many of which haven't been discovered. The ones that have been located are often utilized for research, diving expeditions, and to learn how to use underwater technology. During the summer months, tours depart three times daily at 9:00 a.m., Noon, and 3:00 p.m. Tickets for adults are $39, it's $14 for ages 6-12, and under five years old can take the 2.5-hour cruise for just $1. A guide will narrate throughout the tour, giving insightful history on the wrecks as well as the local area itself. Before or after your glass bottom boat tour, visit the free-entry Great Lakes Maritime Heritage Center. Meander into historic Alpena and get an ice-cream cone at Scoops, walk the downtown shops, maybe get a pint or two at Austin Brothers.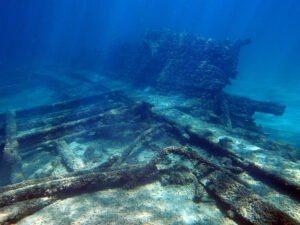 Stop #2: Cheboygan
Get back in the vehicle and head north on U.S. 23 toward the Mackinaw Bridge. The drive follows the Lake Huron coastline, and it's a beautiful drive on a sunny summer day. There are several beaches and roadside parks if you want to take your time or have some lunch. Your next destination on this driving tour is Cheboygan. Nautical North Family Adventures has been doing a swell job of giving shipwreck seekers a gander at some of Lake Huron's wrecks since 2018. Their vessel, the Yankee Sunshine, takes you down the Cheboygan River, past three lighthouses, and over three shallow water shipwrecks. You can add snorkeling, with gear provided, to get an up-close look at the shipwrecks. Adult tickets are $29 apiece, children 6-12 are $14, and under five years old are $5. There are also senior and military discounts. After the tour, you can choose to go into town for some food and shopping. There also a wonderful farmer's market on Wednesdays and Saturdays from 8 a.m. to 1 p.m. if you happen to be there those days of the week.
Stop #3: Munising
To reach the last destination, you'll leave Cheboygan and drive 20 minutes north to the Mackinac Bridge, which spans five miles from end to end and connects Michigan's two vast peninsulas. It's an experience in itself to cross the big bridge. Once on the Upper Peninsula side, it takes only a couple hours to reach Munising. Also known as a hotspot for viewing stunning waterfalls and the entry point for Pictured Rocks National Lakeshore, Munising is home to the only glass bottom shipwreck tour on Lake Superior. Shipwreck Tours runs seven days a week until September 30, rain or shine, with five tours daily during July and August. The website eagerly promotes the tours as being: "Fully narrated, educational and entertaining, two hour tour explores two historical shipwrecks, the Bermuda (sank 1870) and Herman H. Hettler (sank 1926). Cruise by Grand Islands' East Channel Lighthouse (constructed 1867) and colorful rock cliffs, caves, beaches, and pristine wilderness." Adult tickets are $38, seniors over the age of 62 are $34, children are $14, and those under five are $1.
Weekends are typically busier, so try to visit during the weekday if you can. Make sure you bring a jacket or sweatshirt, even if it's forecast to be warm, as it can be much cooler on the water.  It's convenient that all three glass bottom shipwreck tour companies offer online booking. You can purchase tickets – and should – well in advance. With several tours leaving daily, you have a better chance of getting on to a tour on your chosen day.