Michigan has the longest freshwater coastline in the world, with more than 3,000 miles of shoreline and 1,000 miles of island shoreline. If you love the look, feel, and smell of fresh water, then you'll feel right at home. You're never farther than 85 miles from a Great Lake and never more than six miles away from water, period – anywhere in the state.
That being said, all that shoreline means there are plenty of beaches at which to camp near. Many state parks and private campgrounds include beaches as part of the grounds. How do you ensure you get one of these beachside primo spots, what should you add to your packing list, and what should you do to help manage the sand when you're there?
Book your site early.
When it comes to the real estate market, waterfront parcels grow in value and hold their value. They are desirable and when they go up for sale, they go pretty quick. The best beach campgrounds also fill up quickly. Book early so that you have your choice of sites. Some campgrounds will be completely full within hours of sites being released, especially during the high season. If you can postpone until the off-season, so much the better. You'll have a better chance to get a good site, plus more space to yourself.
Be prepared for sand.
The feeling of sand between your toes, good. The feeling of sand on the bedsheets as you try to fall asleep, bad. All that sand can clog up RV showers, too. To be prepared, bring lots of towels – some just for the beach, the rest for other uses. Bring along at least two swimsuits so that a wet one can dry on a clothesline while you still get to spend time swimming. Come to mention it, a clothesline will be your best friend in keeping wet, sandy items out of the RV. Before you or anyone else goes back in the RV or takes a shower in the RV (if you have a full bathroom), rinse off. Dunk your feet in a bucket of water just before entering the RV. If you know you'll be needing a shower, rinse off at the beach showers if they are available or utilize an outdoor shower back at your campsite. A mat or rug outside the RV can help prevent sand from getting in, and inside, make sure you have a small broom or stick vacuum to assist with sweeping or picking up sand on a regular basis.
Be prepared for sun.
A sunburn can quickly turn a beautiful beach vacation into a nightmare. It's difficult to get comfortable when your skin is red. Make sure you have ample sun protection, including sunscreen, umbrellas, and SPF clothing. Hats will help keep your face from getting too much sun, and sunglasses will help you manage the glare coming off the water.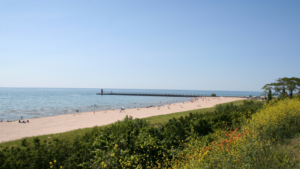 Be prepared for swinging temperatures.
The air temperature is typically cooler when you're by a body of water, especially one of the Great Lakes. The days often start cool, get very warm, and then cool off as the evening settles in. Bring along plenty of layers to keep yourself comfortable and flexible with the temperature changes. Temperature can also make the temperature within your RV difficult to manage. For one, try to keep the door closed as often as you can. Two, if you have air conditioning and plan to use it, then make sure it was checked out and working properly before you embarked on your trip. Open the windows when it's cool and close them and draw the curtains when it's hot; maybe even adding reflective coverings to the windows. Use fans to circulate air and push air out of a toasty RV.
Pack beach games.
If you know you'll be spending all your time at the beach, then you can use the space in your RV to your advantage to bring along beach games and equipment. Bodyboards, volleyballs, beach balls, Frisbees, kites, sand toys, snorkeling gear, and fishing poles are all quick, easy things to pack. If you love a little more adventure or just like to wander, then make room for a couple kayaks or paddleboards. Bring along beach chairs so that you don't need to load the camping chairs from the campsite every time you want to hit the sand. You should also pack games that can be done indoors, in case of bad weather.
Plan easy meals.
After all the fun in the sun, the last thing anyone wants to do is cook a gourmet meal or have one take a long time to prepare. Prep meals before you leave for your time at the beach, or choose a recipe that can be made quickly once you get back. Fresh foods and cool water will help refresh everyone's appetites. These recipes could be good options.