Nothing smells or looks like fall more than juicy red apples. Or green apples. Or yellow apples. There are dozens of varieties, many of which can be found across orchards in Michigan. In addition to delicious libations, both alcoholic and non-alcoholic, featuring this delectable fruit, you can incorporate apples into your campsite baking and cooking for fresh fall flavor.
Campfire Apple Pies – Courtesy of Sugar and Charm
Use the old campfire and a pie cooker to make this incredibly flavored treat.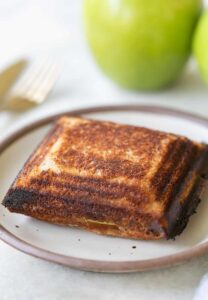 Ingredients
5 apples thinly sliced, A variety of green and red is best.
Juice of 1 lemon
1/2 cup brown sugar
3/4 cup granulated sugar
1 teaspoon cinnamon
1/2 teaspoon nutmeg
5 tablespoons butter
1 loaf white bread
1 stick butter, softened
Instructions
Mix all of the ingredients together (except for the bread and 1 stick butter) in a large bowl and mix until apples are fully covered with the mixture.
Butter two pieces of bread, both sides.
Place a piece of bread on the bottom of the pie cooker. Fill it with the apple mixture (pile it high) then place the other piece of bread on top and close the pie cooker.
Hold over a fire, until each side is golden brown.
Campfire Apple Pie Packets – Courtesy of Love from the Oven
A couple extra pieces of kitchen equipment will help you make these apple pie packets at the campsite that will taste like Grandma's Famous Apple Pie.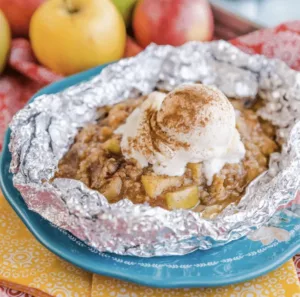 Ingredients
APPLE MIXTURE
2 medium to large sized apples diced into approximately 1/4″ pieces
2 tsp lemon juice
2 tsp cornstarch
2 tbsp granulated sugar
1/4 cup packed brown sugar
1 tbsp cold butter cut into small pieces, approximately 1/8″
1 1/2 tsp Ground Cinnamon
TOPPING MIXTURE
1/4 cup quick cook oats (old fashioned oats will also work, they just have a chewier texture)
1/4 cup all-purpose flour
1/4 cup packed brown sugar
1 1/2 tsp Ground Cinnamon
1/4 cup cold butter cut into small pieces, approximately 1/8″
Instructions
Preheat grill to medium heat or preheat oven to 450 degrees F.
Prepare four pieces of non-stick foil, approximately 12×18″ in size.
In a medium sized bowl, combine diced apples and lemon juice. Add in cornstarch, sugars, Ground Cinnamon and butter. Mix to combine well. Set aside.
Next, in a separate bowl, combine oats, flour, brown sugar and Ground Cinnamon. Mix well.
Add butter to mixture and cut in with a pastry cutter or two forks.
Place half of the apple mixture onto the center of one of the pieces of non-stick foil, making sure the mixture is touching the non-stick side. Sprinkle half of the crumb mixture over the apples.
Seal foil packet tightly, making sure all sides are securely closed. Repeat with a second piece of foil. Repeat with remaining ingredients.
Place on grill or over campfire for approximately 8-12 minutes, or place on a cookie sheet and bake in oven for approximately 15 minutes. Times are approximate as grill and campfire heating is harder to regulate than an oven.
Remove from heat and allow to cool for approximately 10 minutes. Carefully open foil packets as they will be very hot. Top with a scoop of ice cream, serve, share, and enjoy.
Apple Pie On A Stick – Courtesy of KOA
Instead of cooking hot dogs on a stick, give apples a try. A little patience will give you a warm apple to enjoy beside the campfire.
Ingredients
1 cup sugar
1 Tbsp cinnamon
4 cooking apples
4 dowel or roasting sticks
Preparation
In a small bowl, mix together sugar and cinnamon and set aside.
Push the stick or dowel through the top of the apple to the bottom until the apple is secure. Roast the apple 2 to 3 inches above the bed of hot coals and turn frequently. (As the apple cooks, the skin starts to brown and the juice dribbles out.)
When the skin is loose, remove the apple from the coals but leave it on the stick. Peel the skin off the apple, being careful not to burn yourself because the apple is very hot. Sprinkle with cinnamon and sugar – and enjoy!
Do all the slicing and dicing at home prior to leaving for your trip for even easier assembly for one of your breakfasts. A cast iron skillet is all you really need as far as cookware.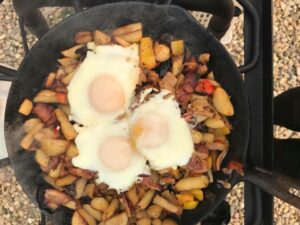 Ingredients
5 cooked sausages or bacon slices cut into bit size pieces
1 yellow onion, diced
1 small apple, cubed
4 cups of potatoes, chopped
3 cloves of Garlic, minced
3 tbsp avocado or olive oil
1 tsp red pepper flakes
salt and pepper to taste
2-4 eggs (one per serving)
1 tbsp oil or butter
Instructions
I like to prep this at home, so this makes for a super easy breakfast in the morning. I pre-cut all the veggies and place everything minus the eggs into large ziploc bag and give it a good shake. The ziplock bag lays perfectly flat in a cooler!
In the morning all you have to do is heat your skillet over the fire with oil or butter, then empty the bag into the pan and cook for about 10 minutes (hint: the smaller you cut the potatoes the faster the cooking time).
Once the veggies are soft, crack your eggs over top cover with a lid and cook 2-5 minutes based on how you like your eggs.
Make these homemade sweet yet healthy snacks at home, whether you choose to make them ahead of your camping trip or using apples you picked up during your camping trip.
Ingredients
Sweet apples i.e. gala, honey crisp or pink lady
1 tbsp cinnamon
5 tbsp coconut or raw cane sugar (optional)
Instructions
Preheat oven to 225 degrees and line a baking sheet with parchment paper
Using a mandolin or finely slice the apples with a sharp knife into thin slices.
Lay the slices on the sheet with about 1/2″-1″ between them. Mix cinnamon and sugar and sprinkle over the apples (you can omit the sugar too).
Bake for 1 hour, then flip the slices over and bake for an additional 1-1.5 hours until they are dehydrated and crispy like a chip.
Store in an air-tight glass container for 1-2 weeks.