There's nothing better than warm comfort food when the fall days arrive, and Thanksgiving Day is the crown jewel of autumn.
When you travel or live in an RV, you need to make sure you have a feast for your table, too, or at least go-to recipes for the home where you'll be enjoying your holiday meal. These Thanksgiving recipes can be made in a variety of ways, but they all have one thing in common: deliciousness.
Twice Baked Potato Casserole – The Cozy Cook
Originally by The Pioneer Woman (seriously, check out her plethora of recipes), this casserole takes a little effort to build but the results are well worth it. Potatoes are a staple of the holiday dinner table, and this recipe kicks things up a notch plus gives a traditional favorite a new spin. Obviously, making this casserole would be easier if you have a larger kitchen and a full oven.
Ingredients
½ pound bacon
8 medium russet potatoes
3 Tablespoons canola oil
2 sticks salted butter softened and sliced into cubes.
1 cup sour cream
1 cup whole milk
1 cup grated cheddar cheese plus more for topping
2 teaspoons seasoned salt
3 green onions sliced
Salt and pepper to taste
Instructions
Preheat the oven to 400 degrees.
Take out the butter, sour cream, and milk and set them aside, they shouldn't be cold when combined with the potatoes.
Scrub the potatoes clean. Wipe them dry and rub them with canola oil. Place them on a baking sheet and bake for 40 minutes, until they can be easily sliced through.
While the potatoes bake, cook the bacon in a large pan slowly on low heat. As the edges begin to curl, use tongs to flip them over periodically until evenly cooked. Set them aside on a paper towel-lined plate to cool once finished.
Remove the potatoes from the oven and decrease the heat to 350 degrees.
Leave the skins on two of the potatoes and peel and discard the remaining skins. Cut each potato into thirds and add them to a large mixing bowl.
Crumble the cooked bacon and set some aside for topping the casserole. Add the rest to the mixing bowl along with the butter, sour cream, milk, grated cheese, seasoned salt, and salt and pepper.
Smash the potatoes with a potato masher until well-combined and creamy.
Add the potatoes to a greased baking dish. (Mine was 11.25″x 7.75″ but any size works.)
Top the casserole with reserved bacon and additional shredded cheese.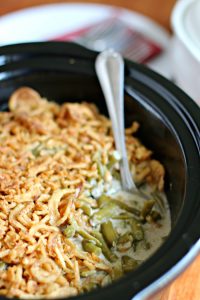 Green Bean Casserole is another holiday staple that no table should be without. This slow cooker version takes an already easy dish and makes it easier. Yes, easier.  For the onions on top, you will need the last 10 minutes in an oven.
Ingredients
32¼ oz cream of mushroom soup (three – 10¾ oz cans)
½ cup milk
⅛ tsp black pepper
⅛ tsp onion powder
145 oz green beans (Ten – 14.5 oz cans; drained)
12 oz French's French-Fried Onions (Two – 6 oz canisters)
non-stick cooking spray
Instructions
In a very large bowl, whisk the cream of mushrooms soup, milk, black pepper, and onion powder until smooth.
Stir in the drained green beans.
Gently fold in 1 canister of French-fried onions with a rubber spatula into the green bean mixture, taking care to not break the green beans.
Spray the slow cooker with the non-stick cooking spray.
Pour the green bean mixture into the slow cooker.
Place the lid and cook on HIGH for 2½ hours.
Once the cook time is up, sprinkle the remaining canister of French-fried onions to the top of the casserole.
Remove the slow cooker insert from the heating element and place it in the oven WITHOUT the lid.
Cook for 10 minutes at 350°F or until the onions are browned.
Set the insert back into the slow cooker heating element, replace the lid, and set the slow cooker to WARM until ready to serve. Enjoy!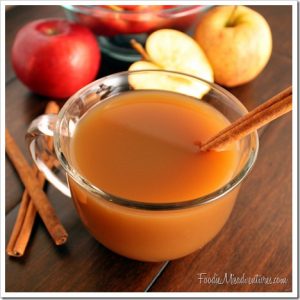 If all the side dishes are spoken for or you just want to bring something unique, mulled apple cider will do the trick. This recipe has you making it in a slow cooker. If you want to add to the festivities, then add a little brandy or dark rum to the list of ingredients; however, the non-alcoholic version is delicious and festive on its own.
Ingredients
1 gallon apple cider
½ cup brown sugar
1 orange, cut into 4-6 slices
4 cinnamon sticks (4-inch)
10 whole allspice berries
8 whole cloves
¼ tsp fresh grated nutmeg
Instructions
In a large slow cooker, combine apple cider and brown sugar. place orange slices into the cider mixture.
In a coffee filter or cheesecloth, place the cinnamon, allspice, cloves, and nutmeg. Carefully bring up the edges and secure spices inside using baker twine. Place spice satchel into the cider mixture.
Cover and heat on low for 3-4 hours or high for 1-2 hours until cider is hot and fragrant. To serve, reduce heat to warm and ladle into mugs. Garnish with a cinnamon stick, if desired.
To make spiked cider: Add in 2 tablespoons of brandy or dark rum into each cup.
Campfire Mac and Cheese – Basically Cooking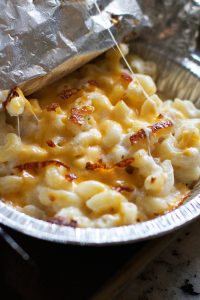 What's not to love about mac and cheese? You can make this version over a campfire or in a grill in individual mini foil pans for a personal side dish. Serves 8.
Ingredients
1 454 g box of elbow macaroni
2 cups shredded old cheddar cheese
1 cup shredded smoked gouda
1 cup shredded mozzarella
1 410 ml jar of store-bought alfredo sauce
1 tsp salt
1 tsp freshly cracked black pepper
1/4 cup of pasta water (reserved after cooking the macaroni noodles)
Instructions
Cook the pasta in salted boiling water for 1 minute less than the package's cooking instructions. Once cooked al dente, drain the pasta water making sure to reserve at least 1/2 cup of pasta water. Drain the pasta and quickly rinse the pasta in cold water. Before proceeding, you will need to cool the pasta to at least room temperature.
Once the pasta has been cooled, pour the Alfredo sauce into the mac and stir until combined. Then add in all of the shredded cheese, the salt and the pepper and mix together.
Prep for packing! Spray the mini foil pans with cooking spray and brush to ensure the entire surface is covered. Spoon in the mac and cheese mixture to fill each pan and top with more shredded cheese. Then cut out squares of foil and spray with cooking oil on the food-down side. Then seal the pans tightly with the foil.
Cooking on the campfire: Place the pans on a grill over the top of the campfire. Cook for about 30 minutes. Make sure to rotate/move the pans around the grill so that the heat is equally distributed. Then grab a beer, pull up a camping chair and serve.