Looking for something to do in at the crook of Michigan's hand? The Pere Marquette Rail Trail is a paved, flat trail that runs 30 miles between Midland and Clare. This well-maintained trail follows the original route of the Flint & Pere Marquette railroad that catered to, what else, logging.
The idle railway was converted over time in the mid- and late '90s. Since then, the Rails to Trails Conservancy has given the Pere Marquette Rail Trail the unique and rare honor of being included in their Hall of Fame; there are only 25 such trails with this designation in the United States and only one in Michigan. It's well-loved by outdoor enthusiasts as it easily meanders through small towns, along rivers, over trestle bridges, and through the Michigan countryside.
Since biking is a favorite activity by many a camper, you'll probably already be set for a leisurely ride. However, bike rentals are available at Ray's Bicycle Shop, which is about a block west of the trail head in Clare. Alternatively, you can choose to walk, inline skate, or even (for a portion of the trail, please refer to the map) horseback ride (or cross-country ski in the winter). Motorized vehicles such as ATVs are not permitted, and the wide, well-paved route makes the trail wheelchair accessible.
If you ride the Pere Marquette Rail Trail in its entirety, then you'll be able to experience each of the sights and stops noted in this article. However, you can choose your starting point and your final destination other than Clare and Midland depending on your interests, endurance, and timetable.
Explore downtown Clare. If you embark on your expedition from here, you'll be traveling the route eastward and ending in Midland. The Pere Marquette Rail Trail begins next to the district library.  But before you leave, take some time to explore historic Clare. Known as the "City of Festivals," Clare is the perfect backdrop for many occasions. In addition to fine dining options and a quaint downtown with unique shops, the area surrounding Clare is ideal for bird watching, fishing, kayaking, and mushrooming.  The area is also well-known for its antiques and Amish wares. The Pere Market and Antiques on Marquette Road has delectable pizza, wine and beer to carry back to the campsite, and an assortment of country store and novelty items.
Coleman. After riding 10 miles you'll reach the little town of Coleman. The rail trail's route has been incorporated into the town square, so it'll be nearly impossible to not stop and take in some of the shops. Folks here are friendly and used to rail trail travelers.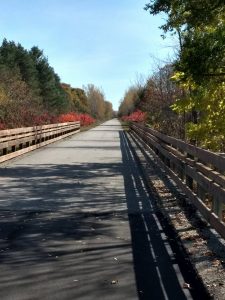 Arbutus Bog. The next stop is another 10 miles down the road, a nature preserve that has its own boardwalk as well as a viewing platform over the fragile bog habitat. A bog is created when post-glacial lakes leveled the ground and left soils that water had a difficult time permeating, thus allowing such a wetland to form.  It's a quiet, peaceful place and it doesn't add much extra time to your trek.
Sanford Lake County Park. It's only a couple miles to this next stop. Featuring a half-mile of lake frontage and 1000 feet of beach on Sanford Lake, this is the perfect spot to take a break – and maybe a dip. If kids have been along for the ride, they will enjoy running around the large spray pad. There are four lunch pavilions, too, that offer plenty of shade and seating if you want to take in a snack or a meal. As you made your way to Sanford, you would have crossed three former railroad bridges, all with scenic view (make sure you stop to appreciate them). Only eight more miles until Midland!
Averill Rollway & Preserve. Along the way to Midland you'll pass the Averill Rollway & Preserve, a 72-acre natural area was once the site of the region's largest timber banking grounds. Now it has been converted to feature more than a mile of hiking trails, the best of which leads to an overlook with a view of the beautiful Tittabawassee River. Make sure to stop!
The "Tridge": Only six miles to go, and this sight shouldn't be missed. One of the trail's most photographed and beloved views is the three-way bridge affectionately called "The Tridge." Running beneath is where the Tittabawassee and Chippewa rivers intersect. On the opposite bank is Midland.
Downtown Midland. The Pere Marquette Rail Trail concludes at the farmer's market at the end of Ashman Street. If you happen to be riding through on a Wednesday or Saturday between 7 AM and 1 PM from May through October, then you can get some fresh Michigan produce to bring back to the campsite. Many attractions and sights are accessible from the trail's end, including museums, parks, and the famous Dow Gardens. You can also check out Dahlia Hill, which features more than 3,000 Dahlia blooms across eight terraces and among outdoor art – it's quite a stunning sight.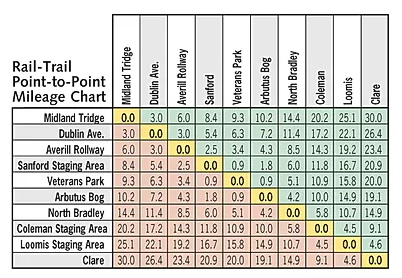 Keep right except to pass
Yield to slower traffic
Always travel at safe speeds
Don't block the trail
Dogs must be on a leash
Alert others when passing using a voice or bell
Please keep the trail clean