Potatoes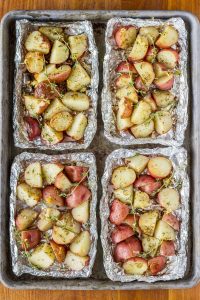 Michigan is home to more than 312 potato farms, most of which are multi-generational family farms. Seventy percent of the state's potatoes are used to make the all-time favorite potato chips. But potatoes are much more versatile than that. They can be made virtually any which way, which is why we love this recipe for grilled potatoes in foil. The mess stays contained and there's basically no cleanup.
Recipe: Grilled Potatoes in Foil
INGREDIENTS
2 pounds baby red potatoes, quartered (1/2 lb. per packet)
5 tablespoons butter
3 cloves garlic minced (1/4 teaspoon per packet)
1 teaspoon Italian seasoning (1/4 teaspoon per packet)
juice & zest of one lemon (1/2 tablespoon per packet)
salt and pepper, to taste
INSTRUCTIONS
Cut four pieces of aluminum foil into 14-inch lengths.
Place half-pound of the quartered baby red potatoes in the center of each packet. Drizzle each packet with 2 teaspoons of butter. Sprinkle 1/4 teaspoon of minced garlic and 1/4 teaspoon of Italian seasoning over top of each. Add 1/2 tablespoon lemon juice and equal parts of lemon zest to each. Season with salt and pepper to taste.
Pull the foil edges together and scrunch them up to seal each packet.
Preheat the grill to medium heat and place the packets directly on the grill. Close the grill cover and cook for 30-35 minutes until tender, turning the packets frequently. (You can also bake them at 400 degrees for 15-20 minutes.)
Carefully unwrap each packet before serving. Season with additional salt and pepper to taste.
Asparagus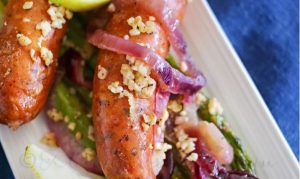 Michigan ranks third in the nation for asparagus production (we even have a spring festival celebrating it every June as it's one of the state's first crops: NationalAsparagusFestival.org). Much of Michigan's asparagus is grown near the Lake Michigan shoreline where the moderate temperatures and soils make for excellent production conditions. Michigan asparagus, unlike asparagus from other states, is hand-snapped above the ground, which apparently yields a more tender and flavorful product.
Recipe: Garlic Sausage and Asparagus
INGREDIENTS
2 packs Sausages
1 bundle asparagus
4 TB minced garlic
1/2 purple onion – sliced & separated
2 TB olive oil per packet
1 lemon cut into wedges for additional garnish & flavor
salt pepper, granulated garlic to taste
INSTRUCTIONS
Heat your grill to approximately 400 degrees (or over a campfire works, too!)
Lay out 4 large sheets of foil
Rinse your asparagus and cut off dry ends
Place 4-5 pieces of on each foil sheet.
Add 2 sausages per foil sheet on top of the asparagus
Add several rings of onions on each
Top with 2 TB of minced garlic per packet
Add salt, pepper & granulated garlic
Drizzle with approximately 2 TB olive oil per packet
Tightly crimp the foil ends together & fold in any excess to create an airtight wrap around your food
Place packets on grill or over campfire.
Allow to cook approximately 20 minutes or until the asparagus feels soft through the pack. *You will hear it boiling inside- that's good
Squeeze some fresh lemon over the top just before you dig in.
Squash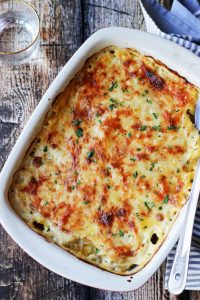 Fresh squash is available at farmer's markets across the state from June to October. It's full of vitamins, is low calorie, and can be sweetened up easily with a little brown sugar. Michigan is the leader in squash production, too. If you need a side dish that will warm you up but not be overly heavy like its traditionally all-potato cousin, then this squash gratin has your name all over it. This recipe is a little more involved, but the wow factor is worth it.
Recipe: Acorn and Butternut Squash Gratin Casserole
INGREDIENTS
1 large acorn squash peeled and cut in 1 inch cubes
1 large butternut squash peeled and cut in 1 inch cubes
4 medium yellow potatoes thickly sliced
1 whole roasted garlic
1/2 large sweet onions chopped
1/2 teaspoon dry thyme
1/2 teaspoon fresh nutmeg
1 cup milk whole or 2 %
3 cups Gruyere cheese shredded (about 0.5 lbs)
1 TB olive oil for cooking onions
INSTRUCTIONS
Roast your garlic. Peel the paper off the garlic head; Chop the top of your garlic head and place the whole head in a tin foil, sprinkle with olive oil, salt and pepper, and roast at 400 degrees for an hour.  Once your garlic is roasted, remove it from the oven and let it cool off. Keep the oven hot at 400F.
Peel and cut your squash (unless you purchased pre-cut then skip this step). In order to make it easier to peel, cut the squash in half, place in a microwave for 2 minutes; let cool before peeling; then peel and cut into about 1-inch squares;
Place both squashes into a large pot with salted water and bring to boil; reduce to simmer and partially cover; cook squashes until fork-tender for about 20 minutes;
Peel the potatoes and sliced them in 1/4 inch thick slices; place potatoes in a pot of salted water, bring to boil, then reduce to simmer, cover and cook until tender for about 10 minutes;
Chop your onions, heat up a skillet, add some olive oil, onions and dry tyme; sprinkle with some salt and pepper and cook until onions are soft and translucent (for approx, 5 minutes); Squeeze out garlic cloves from the roasted garlic head and add them to the onions; break the garlic using wooden spoon and mix all together;
Drain your squashes in a colander and place back into a large bowl. Using a potato masher, roughly mash the squashes;
Add onions, thyme and garlic mixture into the bowl; add salt, pepper, fresh nutmeg and mix everything gently; check for seasoning and adjust as needed;
Once potatoes are fork tender, drain them and to the bowl with squashes;
Transfer the squashes mixture into a 9×13 baking dish, pour milk over the squashes mixture, shred your Gruyere cheese and place it on top of the milk;
Transfer the baking dish into the preheated oven to 400 degrees and bake for 30 minutes until bubbly and golden brown. Remove from the oven and let cool slightly before serving.