Do you need an idea of what to do on Black Friday? Don't hit the store: hit the trails, waterways, and streets of Michigan to join in on REI's #OptOutside campaign, which is supported by the Michigan DNR. "State parks are the ultimate anti-Black Friday destination," according to a press release by the Michigan DNR in the Metro Times.
Nobody needs more stress after Thanksgiving, and there is still plenty of time to go Christmas shopping. Take the time for yourself and for your loved ones to spend it time together in the great outdoors of Michigan. So, where should you go? In addition to Michigan's 103 state parks, for which the recreational passport fee is waived for the day, you can visit these other outstanding destinations that have been featured in previous posts on our website. Visit the full articles for additional suggestions of places you can spend family time other than the crowded aisles and checkout lines this Black Friday.
From the article, "10 Outdoor Adventures in Michigan":
Stroll along St. Clair Boardwalk, St. Clair, St. Clair County: This is the longest freshwater boardwalk in the world, stretching nearly a mile along the St. Clair River. A favorite spot to relax is Palmer Park, which has many benches to choose from and sculptures to look at.
Get off the map at Point Abbaye', Aura, Baraga County:You may not have heard of one of the most beautiful spots in Michigan. Point Abbaye' is remote – an 11 mile two-track so take a car or truck – and most likely you'll be the only vehicle in the parking lot when you arrive. Choose from three trails that lead to the point, the shortest of which will get you to Point Abbaye' in about 20 minutes. At the end of the trail, you'll reach a large rock shelf that overlooks Lake Superior as well as two mountain ranges to the left and right: Iron Range on the Keweenaw Peninsula and the Huron Mountains.
From the article, "Driving Tour: Northeast Michigan Wildlife Viewing":
Vanderbilt/Wolverine: Pigeon River Country Elk Range: Visit the Pigeon River Country Elk Range to get a glimpse of some big game. This area is home to the only free ranging elk herd in Michigan, the largest east of the Mississippi. There are official viewing locations marked throughout, and some may require a short hike to reach (though you never know when you might encounter one). This is the perfect final destination of the driving tour because the best times to view elk are at dawn and dusk. An Elk Viewing Map is available online from the Michigan DNR.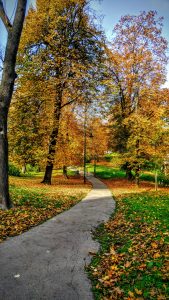 From the article, "Driving Tour: Wineries of Michigan's Southwest":
Fenn Valley Vineyards:If you want a complete winery experience, look no further than Fenn Valley Vineyards. This favorite spot has not only delicious, award-winning wines, but offers an in-depth, two-hour tour on how they are made and how a winery operates! You can taste based on any budget, from free to custom pricing. When you pull in, you'll feel like you'll never want to leave.
Dablon:  If the outdoors calls your name and you love Michigan in chilly weather, then head to Dablon Winery and Vineyard. You can snowshoe (when there's snow) or hike through the vines on a guided tour, capped off by a glass of wine at the tasting room.
From the article, "10 Regional Points of Interest":
Wherever you go on Black Friday, make sure to use the hashtags #optoutside and #mirvlife to share your adventures and experiences – and tag @MichiganRVers!