The Fourth of July is full of parades, family, and festivities – all in remembrance of when our country acquired its well-fought-for independence. It was the pivotal moment in our history when we became a nation of our own. And the Fourth of July isn't a holiday without there being plenty of food to share. These four recipes feature snacks and desserts that are a cinch to whip up on hot days when company's over.
Snacks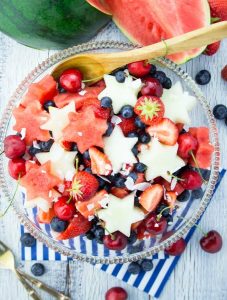 Fourth of July Fruit Salad – Courtesy of Vegan Heaven
Mother Nature gives us plenty of colorful berries and fruits that are perfect for combining into an American-inspired fruit salad. It'll be the belle of the spread. This recipe makes enough for four.
Ingredients
1/2 medium watermelon

1 medium honeydew melon

2 cups strawberries

1 cup blueberries

2 cups cherries

2 tablespoons coconut flakes
Instructions
Cut both the watermelon and the honeydew into 1″ slices. Then use a star-shaped cookie cutter to cut the melons into stars.

Cut the strawberries and the cherries into half (leave some intact to put on top of the fruit salad).

Combine the melon stars, the strawberries, cherries, and blueberries in a large bowl and sprinkle with coconut flakes. If you want you could also serve this 4th of July fruit salad with some homemade coconut whipped cream.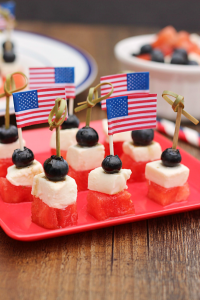 Watermelon, Mozzarella, and Blueberry Skewers – Courtesy of What's Cooking, Love?
These simple, eye-catching, easily portable snacks are ideal for munching on during a party and serving to your guests. A drizzle of balsamic adds a touch of class and flavor.
Ingredients
Watermelon, cubed

Fresh Mozzarella, cubed

Blueberries

Skewers or Toothpicks

Balsamic Vinaigrette dressing

Sea salt
Instructions
To assemble the skewers stack a blueberry on top of a mozzarella cube and place that on top of a watermelon cube.  Then put a skewer or a toothpick through the center of the stack.

For added flavor, drizzle a drop or two of balsamic vinaigrette dressing on the stack and also drizzle a pinch of sea salt over each skewer.
Sweets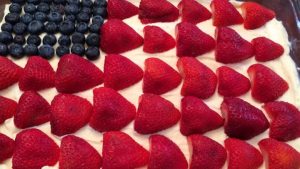 No Bake Cheesecake Flag Cake – Courtesy of All Recipes
The hardest part of this recipe is waiting long enough for the cake to set. The combination of sweet and fruity ingredients with the fluffiness of the cheesecake makes this a dessert that's satisfying to the palate and delectable to eat on a warm summer day.
Ingredients
Crust:
1 1/2 cups finely crushed graham cracker crumbs

1/4 cup white sugar

2 tablespoons unsweetened cocoa powder

6 tablespoons butter, melted
Filling:
1 cup cream cheese at room temperature

1 cup mascarpone cheese at room temperature
2 teaspoons grated lemon zest

2 teaspoons lemon juice

1 teaspoon vanilla extract

1/3 cup white sugar

1 1/4 cups cold heavy whipping cream

20 large fresh strawberries, hulled and halved lengthwise, or as needed

24 large fresh blueberries, or as needed
Directions
Combine graham cracker crumbs, 1/4 cup sugar, cocoa powder, and melted butter in a bowl until mixture is thoroughly combined and crumbly.

Transfer crust mixture to a 9×11-inch baking dish. Press crust into bottom of dish until smooth and even. Cover dish with plastic wrap and refrigerate until set, about 30 minutes.

Mix cream cheese and mascarpone cheese in a bowl until thoroughly combined. Stir in lemon zest, lemon juice, and vanilla extract into mixture.

Whisk 1/3 cup sugar into whipping cream in a separate metal or glass bowl until the cream is fluffy and forms soft peaks. Add whipped cream to the cream cheese mixture and gently whisk until filling is soft, fluffy, and well-combined.

Spoon filling on top of the graham cracker crust, spreading and smoothing the top. Tap the pan gently on a work surface several times to settle the crust and filling. Cover pan tightly with plastic wrap and refrigerate until chilled and set, at least 3 hours.

Starting at the bottom long edge of the cake, arrange strawberry halves in a horizontal line with the pointed bottoms of the strawberry halves pointing to the right. Start a second stripe of strawberry halves at the top right of the cake, arranging strawberries with the bottoms pointing right in a line stretching about 2/3 of the length of the cake.

Continue to make strawberry stripes, starting about 3/4 inch up from the bottom stripe and laying down 3 more stripes stretching the full length of the cake. Make 1 more line of strawberries beneath the short stripe to leave a square space for the blue field of stars.

Lay a line of blueberries with the blossom ends pointing up in the upper left square space. Continue to lay down blueberries in lines, berries touching the previous line, until the square is filled with blueberries. Cut cake into squares to serve.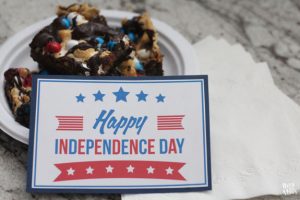 S'mores Magic Bars – Courtesy of Over the Big Moon
Magic, indeed! These bars require minimal involvement, take only 30 minutes to bake, and are chock-full of guilty pleasures. Add in some red, white, and blue m&m's and you have an eye-catching, delicious treat that will have you returning home with an empty pan.
Ingredients:
1 package of Oreos, crushed into fine crumbs

1 cube (1/2 cup) unsalted butter, melted

1 can sweetened condensed milk

7 graham cracker squares (just enough to create a layer in your pan)

3 – 8oz ounce bars of milk or semi-sweet chocolate (2 will be chopped and 1 melted)

4 cups mini marshmallows

Approx 2 cups Red, White and Blue M&M's
Directions:
Preheat the oven to 350 degrees.

Take a 9×13 and line it with tin foil. (This is a new trick that I've learned for brownies! It makes cutting them so much easier. You can just pop the brownies out from the pan! No more having to deform the corner brownie to cut and remove them.)

Crush the Oreo Cookies into fine crumbs. Combine the crushed oreos with the cube of melted butter. Press the oreo mixture into the bottom of the 9×13 pan.

Pour the sweet condensed milk over the oreo crust.

Break up the graham crackers and chocolate bar and sprinkle them over the sweet condensed milk.

Sprinkle the mini marshmallows all over.

Bake for 30-35 minutes.

Remove from the oven and right away sprinkle the m&m's all over the bars!

Put back in the oven and cook for 5-7 more minutes.  

Remove from the oven and allow to cool for 15 minutes.

While the bars are cooling, break up the last 4 oz of the chocolate bar with 3 tablespoons milk on the stove top and constantly mix until the chocolate is runny enough that you can drizzle it all over the bars. If needed, add more milk.  

After the bars are cooled, drizzle the milk chocolate over the top of the bars.

Allow to finish cooling and the chocolate to set before serving!
If you're hosting the get-together this time around, then check out these easy to follow tips for hosting a memorable party. Whether you have two or twenty people over to celebrate and relax, these recipes are sure to please and appease to your guests' patriotism.