Mileage: 68.7 miles
Driving Time: 2 hours, 14 minutes
The remote Upper Peninsula wilderness and breathtaking Lake Superior shoreline beckon travelers and adventurers from all over the country, and the Pictured Rocks National Lakeshore is one of the most stunning areas.  The National Park Service can provide you with a comprehensive map and information about the national lakeshore with recommended areas to visit; however, we wanted to share some of our favorite spots in the national lakeshore.
We recommend you take a smaller vehicle and not the RV as some areas require driving on tight, gravel, seasonal roads.  Of course, the stops on this "driving tour" often take time to experience so it might take you a long weekend to get through them all. Please note that dogs are prohibited on many of the trails because they can cause stress to wildlife, so make sure you choose places in which your dog can come along or you have a plan B for its care while you're away.
Stop #1: The town of Grand Marais is at the easternmost entry point to the Pictured Rocks National Lakeshore. One of the first stops people make is the log slide overlook, facing the Grand Sable Dunes.  This is about seven miles into the national lakeshore. It's a short walk, with the last hundred yards over a small sand dune. Being 500 feet above, you'll be rewarded with a bird's eye view of Lake Superior and the dunes, which were used for rolling logs to a dry log chute during the height of logging days.
Need exercise? Walk down the sandy trail to the water's edge and then climb back up. It takes some time, but it can be a fun thing to do. Just be cautious as ready help isn't exactly nearby.
Stop #2: Au Sable Light Station is about 12 miles west of Grand Marais. You can park in the day use parking area to the Hurricane River Campground and then embark on a 1.5 mile (one way) trek to the lighthouse, which was completed in 1874. Tours, small fee and exact amount required, are scheduled Wednesday-Sunday from mid-June through early October.
Hit the sand. On the beach below the light station, you'll likely come along exposed shipwreck remains along the shoreline.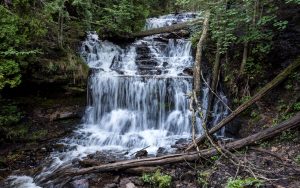 Stop #3: Chapel Falls, Chapel Rock, and Chapel Beach are all accessible via an easy, yet lengthy, trail through the forest. The loop is about 10 miles long, and you may as well take the whole loop so that you can walk along the shore and see Indian Head as doubling back from Chapel Beach back to the trailhead only saves you a couple miles. Alternatively, you can take the shorter Mosquito Falls loop, which is about two miles and takes you to the mouth of the Mosquito River at Lake Superior as well as gives you an up-close look at some waterfalls.
Don't skimp on the waterfalls. There are waterfalls aplenty in this part of the state. Some others nearby but not in the national lakeshore include Alger Falls, Au Train Falls, Sable Falls, Horseshoe Falls, Memorial Falls, and Wagner Falls. 
Stop #4: Miner's Castle is one of the most photographed formations in the national lakeshore. Take Miners Castle Road six miles in to the trailhead and then walk to the information center and overlook (three different views), which is less than a mile (disability accessible). This is the only cliff area accessible by vehicle. You can continue on and walk to Miners Beach, which is just a mile each way.
Get some nourishment. This is a great spot to enjoy a picnic and to go for a quick dip in Lake Superior. However, be aware of rip currents.
Stop #5: You've seen a lot up close on foot, but now see the national lakeshore's beauty from a different angle. Go on a cruise, which takes about two-and-a-half hours and sets sail from the town of Munising. In the summer, there are five or six classic cruises a day, plus the option for a sunset cruise or a Spray Falls cruise. Fares are $38 per adult, $10 per child 6-12, and $1 for children under six. The cruise takes you along the entire 40 miles of shoreline with the major highlights being: East Channel Lighthouse, Grand Island, Painted Coves, Lovers' Leap, and Rainbow Cave. Miner's Castle and Indian Head, which you've already seen hiking, are also favorite formations to be pointed out. Relax and enjoy!
Feeling adventurous? Instead of a cruise, on a kayaking tour (sea kayaks only, which you are available for rent) or rent a pontoon so that you can cruise at your leisure.