Is there anything better than grilling out? What about slathering on some BBQ sauce?
Being at the campground simply invites you to cook outdoors and add some of that unique, delicious grilled flavor to your main courses – and even dessert. Whether you choose to make your own barbecue sauce or pick up a Michigan-made sauce #BBQ #nationalBBQmonth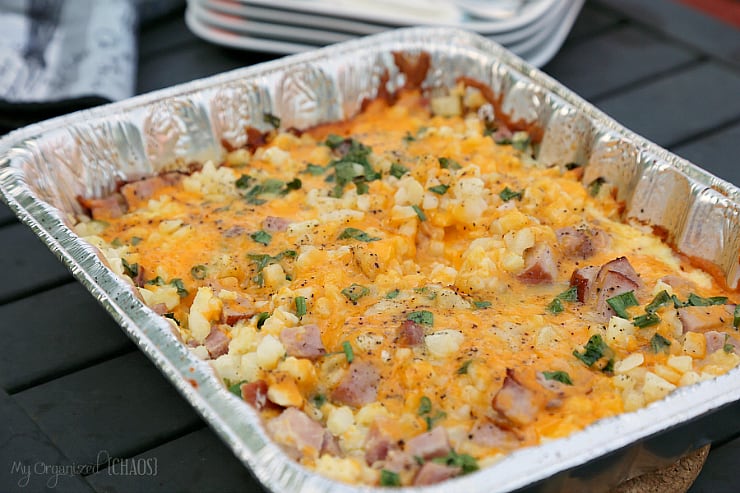 A one-pan meal made on the barbecue or on the campfire – it can't get better or easier than this. Start the day right with this hardy hot breakfast. Any slicing and dicing can be done the night before. It takes about an hour to be baked to perfection, but it'll get any sleepyhead out of bed with its tantalizing smell.
Ingredients
6 cups hash browns, thawed
2 cups ham diced
6 whole eggs
1/4 cup milk
2 cups cheddar cheese shredded
1 cup green onion diced
salt & pepper to taste
1/2 cup tomato diced
Preparation
Spray a foil BBQ-safe pan with cooking spray, add in the thawed hash browns and ham.
Add eggs to a large bowl with milk and whisk until combined. Stir in the cheese, green onions and tomatoes and pour over the hash browns and ham.
Add salt and pepper to taste.
Cover with foil and cook on the BBQ (on indirect heat) at 375 degrees for 30 minutes.
Uncover the pan and cook for an additional 15-35 minutes, until edges are crispy (when done you'll notice that the hash browns are coated with scrambled eggs). You can also cook on a grate over a campfire, cooking time will vary depending on heat though I'd leave covered with foil for the duration.
Lunch: Grilled Steak Kebabs, The Cozy Apron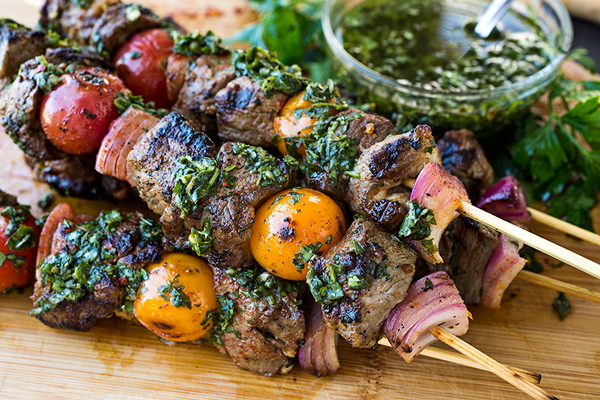 Kebabs are great for portability as well as a quick cooking time. Steak gives your crew protein and energy to conquer the afternoon. The homemade Chimichurri sauce adds an exceptional flavor that really heightens the taste of these delectable kebabs.
Ingredients
2 (¾ pound) rib eye steaks, trimmed of excess, visible fat, and cut into chunks
1 tablespoons Chimichurri sauce (recipe below)
1 teaspoon salt
Pinch black pepper
¼ teaspoon ground cumin
¼ teaspoon paprika
2 cloves garlic, pressed through garlic press
Olive or canola oil, drizzle
½ small red onion, cut into small chunks
1 cup cherry tomatoes
Skewers, soaked in water
Preparation
Add the cubed steak into a bowl, and add in the Chimichurri sauce along with the remainder of the ingredients up to and including the drizzle of oil, and toss well to coat.
To assemble the skewers, add a piece of the red onion, followed by some of the steak, followed by a tomato, and more onion, steak, tomato, until all ingredients are used, and you have about 4-6 skewers assembled.
Allow the skewers to marinate for at least an hour, or better yet, over-night; once ready to grill, place your grill pan over medium-high heat, drizzle in a touch of oil, and grill the kebabs for about 6-8 minutes, turning them to char on each side, or until medium rare.
Serve hot with the Chimichurri sauce on the side, to drizzle over the grilled kebabs. Makes about 6 kebabs.
Chimichurri Sauce 
Ingredients
1 cup cilantro leaves, chopped
1 cup flat-leaf parsley leaves, chopped
¼ cup fresh oregano leaves, chopped
4 cloves of garlic, pressed through garlic press
1 teaspoon salt
Pinch black pepper
¼ teaspoon red pepper flakes
2 tablespoons red wine vinegar
½ cup olive oil
Preparation
Place all of the chopped herbs into a bowl, and add in the garlic, salt, pepper, red pepper flakes, and red wine vinegar; mix with a fork.
Slowly add in the oil, whisking/mixing with the fork to combine the ingredients well, and use immediately, or, keep covered and store in fridge until ready to use. (Can be kept in fridge for a few days, for left-overs.)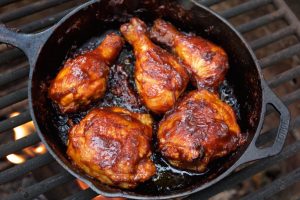 This recipe is homemade start to finish. Make the BBQ sauce at home prior to leaving for camp, and then use it when it's time to cook over the fire in a, what else, Dutch oven. You can marinate the chicken in the sauce prior to putting the legs and thighs over the fire. Chicken breasts also work, but the cooking time will be longer if you leave them whole. Slice the breasts in half instead.  
Ingredients
Sauce
1 1/4 cups ketchup
1 to 1 1/2 tsp. hot sauce
2 tablespoons dark molasses
2 tablespoons Dijon mustard
2 tablespoons whiskey
2 tablespoons Worcestershire
1 tablespoon cider vinegar
1 large garlic clove, minced
Chicken
6 chicken legs with thighs attached or small bone-in breast halves (3 3/4 lbs. total)
1 tablespoon olive oil
At Home:
Make sauce: Combine ingredients in a medium saucepan. Cover and simmer 45 minutes to blend flavors, stirring occasionally. Add a little water if sauce gets too thick to pour. Let cool, then transfer to a plastic container and chill up to 1 week.
Prepare chicken: In a large bowl, coat chicken in oil; pack in a resealable plastic bag and chill up to two days, or freeze.
In Camp:
Build a charcoal or wood fire in a grill and let burn to medium (350 degrees to 450 degrees; you can hold your hand 5 in. above cooking grate only 5 to 7 seconds).
Place cast iron skilletover fire. Grill chicken in skillet until browned all over, about 15 minutes, turning occasionally. Turn again, generously brush tops with some of BBQ sauce, and cook a few minutes; repeat turning and brushing 2 more times, until chicken is well-browned and cooked through, 10 to 15 minutes total.
Remove from skillet and top with additional BBQ sauce. Serve immediately.
Dessert: Grilled Fruit Skewers, Delish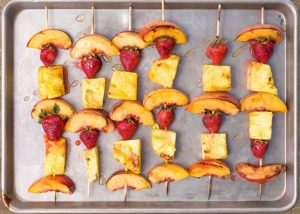 This dessert is naturally sweet (no sugar added!), and you can find pretty much everything at the local farmer's market (apart from the pineapple, of course). Grilling fruit on skewers keeps them intact and, again, imparts that smoky, charred flavor into the fruit pieces. Add a little honey and you have an easy, refreshing dessert that'll wow any crowd.
Ingredients
6 peaches, sliced
1 pt. strawberries, sliced
1 pineapple, cut into large cubes
8 skewers, soaked in water for 20 minutes
Extra-virgin olive oil, for drizzling
kosher salt
honey, for drizzling
Preparation
Preheat grill to medium-high. Skewer peaches, strawberries, and pineapple. Drizzle with olive oil and season with salt.
Grill, turning occasionally, until fruit is tender and slightly charred, 10 to 12 minutes.
Drizzle with honey.