If you want to escape from everyday life, try something other than a hotel or a resort, and have lots of flexibility, then an RV vacation is the way to go. In the United States today, 7 million households own an RV – that's one in twelve! (University of Michigan survey)
But if you're a first-time RV vacationer or you don't want to make the investment that owning an RV requires, then you can always rent an RV for your trip. To ease the process of renting an RV, follow these tips so that you can walk into a rental facility knowing exactly what you want, or at least have a solid place to start.
Know the pros and cons of different RV types.
A motorized RV, such as a Class C cabover or Class A motorhome, has the advantage of being your vehicle and your living quarters all rolled into one. The disadvantage is, it's your vehicle and your living quarters all rolled into one. The length of a motorized RV can hinder driving on tight roads, navigating parking lots, and going under overpasses. Unless you tow a toad along, which extends the length even further, you don't have any alternative form of motorized transportation. For some folks, that's just fine. Everything they want is at the campground or within easy walking distance. Motorized RVs, especially Class A motorhomes, are very comfortable and more spacious that other RV types.
Now, fifth-wheel campers and towable travel trailers, depending on the length, can be problematic on tight corners, in parking lots, and the like. However, since you're towing it behind another vehicle, you can leave the RV at the campsite and go off exploring using this vehicle, enhancing the overall flexibility. Fifth-wheels and travel trailers can be quite spacious and accommodating. Note that for RVs that need to be towed, you need to have the proper tow vehicle that can handle the weight of the chosen RV.
Pop-up campers are compact and easier to tow because of the lower profile. They are soft-sided, though, and have fewer amenities (i.e., bathroom). They can usually be towed with a small SUV or even a mini-van.
Understand which RV is best for those who will be traveling.
Will is just be you and your spouse or significant other? Then you probably don't need a spacious travel trailer.
Do you have small kids? Then a motorized RV may not be the best fit because any child in a car seat or booster seat should be anchored to the seat appropriately and facing forward – which is usually not a part of a motorized RV's design; it's safer to tow an RV and have a tow vehicle where everyone can be buckled in the right way.
Are there older adults? You may want to find an RV that is more comfortable in terms of temperature control and have accessibility to a bathroom. It may be a good idea to consult older adults in the decision.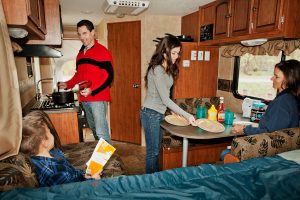 Decide how comfortable you are driving.
Driving an RV doesn't require a special driver's license. You can get a 35-foot behemoth of a motorhome or a 16-foot travel trailer. It's your responsibility to drive it safely and appropriately. Ask yourself, are you prepared to drive? Are there other drivers, and if so, what are their thoughts as to what they can handle? This may factor in to what type of RV you choose to rent for your vacation.
Know that you can learn how to drive an RV easily. Take the RV out of a test drive in an empty parking lot to get acquainted with the size, feel, and turn radius of the RV. Some general rules of thumb:
slow down and take your time
make wider turns
use a spotter for backing in to spots
start braking far in advance and give yourself extra time to stop
Plan ahead.
We all budget for our vacations, whether it's booking airline tickets or deciding how much will be spent on food during our time away. To get the most out of your RV rental, make a lot of these budgeting decisions beforehand. For the RV specifically, there's a daily or weekly charge for renting the RV plus insurance and other amenities (i.e., propane or generator). Know what you want to spend on these line items so that you can better manage the conversation with the salespeople.  For your trip, budget for park entry passes, food, costs for activities, and gasoline.
Having some things figured out ahead of time will give you the confidence to make the right decision when you walk into an RV rental business. The salespeople can help better direct you to the RV units so that you can discern which RV to rent for your vacation.
It's also important to note that you should make your reservations for your RV and your chosen campsites decently in advance so that you get the unit you want and the spots you want. Then, it's time to get on the road!