Some days, we just don't want to think. But we don't want the same old thing for dinner. These three recipes will add flare in flavor and appearance. Enjoy!
Sometimes a salad is all you need, complemented by fresh, crusty bread from the local farmer's market. The lemon-garlic dressing really kicks this salad up a notch. The freshness of the ingredients will leave you feeling refreshed and full but not stuffed… perfect for a really hot summer evening.
Ingredients
1 garlic clove, finely grated
⅓ cup extra-virgin olive oil
¼ cup red wine vinegar
½ tsp. crushed dried oregano
Pinch of crushed red pepper flakes
3 Italian long sweet peppers, thinly sliced into rounds
1 small red onion, thinly sliced, rinsed
1 14-oz. can artichoke hearts, drained, patted dry, halved
1 8-oz. ball fresh mozzarella, torn into pieces
4 oz. salami, preferably fennel, thinly sliced
Kosher salt, freshly ground pepper
1 lemon
2 cups basil leaves
Instructions
Mix garlic, oil, vinegar, oregano, and red pepper flakes in a large bowl. Add sweet peppers, onion, artichokes, mozzarella, and salami and toss to coat; season with salt and black pepper. Let sit, tossing occasionally, at least 15 minutes.
Zest half of lemon over salad and add basil; toss to combine. Season with more salt and black pepper if needed.
Do ahead: Salad (without lemon zest and basil) can be made 1 day ahead. Cover and chill.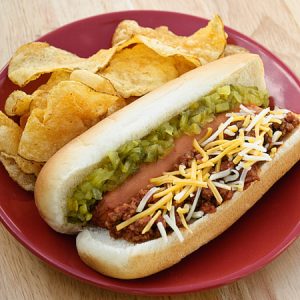 Hot dogs are one of the quintessential menu items for campers, and Michigan is well-known for its coney dogs. But you can bring that flavor to the campsite on your own. You can do this in a slow cooker on low for 4-5 hours, but make sure the hot dogs don't get overcooked (or just grill them for that charcoal flavor). Okay, so this requires a little cooking, but if you use the crockpot solely, then it doesn't really count as active cooking. You can make the beef mixture in the evening when the temperature goes down and simply top with the hot dogs as you place them in the slow cooker the next day.
Ingredients
1 pound lean ground beef (90% lean)
1 can (15 ounces) tomato sauce
1/2 cup water
2 tablespoons Worcestershire sauce
1 tablespoon dried minced onion
1/2 teaspoon garlic powder
1/2 teaspoon ground mustard
1/2 teaspoon chili powder
1/2 teaspoon pepper
Dash cayenne pepper
8 hot dogs
8 hot dog buns, split
Shredded cheddar cheese, relish and chopped onion, optional toppings
Instructions
In a large skillet, cook beef over medium heat until meat is no longer pink; drain. Stir in the tomato sauce, water, Worcestershire sauce, onion and spices.
Place hot dogs in a 3-qt. slow cooker; top with beef mixture. Cover and cook on low for 2-3 hours or until heated through. Serve on buns with cheese, relish and onion if desired. Yield: 8 servings.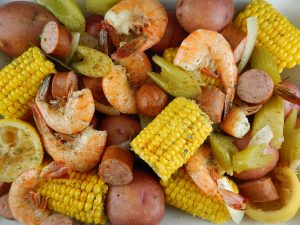 The tantalizing scent emanating from the crock pot (yes, use a crock pot in the summer to your advantage) will call to fellow campers, a feast that even those in Maine would be jealous of. It's the ideal summer meal that requires only some chopping on your part. When you're ready to serve, dump the juices and place the food into a baking dish (or onto newspaper if you really want to be traditional). Add some butter to the table for the bread and you've got a meal that will put everyone in the summer mood.
Ingredients
5 cups water
1 (12 oz.) bottle beer
4 bay leaves
3 Tbl. Old Bay seasoning
5 lbs. (about 10) small red potatoes
3 stalks celery, cut into 1-inch pieces
1 onion, cut into quarters
3-4 garlic cloves
1 bag (12 mini ears) frozen corn on the cob
2 lemons, cut in half
1 lbs. Hillshire Farms turkey kielbasa
2 lbs. uncooked large shrimp in shells, deveined and thawed if frozen
Instructions
In a large 6 or 7-quart slow cooker, add the water, beer, bay leaves and Old Bay. Stir until combined.
Cut the potatoes into smaller chunks if they are large. Add the potatoes, celery, onion, corn and garlic to the mixture. Squeeze the lemons over the top, preventing the seeds from falling in. Add the squeezed halves to the pot.
Cover and cook on low for 4 hours. Try not to lift the lid during this time.
Increase the temperature to high. Add the shrimp and kielbasa to the pot. Carefully stir until combined.
Cover and cook for an additional 40 minutes to an hour, or until the shrimp has turned pink.
Drain the mixture into a large rimmed dish. Save some of the liquid for dipping crusty bread.