Picnicking has been a tradition for centuries in many forms, primarily by the wealthy and elite, such as after a hunting expedition or a fox hunt. Picnics back then used to be extravagant affairs, with wine and gourmet victuals set upon fine china.
Thankfully, picnics have become more casual since then. "Going on a picnic" as we know it truly became a family pastime in the Victorian era, when the everyman packed up goodies in a wicker basket and brought his family to a serene setting where they could be around nature – and enjoy the difference of atmosphere during a casual meal. Michigan has hundreds of areas to picnic. Below are some of the designated areas, but don't let that stop you from discovering a spot of your own as you hike along a trail or explore a stretch of beach. The joy is in eating outdoors, and you may begin a tradition of your own.
Northern Michigan
Magoon Creek, Manistee: A nature area, Magoon Creek (see the trailhead map) is less busy than its nearby cousin, Orchard Beach State Park. The trails meander along Magoon Creek to the south and Lake Michigan to the west, so there are plenty of waterfront areas to unfurl the blanket and unpack the picnic basket. The bluff is a popular spot, complete with picnic tables and covered pavilions.
Peterson Park, Northport: Just 25 miles north of Traverse City in the Leelanau Peninsula is this hidden gem. It's a township park, and you'll see a picnic area, playground, and Lake Michigan overlook 400 feet above the lake when you first come in. The bluff will give you the aesthetic views fit for a royal meal, but the real adventure is on the rocky shore of the beach. You can rock hunt to your heart's content (here are some tips for finding Petoskey stones).
Silver Lake State Park, Mears: This popular state park for off-road fun is 3,000 acres large and has a mile of Lake Michigan coastline. One of the best spots to picnic is at the picnic shelter at Silver Lake. Get in a little fishing while you're here, too, as the 700-acre lake is known for walleye.
Southern Michigan
Milham Park, Kalamazoo: This beautiful 49-acre park has three bridges, a large picnic shelter, a creek, and hundreds of mature trees. It's an easy, fun spot to explore, not too expansive that you'll be starving when it comes time to eat. There are also four playgrounds in the park for the children to enjoy. Spread out a blanket and have your picnic beside serene Portage Creek, and feed the ducks and geese any extra bites.
Belle Isle Conservancy, Detroit: We've wrote about Belle Isle before and how it's worth a visit. This island park has been a beloved destination for recreation and picnicking for generations of Detroiters and tourists. The best spots of a picnic? By the James Scott Memorial Foundation and Lagoon and Sunset Point, both near the MacArthur Bridge connecting the island with urban Detroit.
Rolling Hills County Park, Ypsilanti: Known as one of the most recreational diverse destinations in the county, Rolling Hills has a water park, nature trails, sledding hills, playground, and a fishing pond. There are a variety of picnic areas throughout the park, some with grills. Sun or shade, you'll enjoy dining al fresco under a canopy of mature oaks and other hardwoods.
Upper Peninsula
Pioneer Trail Park, Escanaba: Set along the Escanaba River, there are several picnic areas, pavilions, and playgrounds, which will make the kids happy. It's an ideal place to spend an afternoon to let the young kids play on the play structures and the older ones get in a game of disc golf.
Monocle Lake, Brimley: Although the Great Lakes get all the glory, Michigan is home to 11,000 inland lakes. Monocle Lake in the Upper Peninsula is one of those inland lakes worth a visit. It has educational nature trails and a large, sandy beach – with water that's a lot warmer than Lake Superior. The picnic area sits along the shoreline against a line of mature trees. Mom and dad can easily eat away as the kids play in the shallows.
First Roadside Park, Larson: Historically, this was the first roadside park in the state of Michigan. The idea was to provide comfort and enjoyment for traveling motorists, and the idea has certainly caught on. In a way, you'll be dining with those of the past when you decide to stop here for your midday meal.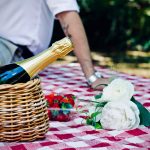 Tip: Add a Gourmet Touch
High-end food and beverages were commonplace in picnics of old. Bring along some Michigan wine, some of the best in the world. Just make sure to check with park regulations about glass (you may need a different container) and don't leave any garbage behind. Leave your picnic area as meticulous as you found it.