In a previous article, we gave nine of the best spots to picnic in northern and southern Michigan as well as Michigan's Upper Peninsula. This article continues with six more spots to have a picnic, whether it's for a romantic outing, family fun, or simply because curiosity got the better of you and you need to see a new place.
Northern Michigan
Sand Lakes Quiet Area, Williamsburg: Quiet area, indeed. You rarely run into other people when you visit this part of the Pere Marquette State Forest between Acme and Kalkaska. There are five small lakes surrounding by woods and hills, and although the scenery isn't spectacular, you can't find a more peaceful place. Walk the trails to one of the lakes and eat while watching the glimmering still waters and listening to the birds.
Rifle River Recreation Area, Lupton: This expansive area has more than just the picturesque Rifle River, which is ideal for kayaking and canoeing; there are six other lakes of various sizes, connected by a network of trails. The picnic area is near Grousehaven Lake, but the observation tower overlooking Grebe Lake or sitting under the cedar trees on the banks of Devoe Lake are all good locations for a picnic.
Southern Michigan
Langley Covered Bridge, Centreville: Neighboring state Indiana is more well-known for its covered bridges, but the Langley Covered Bridge in Centreville is the subject of many photographers and is one of the few remaining covered bridges in the state. It's also one of the longest in the nation, stretching 282 feet across the St. Joseph River. Walk across the bridge to Covered Bridge Farm, which has picnic tables at the restored historic barn as well as a picnic pavilion that overlooks the iconic covered bridge.
Macomb Orchard Trail, Richmond: This is one of the best biking and walking trails in the state – smooth, level, easy, and scenic (especially in the fall). But it's rarely overcrowded. After a relaxing ride, have a picnic at the trailhead pavilion in Richmond or at the barn-inspired pavilion at the West Road parking area. But you can always eat on the road, stopping at one of the trailside benches for a quick bite to eat before you continue on.
Upper Peninsula
Fumme Falls, Iron Mountain: Does the name Henry Ford ring a bell? He and his traveling Vagabonds probably stopped here once or twice during their camping trips. This little roadside waterfall on U.S.2 has a couple picnic tables, although the highway traffic can get a little distracting. Still, it's a nice spot for a quick lunch and a pretty view that travelers have enjoyed for a hundred years.
Van Riper State Park, Champion: The designated picnic area is near the south entrance (from Marquette) between the railroad tracks and Lake Michigamme. If you really want to get away from it all, hike the three or so miles to the overlook; you might even see a train go by – or maybe a moose, if you're particularly lucky!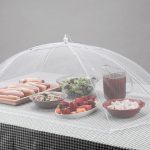 Do you have everything you need for your picnic? Here are some items you may want to bring along.