And what you absolutely need to do while you're in town…
Petoskey is a coastal town that sits on Little Traverse Bay, an inlet of Lake Michigan. It has a reputation for being quite charming, and it's easy to see why. With historic grand homes, a gaslight district full of unique shops and restaurants, and a beach nobody wants to leave, Petoskey is Pure Michigan at its finest. It's also within easy reach of many other small Michigan towns, including Mackinaw City, where you can take a ferry to Mackinac Island.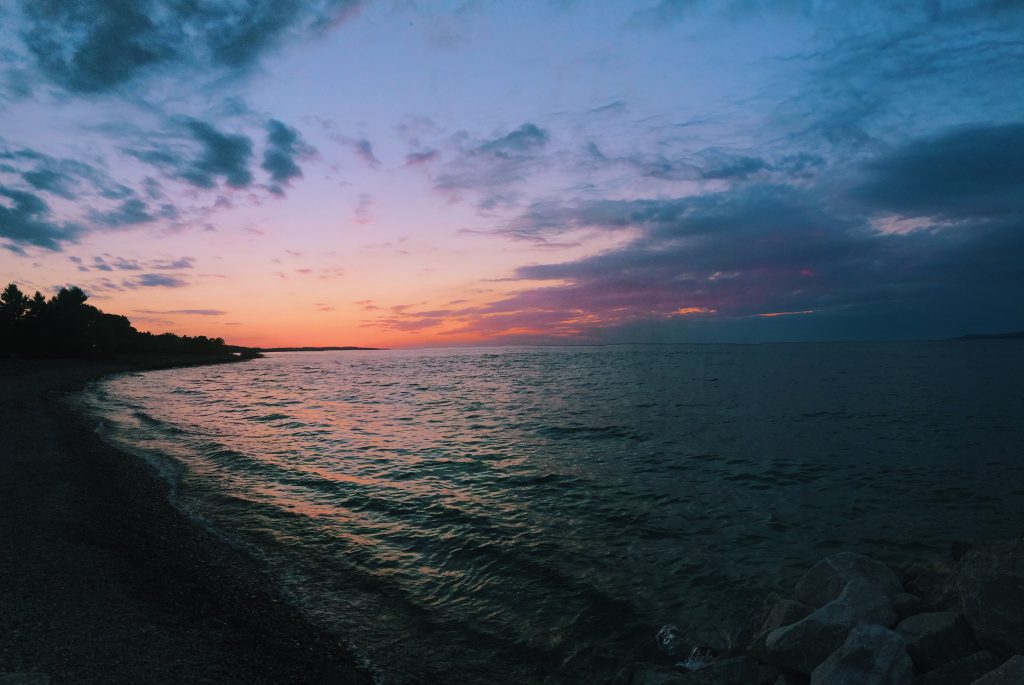 What to do when you're in Petoskey…
Little Traverse Wheelway: This 23-mile paved path is a favorite for walkers, joggers, and bikers. Petoskey is just in the middle of the route. Go south and you'll end up in Charlevoix; go north and you'll finish up in Harbor Springs. Much of the trail runs alongside Little Traverse Bay, making it a sensory feast for the eyes as you walk or bike along.
Historic Gaslight District: Imagine Victorian women in long dresses and parasols. That's what it was like a hundred years ago when this district became the shopping center of the town. The name derives from the historic gas lights that line the streets, which are particularly magical at Christmastime. If you enjoy boutiques, galleries, and the occasional delicatessen, this is the place to go.
Magnus City Park Beach: Within walking distance from town, Magnus City Park Beach on West Lake Street has 1000 feet of lake frontage and is the ideal spot for rock hounds to find Petoskey stones.
Ludington is among the top destinations in Michigan, located on Lake Michigan and toward the middle of the coastline. The town offers plenty to do without feeling overcrowded or hurried. It's also a haven for entertainment and festivals, including the Freedom Festival on the Fourth of July, complete with spectacular fireworks.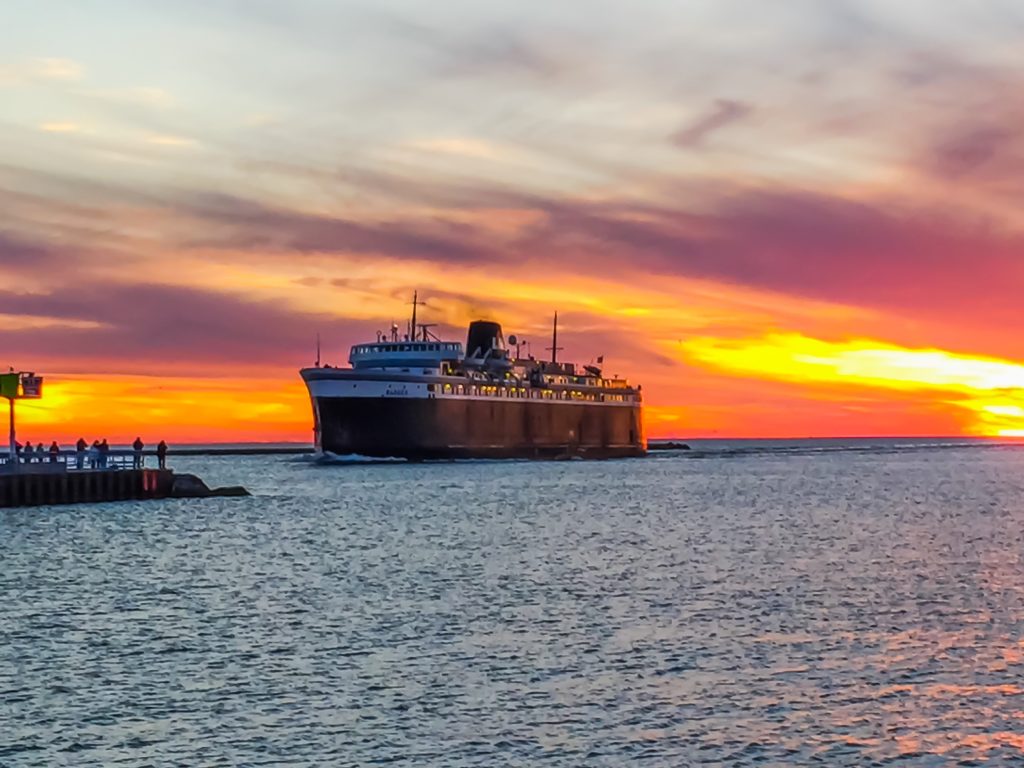 What to do when you're in Ludington…
Buttersville Park: Neighboring Stearns Park is the most popular beach destination, so that's why Buttersville Park is so refreshing. It's smaller and a little harder to find, but the solitude is worth it. If you want to get away from it all and immerse yourself in the grandeur of the Big Lake, then plan a visit here. It's also dog friendly!
Port of Ludington Maritime Museum: Most coastal towns have a maritime history. Ludington has one of the best. It used to be the location of a U.S. Coast Guard Station and is currently the home of multiple lighthouses and the historic car ferry Badger, which still runs routes to Wisconsin and back. The three-level museum has plenty of permanent and changing exhibits, complete with artifacts as well as interactive displays. Some examples include: steamers, age of sail, and mysteries beneath the waves.
House of Flavors: This is Michigan's largest ice cream manufacturer. A business that began in 1948, the name "House of Flavors" didn't come into being until 1964. The ice cream menu at their restaurant locations in Ludington and Manistee has at least 30 flavors available, plus sundaes, shakes, and other cool desserts.
The Leelanau Peninsula in Michigan's pinkie finger is home to orchards and wineries, but it's also a refuge for people who appreciate and seek "old-fashioned northern Michigan." The downtown areas are friendly and quaint, with unique shops and eateries. We didn't pinpoint just one town to stay in as they are all within close proximity to one another and you really can't pick a bad spot.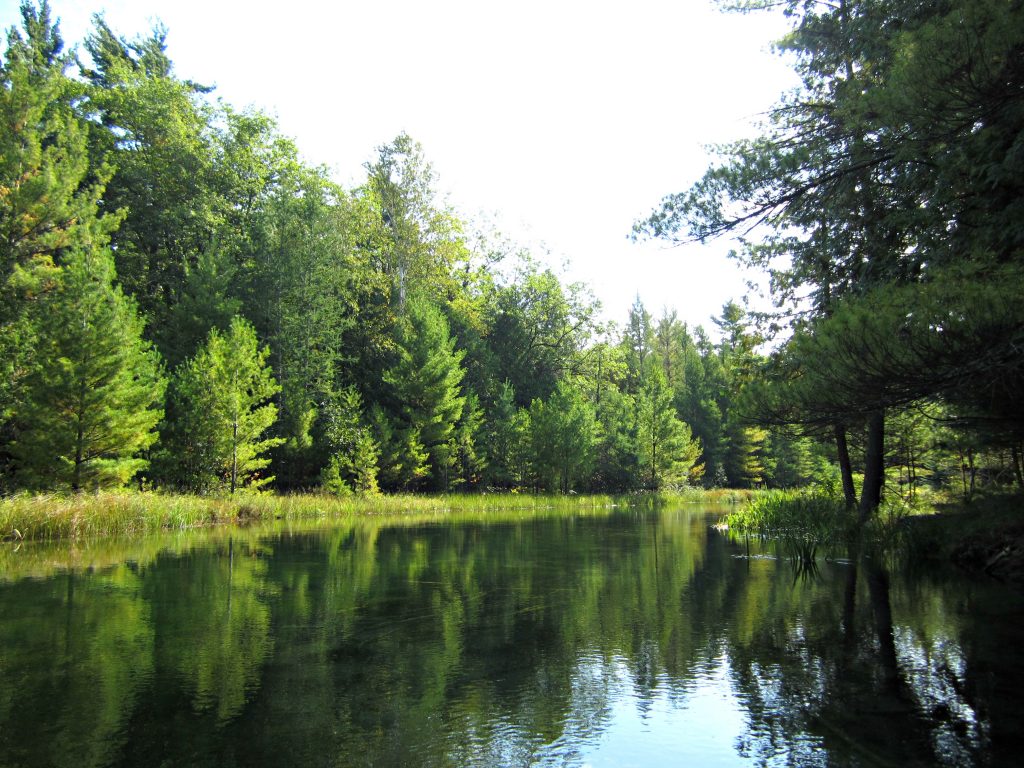 What to do when you're in the Leelanau Peninsula…
Lake Leelanau: This inland lake reaches from Leland to Traverse City. Its crystal waters beckon to swimmers and boaters. The village of Lake Leelanau is a small community located at what is known as the Narrows, which separates north and south Lake Leelanau. Peruse the antique shops, stop at a roadside fruit stand, or ask for the best local fishing spot.
Crystal River: If you're more adventurous or the family needs something to do, then rent some kayaks or canoes and drop them into Crystal River for a leisurely float. There are several rental companies in the town of Glen Arbor. It takes two or three hours to go over seven miles. Just be ready for the culverts, which you can go through on your watercraft… or maybe just your lifejacket.
Fishtown: Even if you don't stay around Fishtown, you have to visit Fishtown. This historic fishing community still has shacks and nets draped along the docks. The shacks are now used as storefronts in close quarters and fun to weave around. At street level are more unique stores and galleries, the perfect place to pick up a souvenir.
Alpena was a bustling town in the pioneer era as well as a draw for manufacturers in the mid-century. That dynamic has changed, but the town is in the midst of resurgence. It hasn't been overwhelmed with tourists, which is part of the draw to coming here. Businesses especially choose Alpena because of the natural beauty of the area. It's a place where you can feel comfortable.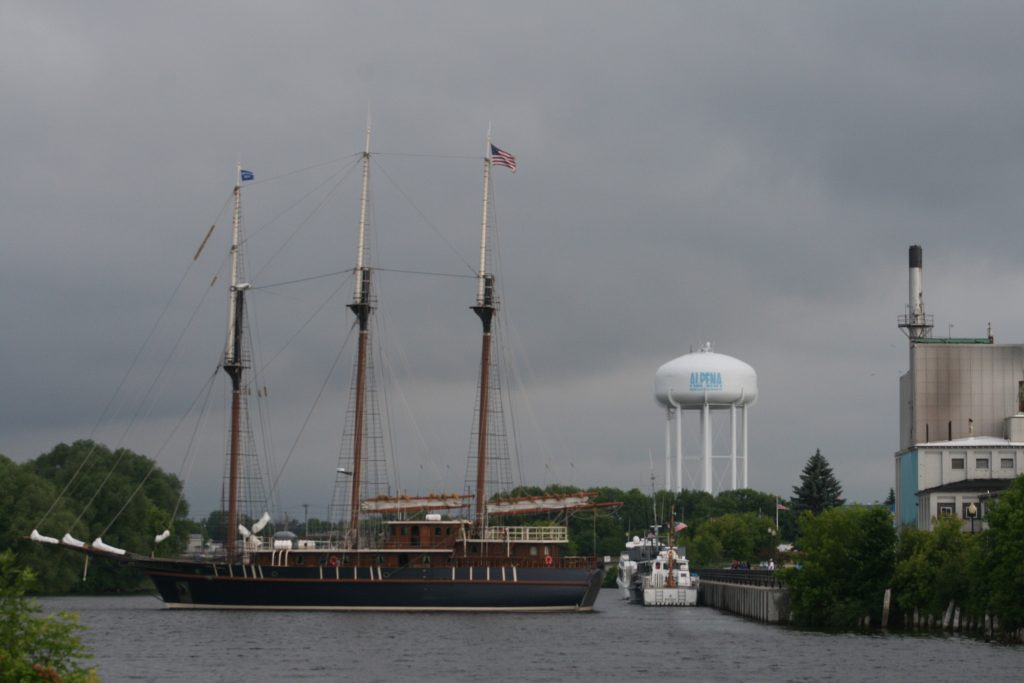 What to do when you're in Alpena…
Island Park & Wildlife Sanctuary: Here's an island you can easily drive to, at least to the parking lot. From there you'll need to cross the covered bridge and explore the 17-acre island on foot. Situated in the Thunder Bay River, you have your choice of paths, one of which leads to a viewing platform.
John A. Lau's Saloon: At 120 years old, John A. Lau's Saloon can boast itself to be the oldest historical Saloon. The dark, cozy atmosphere is enhanced with historical photos and the wait staff ready to tell stories of the haunted happenings of the establishment. But it gets better. There's an outdoor beer garden themed to look like the old downtown. If you want a pint of Michigan beer and some delicious food at a reasonable price, then stop in at John A. Lau's.
Starlite Beach and Stony Point: If you have young ones along, then Starlite beach is the place to keep them entertained for hours. It has a splash pad, three large play structures, covered pavilions, and access to a wide stretch of sandy beach on Lake Huron.
Copper Harbor feels like you're on the edge of the world. It's at the tip-top of the Keweenaw Peninsula, the northernmost point of Michigan. Their motto is "Where the road ends and Adventure begins!" Go on a sunset cruise, visit an authentic copper mine, and simply enjoy a stroll on the beach (watch for agates).

What to do when you're in Copper Harbor…
Fort Wilkins State Park: This restored 1844 military outpost had one of the first lighthouses on Lake Superior. There are costumed interpreters and historic demonstrations as well as permanent exhibits throughout the collection of buildings and barracks. Open May 18-October 14, 8:30 a.m. until sunset.
Manganese Falls: These steep falls cascade into a narrow gorge. The overlook is well-marked but it can still be difficult to see the falls with all the foliage; however, you can find your way to the top of the falls for a better look. Manganese Falls tends to dry up in the summer, so spring or fall is the best time to visit.
Brockway Mountain Drive: This roadway connects Eagle Harbor and Copper Harbor. It's, as the name implies, along a mountain ridge instead of along the coastline, complete with viewing areas and panoramic vistas. Take your time. It's worth it.