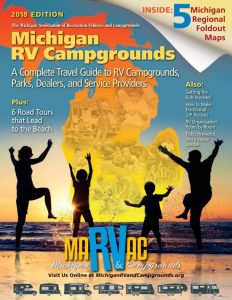 We're excited about sending you a copy of the 2018 edition of Michigan RV & Campgrounds!
Please use this form to order a FREE copy of MARVAC's Michigan RV and Campgrounds publication. Since we are currently producing this edition, requested copies will be sent in January 2018. We appreciate your patience!
Please Note: The mailing of this MARVAC publication is available to U.S. and Canada addresses only. View a digital edition of the 2017 Michigan RV and Campgrounds Here.
"By providing your mailing and e-mail address, you are granting permission for MARVAC and its members to email and/or mail communications about camping, RVing and related topics. Our goal with this program is to provide you with useful information about a common interest we share."