Hundreds of RVs, On-site dealers, Multiple exhibitors. February 1, 2023 – February 5, 2023 at the Suburban Collection Showplace. Adult admission (ages 13 and over) is $12; senior admission (ages 55 and over) is $11; and children 12 and under get in free!
Display
More than 30 RVs, including folding campers, motorhomes, travel trailers, toy haulers, fifth wheel travel trailers, and a park model, ranging in price from $6,995 to more than $75,000. *Subject to change.
Booth exhibitors featuring parts, accessories, and campground information make this the complete RV show experience.
Show floorplan and seminar schedule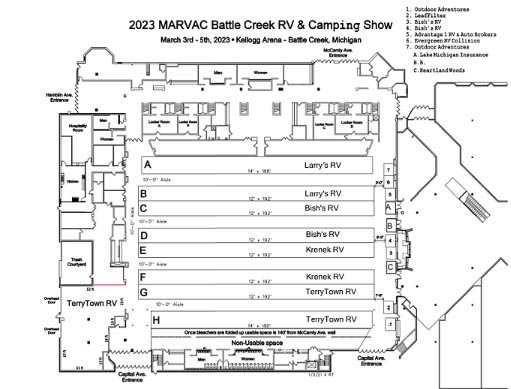 (Click Here to Download Floorplans)
Special discounts
Manufacturer rebates, end-of-season low show prices and on-site financing.
Admission
Adult admission (ages 13 and over) is $8; senior admission (ages 55 and over) is $7; and children 12 and under get in free! Tickets are available for purchase online now or day of. Ticket is good for one day entry. All sales are final. Purchased tickets are non-refundable.
In exchange for the Michigan Manufactured Housing RV & Campground Association ("Association") allowing attendee to attend this event, attendee assumes all risk of, and agrees that the Association, its employees and members, and other show participants are not liable for any damage to property or injury to or death of any persons. As further consideration, attendee agrees to defend, indemnify and hold harmless Association, its employees and members, and other show participants from and against any and all claims for any injury or death to any person, or sustained by any person or property related to the attendee attending this event.
Get social with the show
#MARVACRVShows
Show director
Darren Ing, Michigan Association of Recreation Vehicles and Campgrounds (MARVAC), 517.349.8881 and ding@mmhrvca.org. MARVAC is a nonprofit, state trade association that represents all segments of the recreation vehicle and private campground industries in Michigan.
Animal policy
Service animals are welcome into MARVAC RV & Camping Shows. The Americans with Disabilities Act (ADA) 2010 Regulations define a service animal as "any dog that is individually trained to do work or perform tasks for the benefit of an individual with a disability, including a physical, sensory, psychiatric, intellectual, or other mental disability. Other species of animals, whether wild or domestic, trained or untrained, are not service animals for the purposes of this definition." C.F.R. § 35.104 and § 36.104 (2010).
Consent to Use Images Policy
By attending any Association event, you agree that the Association may use and distribute your image, likeness, and voice in photographs, video, and electronic reproductions of that Association event, including publishing on the internet, without payment or any other consideration. You understand and agree that such material will become the Association's property and will not be returned. You hereby irrevocably authorize the Association to edit, alter, copy, exhibit, publish or distribute this photo for purposes of publicizing programs and for any other lawful purpose. In addition, you waive the right to inspect or approve the finished product, including written or electronic copy, in which your likeness appears. Additionally, you waive any right to royalties or other compensation related to the use of the photograph, video, or other electronic reproduction. Furthermore, you hold harmless and release and forever discharge the Association from all claims, demands, and causes of action which you, your heirs, representatives, executors, administrators, or any other persons acting on your behalf or on behalf of your estate have or may have relating to this authorization.