When
October 2-6, 2019
Hours
Weekdays 2-9 p.m., Saturday 11 a.m.-9 p.m., Sunday 11 a.m.-6 p.m.
Location
Suburban Collection Showplace—46100 Grand River Avenue, Novi, MI 48374.



On Grand River, south of I-96 between Novi Road and Beck Road.

Nearly 400 RVs, including folding campers, motorhomes, travel trailers, toy haulers and fifth wheel travel trailers ranging in price from $6,995 to more than $400,000.
Exhibitors featuring parts and accessories, campground information, on-site RV financing and RV rentals make this the complete RV show experience.
Educational seminars open to show attendees.
Consumers can pick up the 2019 Michigan RV & Campgrounds directory and other travel publications.
Special discounts
Manufacturer rebates, end-of-season low show prices and on-site financing.
Admission
Adult admission (ages 13 and over) is $10; senior admission (ages 55 and over) is $9; and children 12 and under get in free! Parking not included in show admission.
Coupons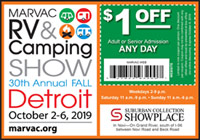 Coupons available at www.marvac.org, Pinterest, Facebook, Instagram, Tubby's Sub Shops, Big Boy restaurants and in area newspapers. With this coupon, consumers receive $1 off any adult or senior admission. Coupons available from Tubby's and Big Boy from September 23-October 6.
Advance tickets
Check back soon for information about advance ticket purchases.

Register to win
We're giving away ten pairs of tickets to attend the 30th Annual Fall Detroit RV & Camping Show!
Register today for your chance to win a pair of free tickets.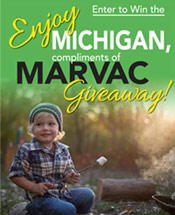 Enjoy Michigan, Compliments of MARVAC Giveaway
At the show, enter to win the "Enjoy Michigan, Compliments of MARVAC Giveaway" for camping and RV-related prizes.


Media
Contact: Gretchen Monette
Agency: All Seasons Communications
Email: gmonette@allseasonscommunications.com
Phone: (586) 752-6381


Take a tour of our past show
Show director
Darren Ing, Michigan Association of Recreation Vehicles and Campgrounds (MARVAC), 517.349.8881.
MARVAC is a nonprofit, state trade association that represents all segments of the recreation vehicle and private campground industries in Michigan.
Animal policy
Service animals are welcome into MARVAC RV & Camping Shows. The Americans with Disabilities Act (ADA) 2010 Regulations define a service animal as "any dog that is individually trained to do work or perform tasks for the benefit of an individual with a disability, including a physical, sensory, psychiatric, intellectual, or other mental disability. Other species of animals, whether wild or domestic, trained or untrained, are not service animals for the purposes of this definition." C.F.R. § 35.104 and § 36.104 (2010).
*Show date is subject to change