26th Annual Northwest Michigan Camper & RV Show

When
March 23-25, 2018
Hours
Friday 11 a.m.-8 p.m.
Saturday 11 a.m.-8 p.m.
Sunday 11 a.m.-5 p.m.
Location
Grand Traverse County Civic Center
1213 W. Civic Center Drive, Traverse City, MI 49684.
Located near Downtown Traverse City at East Front Street and South Garfield Avenue.


Display

All types of new 2018 recreation vehicles—more than 35 units and over 10 brands displayed including folding campers, travel trailers, fifth wheel travel trailers, ranging in price from $6,995 to more than $75,000. Learn about the latest RV features and innovations, and take advantage of low show pricing.
Exhibitors featuring parts and accessories, campground information, on-site RV financing and RV rentals make this the complete RV show experience. Consumers can pick up the 2018 Michigan RV & Campgrounds directory.
Special discounts
Manufacturer rebates, low show prices and on-site financing.
Admission
Adult admission (ages 13 and over) is $6; senior admission (ages 55 and over) is $5; children 12 and under get in free. Parking is free!
Coupons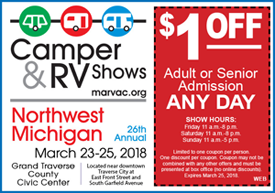 Coupons available online at www.marvac.org, Facebook, Pinterest and Instagram, area Big Boy restaurants, TBA Credit Union locations and exhibitors. With this special coupon, consumers can get $1 off any adult or senior admission any day of the show.
Register to win
Register for your chance to win a pair of free tickets to an upcoming show.
Marvelous MARVAC Michigan Giveaway: Ten winners—ten prizes!
While at the show, sign up to win one of 10 Marvelous MARVAC Michigan Giveaway prizes from MARVAC members including RV dealerships and campgrounds. Winners and prizes will be chosen at random after the show ends March 25, 2018.
Double R Ranch, Belding. Giveaway includes one week of camping, one hour of horseback riding, two hours of river tubing, two and a half hours of canoeing and nine holes of golf for four people.
Camp Dearborn, Milford. Giveaway includes two nights full hook up site; good May 1-June 1 and September 7-October 6, 2018.
Indigo Bluffs RV Park and Resort, Empire. Giveaway includes two free nights of camping.
Covenant Hills Camp and Retreat, Otisville. Giveaway includes free night free camping and two zip line rides.
Oakland County Parks, Oakland County. Giveaway package includes two free water park admissions (Waterford Oaks Waterpark or Red Oaks Waterpark), one free round of golf (nine holes at Glen Oaks, Red Oaks, Springfield Oaks or White Lake Oaks), small bucket of balls at Lynn Oaks Golf Course, one all-day pass for Groveland Oaks Waterslide, one round of miniature golf at Groveland Oaks, one night of camping (Addison Oaks or Groveland Oaks), one boat rental (Addison Oaks, Groveland Oaks or Independence Oaks) and two day passes (Addison Oaks, Groveland Oaks, Independence Oaks, Lyon Oaks or Orion Oaks).
International RV World, Bay City. Giveaway includes $100 gift certificate.
Hamilton's RV, Saginaw. Giveaway includes free roof inspection.
Lake Huron Campground, Carsonville. Giveaway includes one free non-holiday weekend campsite or cabin rental.
Horseshoe Lake Campground, Oxford. Giveaway includes one free overnight stay.
Greenwood Acres Family Campground, Jackson. Giveaway includes free two nights and three days (Friday-Sunday).
Media
Contact: Gretchen Monette
Agency: All Seasons Communications
Email: gmonette@allseasonscommunications.com
Phone: (586) 752-6381
Proudly sponsored by
As seen on TV
Have you heard the radio commercial?
Show director
Darren Ing, Michigan Association of Recreation Vehicles and Campgrounds (MARVAC), 517.349.8881.
MARVAC is a nonprofit, state trade association that represents all segments of the recreation vehicle and private campground industries in Michigan.
*Show date is subject to change