The 24th Port Huron RV & Camping Show
When
March 7-10, 2019
Hours
Weekdays 2-8 p.m.
Saturday 11 a.m.-8 p.m.
Sunday 11 a.m.-5 p.m.
Location


Blue Water Convention Center, 800 Harker Street, Port Huron, MI 48060
Harker Street leads directly into the Blue Water Convention Center parking lot.
Take a tour of our past show
Admission
Adult admission (ages 17 and over) is $6; senior admission (ages 55 and over) is $5; children 16 and under get in free. Parking is free!
Coupons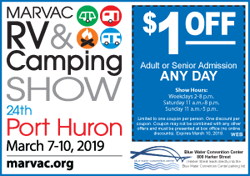 A coupon is available at www.marvac.org, Facebook, Pinterest and Instagram, area Big Boy restaurants, VF Sports, Mortimer Lumber and exhibitors. With this special coupon, consumers can get $1 off any adult or senior admission any day of the show.
Register to win
Register for your chance to win a pair of free tickets to an upcoming show.

Contact: Gretchen Monette
Agency: All Seasons Communications
Email: gmonette@allseasonscommunications.com
Phone: (586) 752-6381


Show director
Darren Ing, Michigan Association of Recreation Vehicles and Campgrounds (MARVAC), 517.349.8881.
MARVAC is a nonprofit, state trade association that represents all segments of the recreation vehicle and private campground industries in Michigan.
*Show date is subject to change